If you're having trouble finding your purpose, here's the advice "Fit to Practice" podcaster Angela Han gives to lawyers yearning to break free.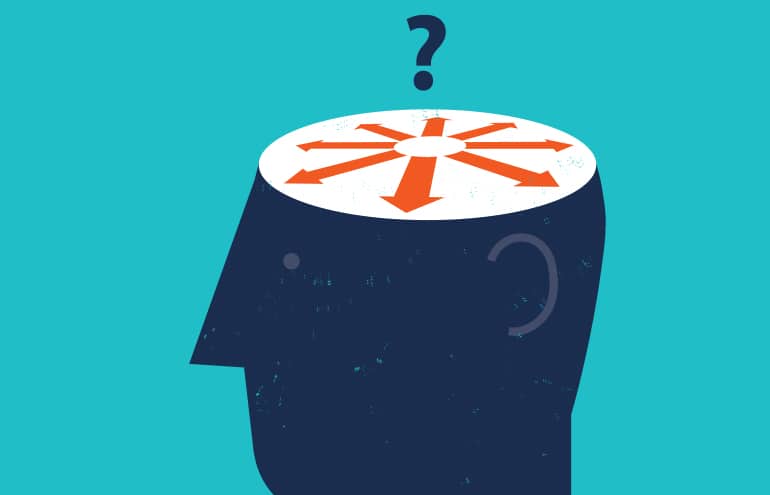 The question I hear most from other lawyers is, "How do you get unstuck in your work, home and life?" Many lawyers feel trapped by the career choices we've made. We can't leave our jobs, but we can't stay. So we find ourselves in a never-ending cycle of confusion, unable to figure out what we truly want to do — or how to make money doing it.
Here's the advice I give to lawyers.
Perform the Inner Work
1. Get your money mindset right.
Entertain the idea that earning money is not hard. We are so accustomed to the idea that we need to "work hard" and "suffer" to earn real money. That's only true if we believe it. I know many lawyers who are so sick of billable hours they never want to charge by the hour again. But because of their limiting belief that working hard is the only way to achieve success, they miss out on opportunities to serve others based on their experiences and skills.
Don't be afraid to charge for your skills and talents. As my mentor always says, "People who pay, pay attention." Think of all the freebies you've downloaded or received through the mail. Did they change your life? Compare them to the things or experiences you've paid for. Were you more engaged and more invested in the outcome? You have something amazing to offer. If your subconscious constantly tells you that accepting money is "bad," it won't matter how much your consciousness desires more money. Your thoughts will keep you from taking the required action to build wealth.
Ask for help. Yes, you could spend all day on Google looking for the right blogs and books to tell you the answers. Usually, however, our dreams are more complicated than a Google search. When making a change or starting a new project, no matter what it is, look for people who have done what you want to do. Ask questions. Seek out someone whose lifestyle aligns with your aspirations and goals. Invest in the people or community that will ask you the right questions so you can make the right choices.
2. Start with one hour each day.
Small steps are quantum leaps in disguise. If you are overwhelmed by all the work you need to do to make changes in your life, chances are you haven't even started. Or you may have started "a little bit" and are now looking for the right time to keep going. This is not because you are lazy; it is because you are stuck. To get unstuck, try this: Set a timer for one hour or even 30 minutes — no more. Choose one task that will move the needle forward — whether sending an email, writing a chapter for your book, filming a video, or scrolling through social media. Spend the last five minutes of the hour writing down what you've learned and what you will do the next day to pick up where you left off.
3. Be patient.
"Those who are certain can wait, and they can wait without anxiety." That is my favorite quote from "Course in Miracles." We are all afraid to start something new. Change is scary no matter what— even weddings that are "supposed" to be joyous occasions can be scary. And that's OK. Go in expecting missteps, failures and a learning curve. People who fail are not the ones who get rejected but who give up after that rejection. Yes, it is hard when things aren't going your way. If you move forward with certainty that this is simply part of the path, it will be easier to stay the course.
Find Your Inner Strength
4. Pick one problem you need to solve right now.
Stop feeling like you need to have the "right answers" before moving forward. The best place to start finding your purpose is by looking at the problems in your life. Why haven't they been solved yet? Focus on one thing — something as simple as a broken toilet or something more introspective like figuring out your passion. It's OK to obsess a little bit. In "Great at Work," Morten Hansen describes top performers as those who "do less, then obsess." Building one bridge at a time will get you to the other side faster than building five bridges at the same time. So go ahead and start problem-solving: Talk to people, Google it, write about it, or do all three in your quest to solve that one problem in your life right now.
5. What is this problem-solving journey teaching you?
Change involves reflection. Once you find a solution to that one problem, reflect on what you learned from the challenge and what you liked about the journey. Let that guide you in determining what other types of problems you'd like to solve. It could be problems in your own life, or it could be in someone else's. If you are still in a place where you have no idea how to solve that original problem, that's OK. Reflecting on your journey thus far can help you find other approaches. Either way, you are well on your path to becoming a master problem-solver.
6. What project seems to light the fire in your heart?
Search for the thing that drives you. As you continue to solve problems conscientiously, you will recognize that you can do so much more than you originally thought. Take a moment to think about what you truly desire based on the problems you've been working on. What really lights up your soul or makes you angry? The point is to find what drives your emotions. There is no right or wrong — the only limit to your dream is whether you think you can achieve it.
7. Give your best focus to that one project.
Once you zero in on the project that moves your heart in a certain way, it will serve as your bridge to learning and exploring. Look for others who have accomplished what you've set out to do or something similar. Find out what they have done to achieve success, and learn from their mistakes so you don't repeat them. Commit to doing more delegating of daily chores, like managing email or cleaning the house, to allow you to focus your time on what feels important to you.
8. What are you learning about yourself?
Focus on the lessons. You will probably learn a few things about yourself — what you're good at, what drains your energy, and what lights you up. Whatever you learn from this process, keep in mind that it is just that — a learning process. Making mistakes or getting rejected doesn't mean it is time to give up and move to something else. Stop only when you don't feel the fire anymore — not because you feel that it is the "sensible" thing to do. Most likely, once you reach this point in your journey, you will realize how much more work there is to do to become the person you truly desire to be.
Remember, reaching your goal may require you to ask for help from a community, mentor or coach — not because you are deficient but because you want to be world-class at whatever you are trying to do.