Congratulations! You survived law school, passed the bar and got a job. By now you're somewhat settled in. Some partners have learned your name, and you've received a few paychecks.
So, what will you do with the steady earnings?
Since it is far easier to start your financial life on the right foot than be forced to adjust bad habits decades later, here's a checklist covering what to do and what to avoid as a new attorney.
Before we dive in, please note that the following items are presented for educational purposes only. Nothing here is or should be considered specific financial advice for you. As your situation is undoubtedly nuanced, you should seek the advice of financial and tax professionals before using the strategies mentioned.
Don't Live at the Level of Your Income
Sometimes called "lifestyle creep," this personal finance villain snares countless lawyers, and it is especially prevalent among those whose incomes have recently jumped. Newly minted associates are particularly susceptible.
Lifestyle creep might covertly enter your post-law school world as a few nicer things here and there … nothing too extravagant. The occasional nicer dinner with friends, a car that regularly starts, and a vacation to a local beach or lake. At this point, everything is fine.
With blinding speed, however, those "nicer things" can morph into German autos, Italian leather goods, a seven-figure home, and vacations to places seen by most only on the Travel Channel.
Why does this matter? In a word, freedom. Living at the level of your income and routinely spending every dollar that enters your bank account will shackle you to your job. Once you become accustomed to a certain standard of living, it's tremendously difficult to adjust your spending and lifestyle downward. Lifestyle creep will cripple your professional and personal flexibility.
Eventually going part-time, starting your own firm, entering public service, returning to school, and in some cases, even going in-house, are all out of the question. Your lifestyle simply won't afford any downward adjustment in income.
How do you not live at the level of your income? Aim to live like (or almost like) you did in law school during your first few years of practicing. While this might be tough to do, you'll be glad to discover in a couple of years that your credit card debt is gone, you've saved some money, and you are free to explore career options.
Realistically, you'll need to upgrade a few things once you've started working, and that's OK. Just do it discerningly.
Do Understand Your Cash Flow
Young lawyers run into trouble when they're not cognizant of how much comes in and how much goes out of their bank accounts each month. Lack of awareness leads to spending everything that comes in (and not saving), or worse, spending too much and running up credit card balances.
How do you avoid overspending?
Find the amount that actually enters your bank account each month. Let's say it's $4,000.
Write down the fixed expenses you know you'll have to pay each month: rent or mortgage, car note, phone, cable/internet, utilities (use a three-month average), student loan payments, credit card minimums and so on. Let's say this all adds up to $2,250.
Subtract this expense total from your monthly take-home pay. You will need to spread the remaining amount — $1,750 — over the four weeks of the month to cover variable expenses, such as gas, groceries, eating out, entertainment, savings, additional credit card payments and surprises. That means you'll have $437.50 per week for these expenses.
Get familiar with your weekly figure. Your options for boosting it: slashing expenses, or earning more money (or both).
Over time, earning more money has a far greater impact. But you can't realistically renegotiate your pay six months into your first year. So instead, look to cut expenses.
Look first at reducing your fixed expenses. Renegotiating a cable bill, changing utility providers and rebidding your car insurance can often yield savings without disrupting your lifestyle. From there, look at cutting back on your variable expenses — the restaurants, groceries, shopping and entertainment, and so on.
Regardless of what you choose to adjust, awareness of your cash flow will drive better decisions.
Do Tackle Your Debt
Get organized and confront credit card and student loan debts head-on and you'll find them less daunting.
For credit cards, visit each card's website to find your current balance, interest rate and required minimum monthly payment. Enter this info into an Excel or Google spreadsheet to get organized. Focus your efforts and dollars to pay off one card at a time. Choose either the "snowball" method (lowest balance first) or the "avalanche" method (highest interest rate first) and stick with your choice to pay off your debts. Here's a more in-depth discussion of credit card paydown strategies.
With federal student loans you have two main paths:
Pay off the debt as quickly as possible (this often involves refinancing).
Or, use an income-contingent plan, pay as little as possible, and maximize the amount of loan forgiveness you can receive.
Analyzing these choices is too complicated and nuanced to responsibly discuss here. Take a look at the Student Loan Planner's blog for several in-depth student loan discussions.
Don't Ignore Free Money
If your employer matches your retirement plan contributions up to some level, then contribute up to that level. That's free money.
Seriously, increase your contributions today to take full advantage of any matching dollars. You'll be amazed how fast this increases your savings. To gauge the impact of increasing your retirement plan contributions, use ADP's paycheck calculator.
Do Beware of Your Biggest Expense: Taxes
That's right. A variety of taxes devour a material portion of your gross (pretax) income. Understanding how much you pay, and why, will serve you well for the rest of your professional career and beyond.
Start by preparing and filing your own taxes for a few years. This isn't nearly as complicated as it sounds and will provide you with a good basic tax education.
Bonus Tip: Look Ahead, Leverage Recruiters
Yes, calls from recruiters can be disruptive and tend to come at the worst times — like when you're waiting for a partner, an opposing counsel, or a client to call.
However, when you do need a recruiter, you'll want to have the relationship already established. While this may be more relevant for Biglaw attorneys considering lateral moves, a good recruiter can help you benchmark your salary based on your experience and the geography in which you're practicing — even if you're at a smaller firm.
Also, many jobs are never posted publicly. Recruiters network constantly and are often better informed than your colleagues about which firms are hiring. And if you're considering a move to a business-oriented, nontraditional legal role, a recruiter can do wonders to package and present your skillset in a way that lands interviews for you.
Build It! Law Firm Associate's Guide to Business Development
Read our updated 30-page downloadable ezine, packed with expert advice on business development for new lawyers. Show them you're a keeper.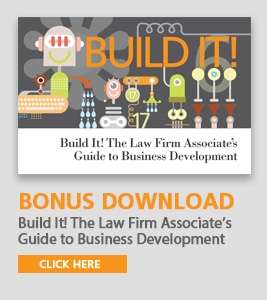 Illustration ©iStockPhoto.com
Subscribe to Attorney at Work
Get really good ideas every day: Subscribe to the Daily Dispatch and Weekly Wrap (it's free). Follow us on Twitter @attnyatwork.