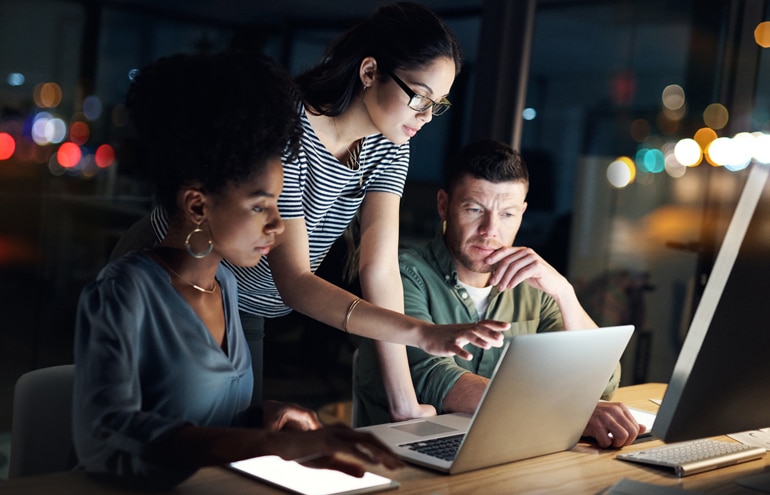 MyCase Product Review: It is true that even consistent excellence gets continually less impressive. Trust me, I know.
Take the curious case of Thomas Edward Patrick Brady, Jr.
While the rest of America celebrates the fact that the Patriots didn't make Super Bowl LIV, obnoxious New England sports fans, like myself, are snapped out of a malaise of expectation. It's a version of the shiny object syndrome.
In the land of legal tech, there are so many new startups, and a staggering number of existing law practice management software, that consistent excellence can be lost in the shuffle, too. In many ways, MyCase suffers from the same perception issue that Tom Brady and the Patriots do: Being amazing over a long period of time doesn't always move the meter in a world in which the news cycle consistently shrinks to match attention spans.
The thing is, though, just like the Patriots, MyCase continues to innovate from an already impressive foundation. MyCase consistently separates itself from the pack of practice management software options for law firms.
I Got Five On It
So, because you already think you know everything there is to know about MyCase, I'm going to tell you five things you don't know about MyCase.
But, before we get into the five MyCase features you meet in law practice management heaven, know that MyCase released a full-scale revamp of its user interface at the end of December 2019. That means that the new MyCase looks different and runs more efficiently. The new interface includes a greater focus on visual displays, including dashboards, but continues to feature a running log of recent activity and alerts — so you can stay on top of your most important tasks.
1. eSignatures
MyCase has traditionally chosen to build out its own features, rather than integrate with other software providers to supplement what its software does. In some ways, that bucks an industry-wide trend. The philosophy is meant to support a "one-stop" option for law firms. So, if you want one software that does pretty much everything you need (without the additional costs associated with integrated tools), then MyCase represents a tremendous value.
MyCase's new eSignature tool represents another step in this direction. The new MyCase includes a built-in eSignature feature at no additional cost to users. And, it has a majority of the features you'd be looking for in the more mature eSignature products on the market. The MyCase eSignature program offers a streamlined interface, with drag-and-drop functionality for documents and fields. You can create specific, tailored messages for recipients. And, the addition of an eSignature program into the MyCase ecosystem means that attorneys can choose that workflow, instead of defaulting to the MyCase client portal. For those users who prefer a traditional eSignature component, MyCase now answers the bell.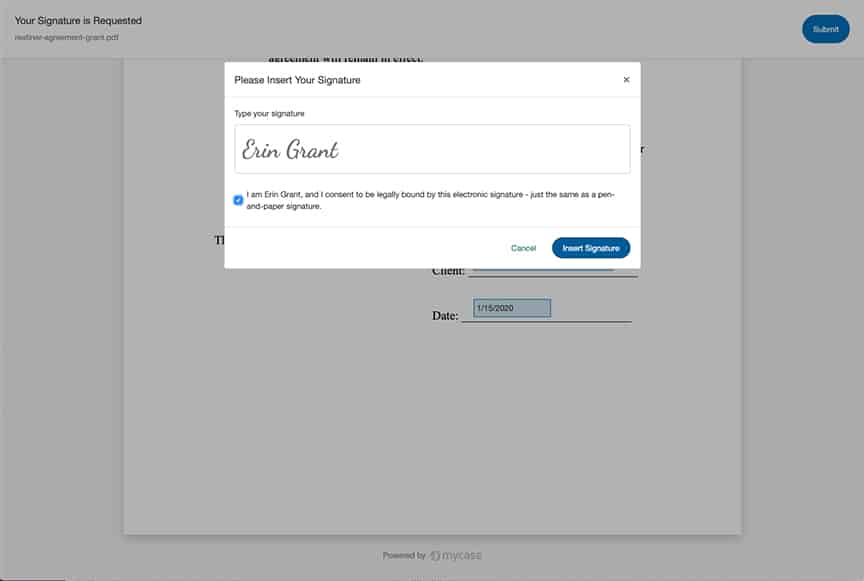 2. Automated Payments
MyCase Payments are another recent in-house development from the MyCase team. With MyCase, you don't need a separate payment tool, either. Just use the built-in program. (You see a theme developing here?)
But, neither is MyCase Payments hindered by a static feature set. The most recent development is the addition of payment plan functionality. Users can create payment plans for clients for a set number of months or years, and payment plans can also be manually adjusted on the fly, if necessary. This new feature also enables users to automatically send invoices to clients enrolled in payment plans. It's a great way to offer your clients some payment flexibility, while also reducing your reliance on manual processes.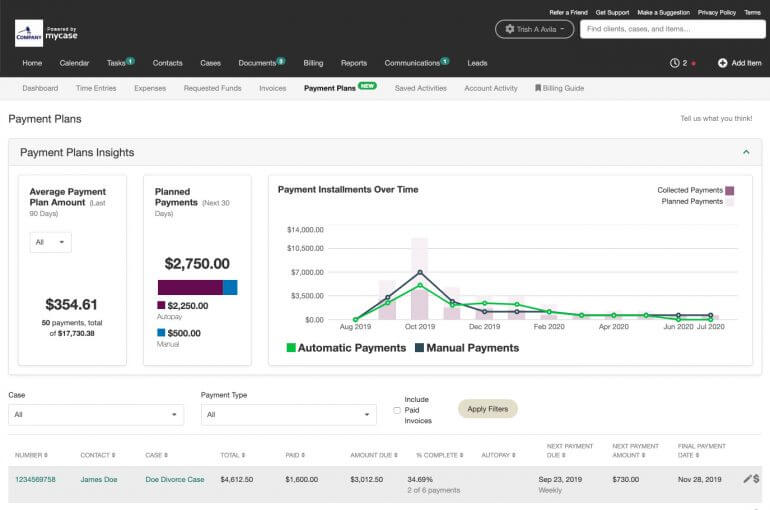 3. Intake Forms
MyCase recognizes that modern law firm marketing is largely based on engagement. So, the case management product has also been steadily adding marketing-related, CRM-style features. The latest innovation in this area is the release of client intake forms, which users can now build and launch from MyCase. A sample template is included in the system, but users have massive flexibility in creating, really, whatever they want in terms of web forms. That includes intake forms, of course, but users can also generate web forms for existing clients, including for acquiring status updates. Fields are easy to implement and change — they can be set as required or elective and form drafts can be previewed at any time.
If you're looking for another way to effectively engage leads and clients, without busting your own hump to do it, building and utilizing a variety of MyCase forms is a solid starting point.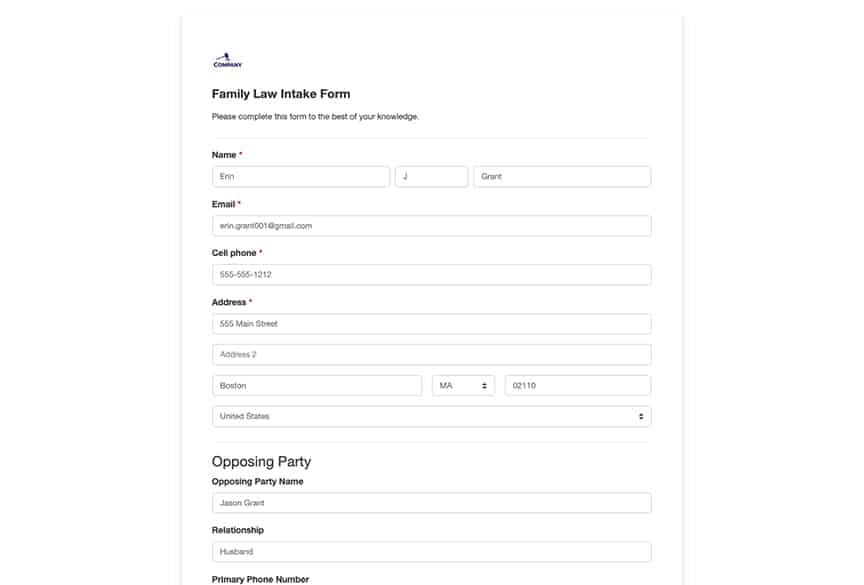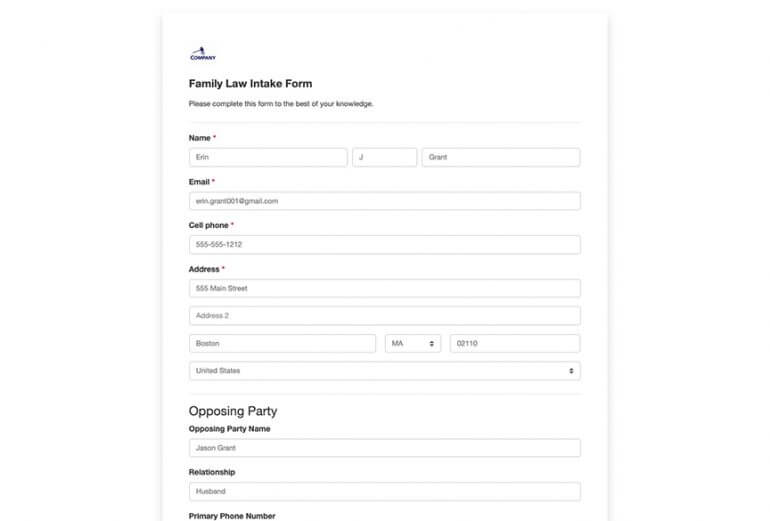 4. Visual Dashboards
As I alluded to previously, a major trend in software design is the release of more and more visual dashboards. Largely, that's a response to the information overload that plagues our society and professions. Busy lawyers, in particular, need a view into the most relevant data across categories, organized and presented for them, via software. This is a sight better than manually aggregating that data, which is the methodology law firms had been forced to use in the past. Even traditional software-based reporting tools are less accessible than visual dashboards, though.
Along that trendline, MyCase has launched three "insight dashboards" focused on leads, cases and financials — otherwise known as "the three things that lawyers care about the most."
Multiple filtering options exist for the dashboard, so users can continue to manage information sets to fit their specific search criteria. For example, cases can be filtered for practice areas, duration and by lead attorney and revenue (billed versus collected). Leads can be tagged with status options, and conversion rates are calculated and rendered. MyCase dashboards can forecast pipeline value, too — filtered by practice area, or even referral source. A timesheet calendar within the financial dashboard delivers managing attorneys the opportunity to set revenue goals for themselves and for associates, and those goals can be tracked and managed via the same dashboard.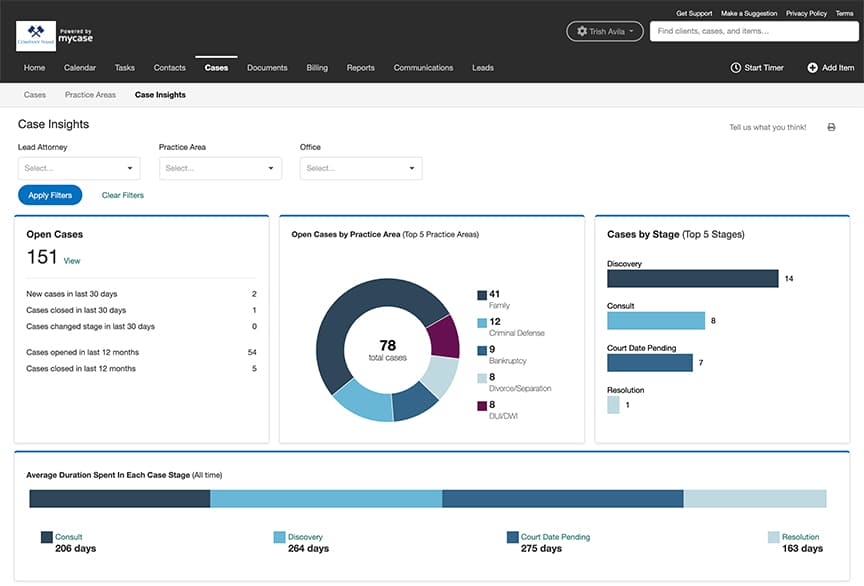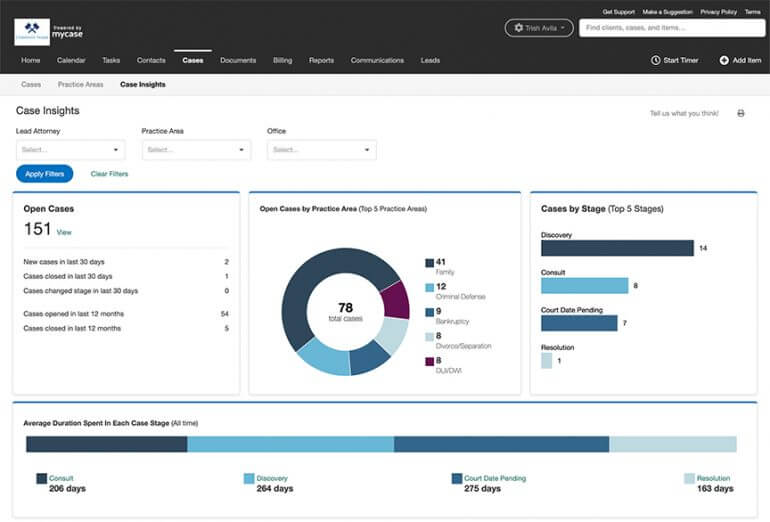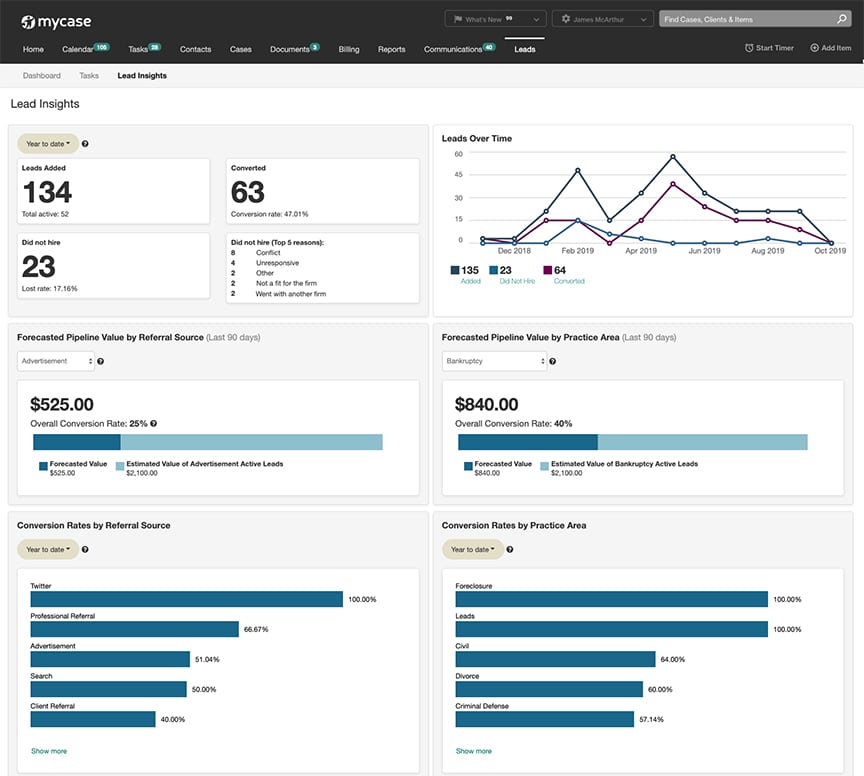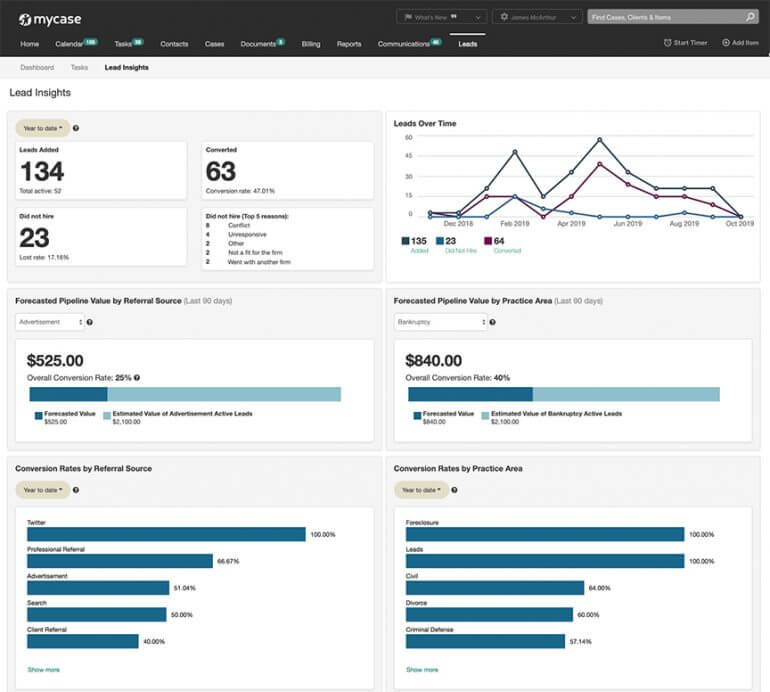 5. Time Tracking
You never know when the urge to track time is going to strike. And, since lawyers are always seeking to increase their billable hours, the more places from which they can bill, the better for the bottom line. That's why the new MyCase includes more time capture functionality across more features, including notes, events, tasks, call logs and even internal messages within the client portal. In MyCase, you can create a new time entry literally anywhere you want. Now, that makes sense … and dollars.
Attorney at Work's sponsored Product Reviews and Product Spotlights showcase news and features from legal technology industry leaders. For more information, click here.
Illustration ©iStockPhoto.com
Subscribe to Attorney at Work
Get really good ideas every day for your law practice: Subscribe to the Daily Dispatch (it's free). Follow us on Twitter @attnyatwork.