Gel pens are the new office standard. Bic ballpoints used to hold that status, but gel pens overtook them years ago, starting with the Uniball. When Uniball pens started showing up, hip office managers bought them by the crate. They were the absolute opposite of the Bic Crystal with its transparent barrel and the bullet-shaped cap that no one could ever find.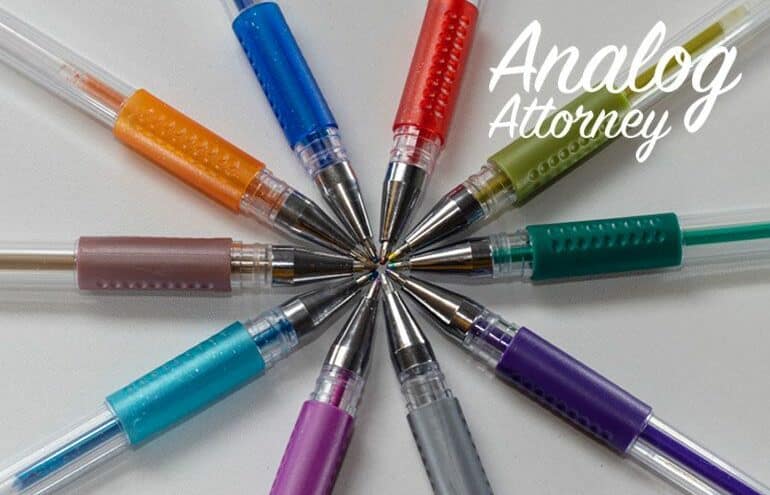 Uniballs waltzed into the office wearing all black with sharp lines like a Bauhaus punk strolling into a barn raising.
But it wasn't just style that made us fall in love with gel pens. It was the ink.
Gel Pens Just Feel Better Than Ballpoint Pens
The ballpoint writing experience is just fine. It was the standard since 1959, when Bic's Crystal hit the market for less than a quarter apiece and ballpoint pens became common. Fountain pens were edged out of the market without a glance back. Using fountain pens includes maintenance, care and refilling and the occasional ink stain blossoming under your shirt pocket like an emo corsage. Ballpoints were cheap and didn't need a lick of maintenance. If something happened or they didn't write well or ran out of ink, you just threw them away and stole another one off of Kevin's desk. Fountain pens went from critical to quaint overnight.
Which happened again in the '80s when Japanese pen manufacturer Sakura introduced gel pens.
Gel pens use water-based inks while ballpoints use oil-based ink.
The ink is pigment based, suspended in a water-based gel. The inks in gel pens flow better, are more opaque and write on more kinds of surfaces. However, it's the writing experience that really sells these reliable gel pens. The ink, no matter what color it is (and there can be thousands of colors) looks really good on the page and just feels better than a ballpoint.
Out of 17 Gazillion Gel Pens, These Five Are the Best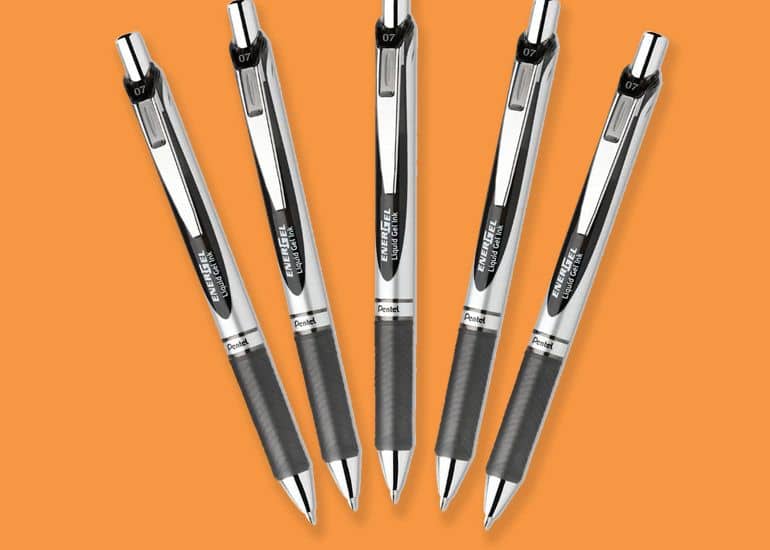 1. Pentel Energel RTX
Pentel's gel technology is top-notch, delivering a deeply opaque ink (even if it's yellow or orange). Their Pentel Energel RTX is one of their most popular pens. The Energel pens are cheap, have a fatique-free design, latex-free rubber grip and a nice fat button on the top. They are so common they've sort of redefined the office pen (along with the Pilot G2). The RTX simply upgrades the regular Energel so it looks a little more grown-up. At just under four bucks, they're probably not going to be found in the supply closet at work, but then none of us are at work anymore so it's a moot point.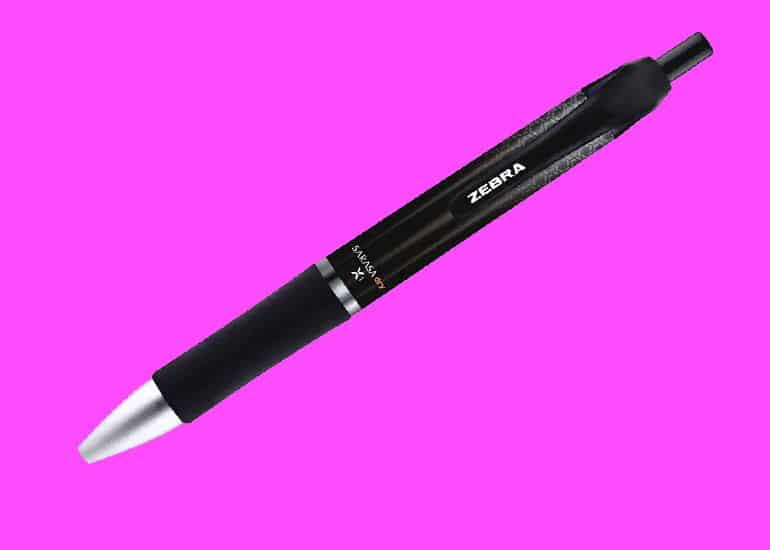 2. Zebra Sarassa Dry X1
If you're a lefty looking for a cheap pen that dries fast, here it is: the Zebra Sarassa Dry X1. Left-handed writers have a tough time with slow-drying inks (and fountain pens) because when their hand slides over their recently written words everything is smeared and their hands are stained. Zebra claims their Rapid Ink Technology dries 85% faster than regular inks and customers agree, based on the 300-plus reviews (except for the one by ValAZ who says it doesn't stand up well to highlighters).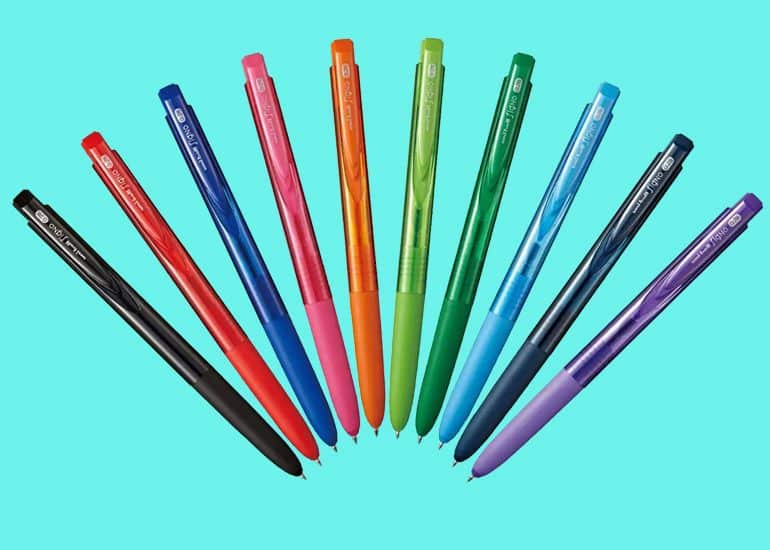 3. Uniball Signo RT 1
Uniball's Signo RT 1 is another super common gel pen with great styling, a rubber grip and a nice fat button. The grip extends further down the barrel than other gel pens, so if you tend to grip low on your instrument this pen is a great choice. Although it isn't marketed as a fast-dry pen for left-handed writers, many leftists report they were pleasantly surprised by smudge-free work.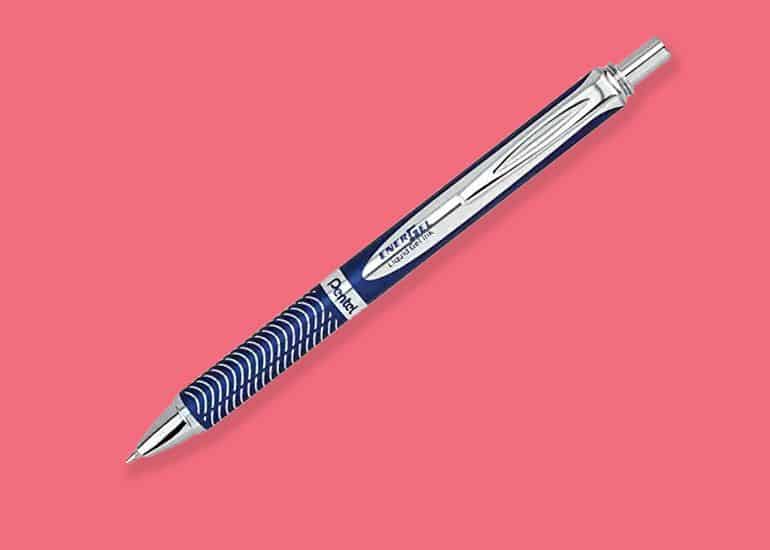 4. Pentel Energel Alloy
The Pentel Energel Alloy is an all-metal gel pen with a growing cult of users who swear by its plain elegance and beautiful design. The product description says it uses a blend of rollerball and gel pen ink (whatever that means), so it's less likely to smudge or gloop on the page. It also claims to be fast drying and therefore good for left-handed writers. I like this pen because if you swap out the standard black for a Pentel ink refill in a cool color like turquoise or dark brown, you've got a seriously nice EDC pen for less than $11.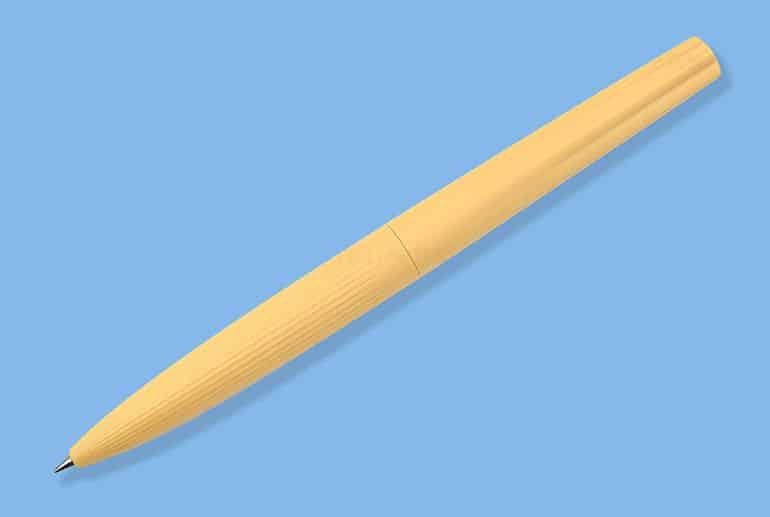 5. Sakura Craft Lab
The Craft Lab 005 is a wingnut gel pen with a weird design and technology and I love it. It's a twister, not a retractable like nearly every other gel pen. It has a very retro body designed by one of Japan's most revered pen companies (known by Bullet Journal fans for its JellyRoll pens). It has a deeply grooved barrel for its grip, splits apart like a fountain pen for refills, and comes in eight colors with standard sepia-black ink. The pen is luxurious and heavy. It's also far more expensive than any other gel pen on this list, coming in at nearly $50. Which is pretty expensive considering you have to buy the clip separately. It's definitely an executive desk pen, though it would work fine as an EDC. If you're looking for a decent gift for your boss, this is a good choice.
Full disclosure, the author has not been compensated for these recommendations, however, Attorney at Work has affiliate relationships and may receive a small commission for links when you make a purchase.
Illustration ©iStockPhoto.com
Subscribe to Attorney at Work
Subscribe to our free daily and weekly newsletters to get really good ideas every day for your law practice.