What are embedded payments? Simply put, it means storing a payment method in an app for one-click access to a service or product (think Uber or Starbucks). When payments are part of your practice management system, getting paid is easier and faster.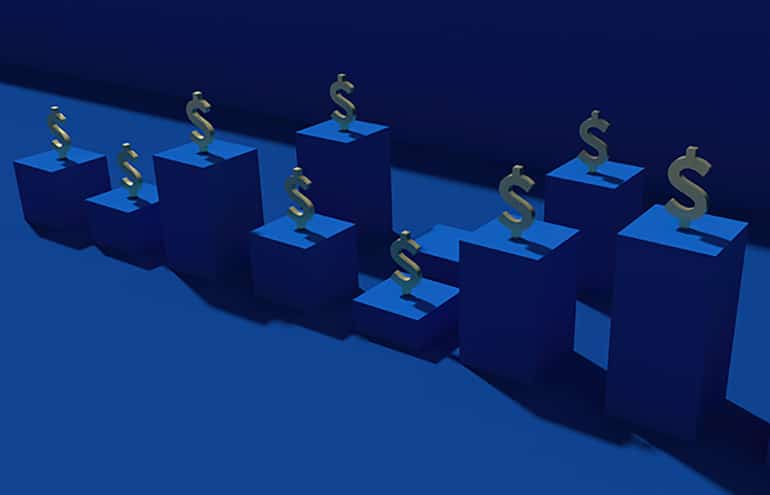 Law firms have long relied on paper checks and manual processes to handle billing and invoicing. However, more firms are turning to automated payments, particularly with the rise of virtual operations and a hybrid workforce.
In addition to ease of use, automated payments clear and settle more quickly than manually processed payments. In fact, digital payments speed up the average time to collect payments by 62%. Receiving funds faster can help firms manage cash flow in real-time, reducing or avoiding the need for expensive short-term financing. Firms benefit from greater certainty as payments clear and settle more quickly.
What Are the Benefits of Embedded Payments?
Both clients and firms benefit from digital payments — especially when payments are embedded in the hub of firm operations: the law practice management system. In addition to getting paid faster, embedded payments can help firms improve their client service and operations in the following ways.
A Better Client Experience
Legal consumers, like the rest of us, prefer to pay via electronic means. They also appreciate flexibility in electronic payment methods. A Fiserv study found 71% of customers report higher satisfaction when given the option to pay online. Offering clients an easy and positive payment experience builds client loyalty and increases the likelihood of referrals.
Simplified Payments Management
As law firm technology has moved to the cloud, many aspects of law firm management — from CRM and document management to accounting, billing and payments — are now seamlessly integrated within the legal practice management work environment.
Integrated automated payment processing is a natural fit within the legal practice management environment, making it possible to bill clients and collect payments in the same workspace where client information and billable hours and services are managed.
Payments Are More Accurate
Manual processes for creating, mailing and tracking paper invoices are time-consuming and error-prone. Automated payments significantly reduce errors, making it easier for firms to receive payments and for clients to pay.
Embedded Payments Are Secure
In the face of increasing cyber threats, focus on security is at an all-time high. A good payments system is compliant with PCI, one of the highest levels of security certification in the payments industry. Setting up automated payments can be done without sharing bank accounts or other sensitive information over unsecured systems or in the mail. Clients submit their payments through a secure online portal, where they can pay by credit card, e-check or ACH.
Fiduciary Compliance
Integration links between practice management, billing and payments do a better job of managing alternative fee arrangements and trust accounting while also ensuring that they comply with fiduciary responsibilities when handling client funds. General accounting tools like QuickBooks are not designed to support the mandatory requirements for handling client funds held in trust accounts or deposited in operating accounts.
Improved Firm Operations
When practice management and payments work together, client and case files are clearly organized and up to date, and billing is a reliable process with payment activity built into overall case management. This means that an entire matter is handled in one place, from intake to billing and reconciliation of your firm's ledgers and financial reports.
An integrated online accounting and payment system allows you to review transactions, AR aging and balance sheets anytime. When billing and payments are fully integrated, firms can monitor hard and soft costs for each matter, measure productivity and easily track cash flow and receivables.
Compliance with E-Billing Requirements
Complying with legal e-billing standards such as LEDES for the electronic exchange of billing and other information between corporations and law firms provides transparency for every line item that law firms bill for with corresponding e-billing codes. LEDES-compliant billing, tailored to the firm and clients' wishes, will speed through clients' AP approval process and ensure timely payment.
The Embedded Finance Revolution
Embedded finance — placing a financial product (a loan or insurance, for example) in a nonfinancial platform — is a broader trend happening across the economy.
According to McKinsey & Co., embedded finance is nothing new: "For decades, nonbanks have offered financial services via private-label credit cards at retail chains, supermarkets, and airlines."
What makes the next generation of embedded finance so powerful is the integration of financial products into digital interfaces users interact with daily. Possibilities are varied: customer loyalty apps, digital wallets, accounting software, and shopping-cart platforms, among others. For consumers and businesses using these interfaces, acquiring financial services becomes a natural extension of a nonfinancial experience such as shopping online, scheduling employees to work shifts, or managing inventory. This more deeply embedded form of embedded finance is what has grown so significantly in the U.S. in recent years.

— McKinsey & Co.
As embedded finance options expand, law firms will be able to make or accept payments, obtain financing, process payroll, pay vendors or provide insurance quickly, all within a familiar practice management workspace, saving the time and cost of working through conventional financial institutions.
More firms are choosing a practice management platform that combines time and billing, full accounting capability and automated payments in one system. Embedded finance features will set up firms to offer more value-added services and gain insights that allow them to grow and succeed.
Image © Unsplash+ in collaboration with Alexander Mils


Don't miss out on our daily practice management tips. Subscribe to Attorney at Work's free newsletter here >