For the past several years, our profession has seen a rise in attrition and a decline in satisfaction. Too many talented lawyers have walked away from the profession, believing it's an all-or-nothing gig.
Yet some do succeed in building legal careers they enjoy, even love. What sets them apart? And how do you join those ranks if you're teetering on the edge of law career despair?
Two factors are critical in turning your job into a career that you love: Find your "why" and find your people.
Find Your Why: What Drives You?
Practicing law is demanding, so many of us accept and even expect to feel some measure of daily discomfort. Yet that is a far cry from the enjoyment we can achieve in the practice of law.
We know from decades of research that when we align our work with the values that drive us, we experience greater professional satisfaction and well-being.
Lawyers who practice in areas that answer their 'why' shift from a job to a career and, in some cases, even a calling.
Take a moment to consider why you entered this profession. Becoming a lawyer wasn't something that happened overnight. You invested valuable time, effort and money. These questions may help.
What led you to the place you sit now?
Many of us land in law practices as an outcome of campus interviews or a job posting. Did you feel a connection or spark that you can identify? Or was this an opportunity that presented itself that met external criteria? At a lunch meeting recently, a lawyer told me she enjoys her work in M&A because she likes puzzles and untangling complex problems. Like difficult puzzles, she enjoys sorting and reorganizing the many moving parts. By tapping into her inner drivers, she was able to identify a practice area that makes her feel alive and connected to something that she cares about and enjoys.
Is it meaningful?
Reflect on the underlying purpose for the day-to-day work that you currently do, and the needs of the clients for whom you do your work. Is the work that you are doing meaningful to you in some intrinsic way?
Sussing out the meaning in our work may be all that's needed to feel more enjoyment in our current practice. Or further exploration may be in order.
Using Values to Map Your Purpose
Consider doing a values identification exercise. (Download the PDF for it here). This is a useful tool for identifying whether a shift in your work focus would be helpful.
One lawyer used the values exercise to find a new role within her organization; another used it to help find her niche in labor and employment law after practicing in seven different substantive areas. When prioritizing her values list, a student of mine found that "adventure" consistently ranked highest, above all of her other values. This will be an important factor for her to consider when evaluating the type of practice that best suits her for the long term, especially when evaluating offers with traditional law firms.
Before accepting the status quo, here's a three-step process for moving forward:
Where are you now in your career?

What's working?
What would you like to see change?
Where would you like to see growth?

Where do you see your future career self?

What constitutes success — qualities, traits, characteristics?
What would you like to achieve?

How will you get there?

What obstacles or challenges do you foresee?
What resources do you need to develop your knowledge or skill set?
What next steps will move you toward your objective?
Filter out the naysayers who say it can't be done. Whether you're in your second, seventh or 17th year of practice, it's never "too late" to find your perfect practice.
Find Your People
Beyond the work itself, it matters that we work with people who share our values or who approach the work in a way that is not fundamentally at odds with ours. This is all too common in practice and often an unidentified source of discontent.
For example, I reconnected recently with a young lawyer and former student of mine who enjoys his substantive legal practice but regularly finds himself at odds with his managing partner. He fundamentally disagrees with the way the partner views the work, manages his cases, and interacts with clients and opposing counsel. He recognizes that while he is committed to continuing in his specific field, which is family law, to continue over the long term, he needs to work with more like-minded practitioners.
Having found his why, this lawyer is now focused on finding his people. He observed another partner in the firm whose practice and style appeal to him, but due to the firm's structure, he was not able to move from working with the managing partner to working with this other attorney. He has decided to leave his firm and he's found another family law practice that seems to be a good fit. Knowing precisely what he was looking for has helped him ask the right questions and assess this other firm's practice philosophy. Lawyers at the latter firm have both mentoring and autonomy in an environment that is collaborative, open and civil.
Consider these questions about your practice:
Are you aligned with the people with whom you work? Are your colleagues collaborative or competitive? Encouraging or discouraging? Kind or cutting? Optimistic or pessimistic?
Are the views your colleagues or supervising attorneys hold of the practice and of the clients they serve views that you can support, or ones with which you fundamentally disagree?
Is the environment a good one for you? Where do you thrive? Do you require a high-energy, fast-paced environment to be at your best? Or do you thrive in one with more predictable pacing, such as in an appellate practice or estate planning? Is your ideal client a business entity with corporate legal needs, or an individual with personal needs?
What Will It Take for You to Thrive?
In his insightful TED talk, Nicholas Christakis, a Yale sociologist and physician, explains how the people with whom we work day in and day out influence our lives, our health and our happiness. On par with meaningful work is a workplace community that supports and encourages collaboration and respect.
Many lawyers move from soul-deadening jobs to fulfilling careers in which they find purpose and motivation. Whether you're a recently admitted attorney or an experienced professional, it serves us to assess our careers and our lives at regular intervals.
Illustration ©iStockPhoto.com
You Might Also Like: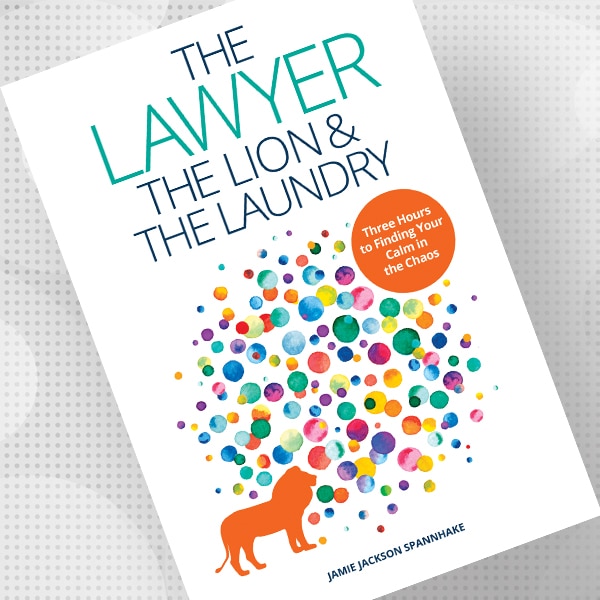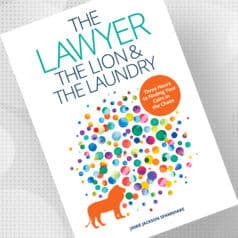 The Lawyer, the Lion, and the Laundry: Three Hours to Finding Your Calm in the Chaos
In her new book, lawyer and wellness coach Jamie Jackson Spannhake shares a better way to get things done AND enjoy the life you want. Jamie lays out the strategies you need to:
C

hange your every day.

S

hift your perspective.

C

reate space and time for the life you truly want.