Why are lawyers afraid to write their LinkedIn profile in the first person? Here's how to ditch third person and punch up your description.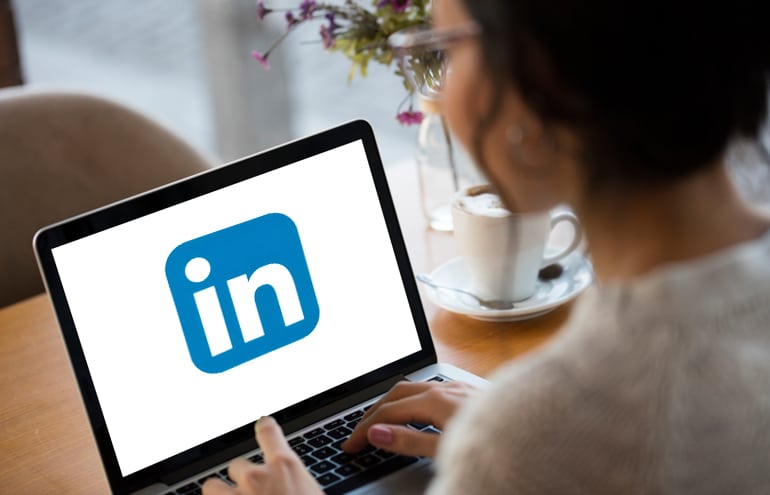 Have you looked at your LinkedIn profile lately? Probably not, given the current state of affairs. So, does it really matter if your profile is written in the first or third person?
Granted, this is not as critical as mask compliance or the COVID-19 vaccine. However, you are still engaged in the practice of law, and the end of the year is a perfect time (or excuse) to review your LinkedIn profile. You'll only need to carve out a few minutes — then I'm going to show you some engaging profile examples and how to put a bit more punch in your own.
Punching Up Your LinkedIn Profile
Starting with my own, my LinkedIn profile begins: "I write effective bios and compelling content for lawyers and legal marketers. You know, the stuff your clients actually care about."
Breaking it down:
I've used the first-person approach:

"I."

Then, I stated what I do:

"write effective bios and compelling content."

Next, I identified my audience:

"for lawyers and legal marketers."

Finally, I offered a frank assessment of what is needed or how I can help even more (sometimes known as a "hook"):

"You know, the stuff your clients actually care about."
Do as I Say, Not as I Do …
Since I am a marketer first and a writer second, my approach is different from the advice I offer law firm clients. Nonetheless, there are best practices you can apply to your own profile.
For starters, your profile should not be a rehash of your website bio. Your readers have already seen it — or they're going to look there next.
You want to sound like a real person and describe what it will be like working with you.
Why Are Lawyers Afraid to Write in the First Person?
Here's my take. Lawyers' written communications are often intended for other lawyers (not the general public), and the style and tone are overly formal. Changing from the third person to the first person for other communication types may be outside their comfort zone. The good news is that things are rapidly changing in corporate America and throughout the globe, and some of the more conservative, traditional walls are coming down. For example, we're more comfortable wearing informal clothing and inviting colleagues into our homes during videoconferences.
Adrian Dayton wrote a persuasive piece for JD Supra in 2014, titled, "Third Person vs. First Person on LinkedIn." He makes an interesting point about why he chooses to write in the third person:
"In choosing first or third person, the first rule is to know your audience. Lawyers, for example, have a reputation as being somewhat serious and in some cases stuffy, so their audience doesn't want to see that in their bios. As a general rule, they should stick to writing bios for LinkedIn in the first person. On the other hand, I sell services to lawyers, and so in an effort to match their behavior, I have written my bio in the third person. The important thing is to choose something your potential clients are comfortable with and that you are comfortable with too."
Six years later, Adrian's LinkedIn profile is still written for lawyers in the third person:
"Adrian Dayton is an internationally recognized speaker on social media and business development. He has trained over 22,000 professionals in the US, UK, Canada and Australia on LinkedIn and successful social media use."
Who Has a Good LinkedIn Profile?
Here are a few examples:
"I am a trial lawyer with significant experience in consumer class actions, intellectual property matters, and insurance coverage disputes. In addition to my trial experience, I have completed dozens of arbitrations and appeals." — Kimberly Buffington, Pillsbury
"Working as arbitrator, private judge, consulting attorney, and litigation specialist, I blend creative ADR methods with discrete advisory counseling to help clients resolve a divorce, parenting dispute, or other family law conflict — outside the courtroom confines whenever possible. Amid COVID-19 conditions, my virtual law firm prioritizes privacy and flexibility." — Neil Forester, Forester Family Law
"I am passionate about helping law firms make the changes necessary to become more profitable, strategic and focused. As a lawyer who has practiced in a firm, served as a GC for a publicly traded company, acted as a CBDO at an AmLaw 100 and Chief Strategy Officer at an AmLaw 200 firm, I understand how hard it is to create "sustainable" change." — Tea Hoffman, Law Strategy Corp.

What Do Legal Marketing Experts Think?
I agree 100% with Stefanie Marrone, whose recent blog post supports the first-person approach:
"As always, authenticity is important. So always be yourself. Use the first person to be more approachable. Add elements that highlight your personality, such as your interests. Include at least one detail that will make you memorable. In some of my social bios, I note that I am a "proud New Yorker" or a "dog mom" — again, think about who you are and what makes you unique."
Although Jay Harrington is explicitly talking about lawyer bios, his commentary and approach also apply to LinkedIn profiles:
"While not appropriate for every instance, don't be afraid to have a go at a more informal writing style. Adopt a more personal tone that reflects your conversational voice. Choose simple words and short sentences. Use the first-person (I) and second-person (you) point of view. Complexity breeds confusion. Add more signal and reduce the noise from your content with a simpler approach."
Gina Rubel also gives permission to use the first-person vernacular in lawyer bios. In "10 Tips for a More Effective, Personable Attorney Bio," she writes:
" 'I' is OK. It's permissible and often prudent to use the first-person vernacular, but use it wisely. Convey how you serve the needs and interests of your clients and prospects and that you understand their industries."
Highlights From My LinkedIn Poll
Last week, I posted a small poll on LinkedIn. Of the respondents, 96% said the first-person approach on their LinkedIn profile "About" section is preferable to third person. Here is a sampling of their comments:
(The poll results indicated over 650 views, yet only 12 readers responded with comments.)
How Can You Improve the "About" Section of Your LinkedIn Profile?
Review your LinkedIn profile. How long has it been since it was last updated?
Lose all the old awards and honors that are more than three years old. I just spotted a prestigious lawyer's page on LinkedIn, and his third paragraph began, "Recently, I was named … in 2012."
Replace all third-person pronouns and use the first person.
Include meaningful terms that are most helpful to your readers, in plain English. For instance, substitute "matrimonial law" with "divorce lawyer."
Show readers how you can help, and do it in the first few sentences of your "About" section. I've used this approach with lawyers who are willing to redo their website bio in the first person:
Before: "Sarah is an international trade lawyer and focuses her practice on domestic and cross-border acquisition finance."
After: "My job is to be your trusted advisor. As an international trade lawyer, I'll be working side-by-side with you — to help manage the complex domestic and cross-border acquisition finance transactions for you — and your company."
(Yes, it's a wordy one, but it maintains a first-person approach.)
Punch up your content. This last suggestion is likely to be the most difficult for many lawyers to incorporate. If terms like "aggressive," "bulldog" and "fierce" are outside your comfort zone, there are ways to be less boastful and more in the helpful category. For example, words like "passionate," "defender" and "advocate" are some of my favorites, depending on the type of law you practice.
1220 Illustration ©iStockPhoto.com
Subscribe to Attorney at Work
Get really good ideas every day for your law practice: Subscribe to the Daily Dispatch (it's free). Follow us on Twitter @attnyatwork.