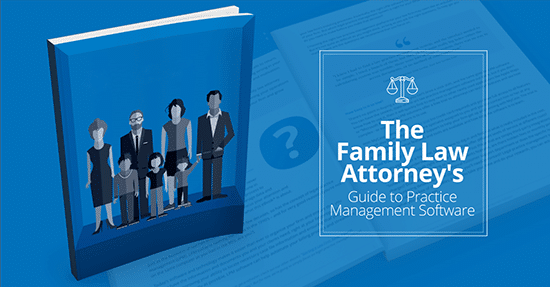 Life as a family law attorney is a pretty full docket. With high caseloads, too many calls to return, and yet another post on your favorite legal blog telling you everything you're doing wrong in your practice, trying to keep up with everything can quickly drain you of your energy and motivation.
The good news is that whether you're just starting out or are a seasoned family law attorney who is looking for a better, more efficient way to run your practice, streamlining your operations with legal practice management software can improve how you manage your firm and grow your business.
Download your free guide today!
What Will You Learn?
So you're ready to evolve your firm with the help of practice management software — but how? The Family Law Attorney's Guide to Practice Management Software will launch your search and help get the most out of your software with tips and advice on:
What questions to ask while researching legal practice management software options

How to use legal practice management software as a client communication tool

Running a paperless office and how it can benefit your legal practice

Staying mobile and productive outside of the office
Download the latest MyCase eBook, The Family Law Attorney's Guide to Practice Management Software to learn more about choosing the right legal practice management software to streamline and modernize your family law practice.
About the Sponsor
MyCase is the premier web-based legal case and practice management software for solo and small firms. With MyCase, you can have the advantage of a complete and affordable solution that will take care of your contacts, calendaring, cases and matters, documents, time tracking, billing and much more.

"Product Spotlight" sponsored content showcases news and features from Attorney at Work sponsors and legal technology industry leaders. For more information, click here.