Given the nonstop, hyped-up headlines, you may worry about competing with a robot for your next job. Rather than fret, why not start investigating the ways artificial intelligence technology can give you an edge — both in the job market (somebody needs to know this stuff) and in actually delivering legal services? (Your competition is working on this right now.)
They're Here: The 'Machines' Are Helping Law Firms Run Better and Faster
Last year, "AI in legal grew by leaps and bounds," wrote Bob Ambrogi, in naming it one of 2016's top legal technology developments. Things have been moving so fast this year, a recent headline reporting on ILTACON 2017 asked, "Is Artificial No Longer Cutting Edge?"
Almost daily it seems, there's another "AI-powered" product or "AI-driven" legal technology announcement. (Mark Greene tracks the day's most fascinating headlines in his blog, Today in Legal Artificial Intelligence.) Most products are aimed at assisting with the repetitive tasks related to document review, contract analytics, billing review and legal research. (Ron Friedmann's blog lays out the importance of building a tech-enabled law practice here.)
For a perspective from outside the law, here's the outlook from Harvard Business Review's recent guide to AI in business:
"Although AI is already in use in thousands of companies around the world, most big opportunities have not been tapped. The effects of AI will be magnified in the coming decade, as manufacturing, retailing, transportation, finance, health care, law, advertizing, insurance, entertainment, education, and virtually every other industry transform their core processes and business models to take advantage of machine learning. The bottleneck now is in management, implementation, and business imagination."
Getting Ready to Run With the Machines
The College of Law Practice Management's 2017 Futures Conference, Oct. 26-27, in Atlanta, will help separate the hype from reality. During "Running With the Machines: Artificial Intelligence in the Practice of Law," the best minds in the business will delve into where AI stands today — and offer a glimpse into the future. Over two days, sessions include:
AI in law practice — the current state of the art
Demos of AI products law firms are using now
Mind-bending videos that will challenge how you think about AI
AI's impact on marketing and legal operations
A look at the perilous ethical waters of AI and how AI may be regulated
You can find more information on the College's website and register here. Space is limited, so don't delay. (Note: Attorney at Work is a proud sponsor of the Futures Conference.)
What Will the Business of Law Look Like in 2026?
AI isn't the only thing shaping the future of law practice. Take a look at these four experts' predictions, based on their presentations at last year's Futures Conference: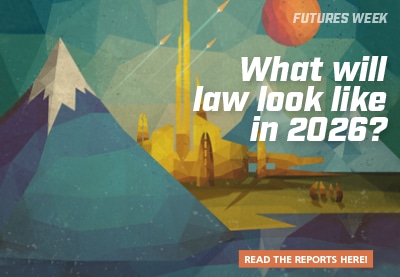 Illustration ©iStockPhoto.com
Subscribe to Attorney at Work
Get really good ideas every day: Subscribe to the Daily Dispatch and Weekly Wrap (it's free). Follow us on Twitter @attnyatwork.