Driving traffic to your website through organic search is on every law firm's marketing agenda — or it should be. If you've targeted wisely, then a significant percentage of your organic search traffic is primed to take the next step and contact your firm. Making the most of organic search can be challenging, though, because algorithms and market responses are always evolving. Here's what you need to know to stay ahead of the curve in 2016.
1. Go responsive for mobile visitors. Lawyers can be slow to change, but when it comes to marketing, the status quo can hurt. Our law firm clients see at least 25 percent of their search traffic coming from mobile devices, and sometimes that figure is much higher. That means to stay competitive, you must provide content that's easily accessible and easy to navigate from tablets, smartphones and desktop computers.
The consequences of neglecting the mobile market can be serious. Recent data tells us that more than half of mobile users will abandon a site if it doesn't load within three seconds. Even if your regular site loads quickly on a mobile device, your calls to action won't be showcased effectively in that format, meaning you're much less likely to convert visitors.
Accommodating mobile visitors through responsive design — making your web page adapt to and look good on all devices — has several advantages over simply designing a mobile site, but here's the quickest and clearest one: No single screen size represents more than 20 percent of the market. Designing for everyone means making your site responsive.
2. Speed up your site. We just discussed how a slow-loading site can hurt in the mobile search arena. It's true for desktop users, too. Overall, a one-second delay in loading time can reduce conversions by 7 percent, and page abandonment increases with every second added.
Of course, that's assuming those visitors ever reach your site. Since both Google and Bing factor load time into their search algorithms, a slow-loading page won't just hurt conversions — it will reduce traffic, too.
Google offers a free tool that checks page loading speeds, and even diagnoses the issues that increase your load time. You can also view specific load times from a variety of locations and browsers using this tool from webpagetest.org.
Common reasons for a site loading slowly are oversize images and clunky plug-ins. Most high-resolution images are just wasted space on a website. Reducing compression will cut down loading time and there's usually no visible difference. You can edit your images manually, or use a tool like EWWW Image Optimizer, SmushIt or WP Smush, which is specifically for WordPress sites. There's also a WordPress tool called P3 (Plugin Performance Profiler) that scans your site and tells which plug-ins may be causing delays.
3. Cultivate quality backlinks with good anchor text. Although some search factors change rapidly, backlinks are one of the few core, long-term pieces of the puzzle. Google states this directly: "Google search works because it relies on the millions of individuals posting links on websites to help determine which other sites offer content of value." And data confirms just how powerful those links are. A recent study of more than 1 million search results showed that the number of referring domains correlated more closely with high search rankings than any other factor.
Another recent study of more than 300,000 web pages and 16,000 keywords revealed that partial and exact match anchor text in quality backlinks have a significant impact on search ranking.
Of course, you won't always have the opportunity to control the anchor text associated with your backlinks, but when you have the opportunity to impact that choice, do so — whether it means asking a colleague who is linking to you to use particular terms or integrating them yourself in guest posts and other outside content.
4. Expand your content. With all the data you see about diminishing attention spans online, it's easy to imagine that short and to the point is the way to go on your web pages. That is true for certain types of pages, but it's not the way to drive search traffic to your site. Google's attention span, it turns out, is quite a bit longer than that of the average website visitor. When the search engine delivers results, it wants to offer the user quality content that answers the question he or she set out to answer. That means length and depth matter.
Though other factors may have some impact, it's clear that substantial content carries weight when it comes to ranking. Remember, though, that long content still shouldn't be dense. The use of keyword-rich subheads, white space and graphics to break up your content will allow you to provide the kind of depth search engines (and many users) are looking for, while providing the easily digestible formatting best received by web users.
5. Keep your eye on social search. In the ever-changing search landscape, there's no question that social networks are an emerging force. It's been less than a year since Facebook reformulated Nearby as a local business finder, but it's already the second-most-used app for local search. The appeal, beyond convenience, is obvious: The social tie-in means access to more information about a business that is neutral or comes from trusted sources.
The image below, pulled from a desktop local search for pizza in the Chicago suburbs, shows a star rating, a sample user review and a list of friends who have connections to the business.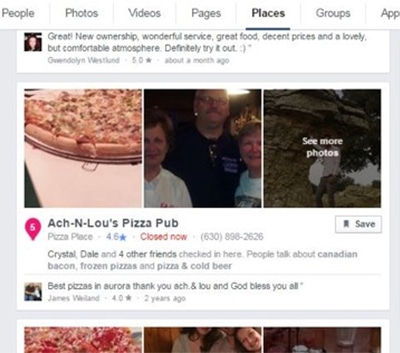 Though the full power of social search for local professionals has yet to be revealed, there are steps you can take today to better position yourself, such as claiming your business on Google and Facebook. Also, stay alert for new developments.
6. Let go of ranking (at least a little). Old habits die hard, but the days of obsessively monitoring your search ranking are over — or should be. Ranking probably always got a little more attention than it deserved, in that showing up in search results and even getting clicks was only part of the battle. It's always been conversions that counted. Today, however, the personalization and localization of results make it nearly impossible to get an accurate read on just where you're showing up for the average search user, let alone those in your target market.
There's no harm in keeping a loose eye on your rankings; it's good to monitor the trend and ensure that you're heading in the right direction. But, to get a valid read on the success of your organic search marketing, focus on traffic and conversions rather than placement.
The Bottom Line on Search
The details change. New algorithms, new strategies and new apps. The fundamentals don't: ease of access, ease of use, substantive content and votes of confidence.
Stay that course and you'll be well-positioned for a competitive year ahead.
Learn More at Lawyernomics 2016
"A Step By Step Guide to Winning at Search in 2016" will be Mike Ramsey's topic when he speaks at Avvo's Lawyernomics 2016 Lawyer Marketing and Business Conference in Las Vegas on April 7-9. Attorney at Work is a Media Sponsor of Lawyernomics 2016.
Illustration ©iStockPhoto.com