For recording and organizing notes, there are a number of really good apps to consider. And, as is true with all apps, many overlap in functionality. The apps outlined below for the iPad and iPhone have particular strengths that may resonate with the way you work and satisfy your note-taking needs. Check them out and see which ones you like best.
Note-taking and Audio Recording
I'd been searching a long while to find an app that can take notes and also record audio. Not too long ago, I discovered a very nice one for the iPad called Audiotorium, which allows you to type notes and record the audio from a meeting or lecture simultaneously. (See my mini-review here.) While it is a very good app, however, it does not have handwriting or drawing functionality.
Triple Threat: Note-taking, Audio Recording and Handwriting
In the app world, of course, things change very quickly. Recently I discovered Notability ($0.99) and Soundnote ($4.99), two great iPad apps that offer the three functions I want in a note-taker: typing, audio recording and handwriting. You can't go wrong with either app—both are inexpensive and both work well. Personally, however, I find Notability to be more feature-rich. With the ability to change the thickness of the writing point, width of lines and paper color and add lines—important to simulate an experience similar to writing on a piece of paper—for me, it offers a better writing experience.
I love having the ability to record meetings and lectures in certain situations and, quite frankly, I do not want to have a separate typing program, or a separate handwriting app, and a separate audio recorder. I want an all-in-one, and Notability provides me with all three functions.
Plus, when choosing a note-taking app, one of my favorite features is the ability to tap the share icon and simply email a note or recording back to the office or to yourself (or save it to Dropbox) for filing into the appropriate matter or project folder. This saves the step of having to scan paper. All three apps mentioned  have this feature. Also, while you could use your finger to write notes on the iPad, I strongly recommend investing in a stylus so that your writing experience is more similar to writing on paper with a pen.
A Find for Handwritten Notes
For the best handwriting experience, my good friend and colleague Brett Burney (MacsinLaw) told me about Noteshelf for iPad ($4.99). Based on my experience and in talking with many other folks, Noteshelf is probably among the highest-ranking and most popular. Penultimate ($0.99) also receives high marks. What sets Noteshelf apart from many other handwriting apps is the ability to magnify the writing area to maximize the sharpness and resolution of your handwriting.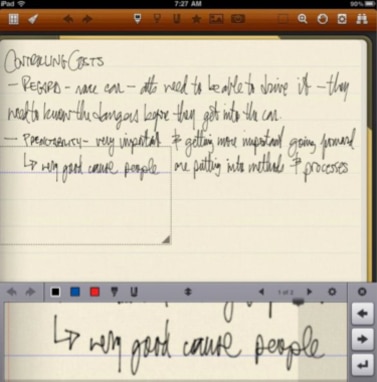 A Dictation App Star
The sound recorder built into the iPhone is too basic for lawyers who need the more traditional features of dictation equipment. A few months ago, an attorney at one of my seminars told me about a great dictation app called Dictamus Dictate & Send ($14.99), which he uses every day. (It's also iPad-compatible.) I checked it out and now I use it almost daily. Much like a traditional digital recorder, with Dictamus you can rewind, overwrite and insert anywhere within the audio recording. Once you are finished recording, you can download your recordings, send them as e-mails, or upload them to Dropbox, MobileMe, FTP or WebDAV. Many lawyers use Dictamus to email dictation to a virtual assistant. I use it to record my timesheets when I am on the go so that I capture more billable time.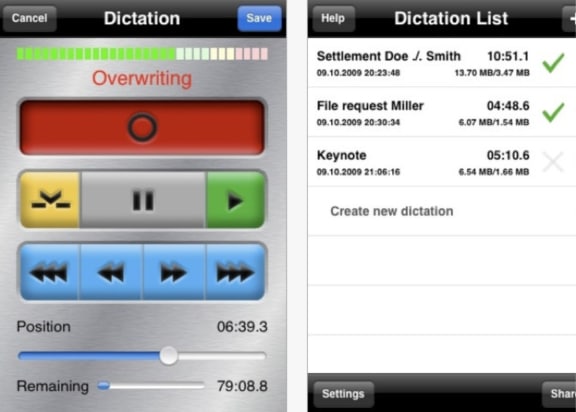 Paul J. Unger is a lawyer and founding member of Affinity Consulting, Inc. in Columbus, OH, and Past-Chair of ABA TECHSHOW 2011. Paul will be speaking on "iWin: iPads for Litigators," at ABA TECHSHOW 2012, where sessions will cover some of the latest choices in iPhone and iPad apps, March 29-31 in Chicago.