Some years ago, I conducted a half-day workshop on business development at an AmLaw 100 firm's retreat. I closed the session by saying the following: "If you don't remember anything else we have discussed in the last three hours, please just remember one word." Then I printed the word in great big letters on the flip chart — and explained what it stood for.
Since then, whenever I spend any time with an attorney who was at that retreat, whether it's a partner or associate, they never fail to bring up that word. They usually say something like, "As you can tell, I've never forgotten that word. It really works."
What was the word? PALER. And what does it stand for?
Plan how you're going to approach the client or prospect.
Ask questions. What are the problems they are dealing with? What are the issues they are facing? And what are their plans for addressing these issues?
Listen to their answers.
Educate them on how you could help solve their problems or assist them in achieving their plans. Don't try to sell.
Request the business. In your own words and in your own way, "ask for the order."
They Have a Word for That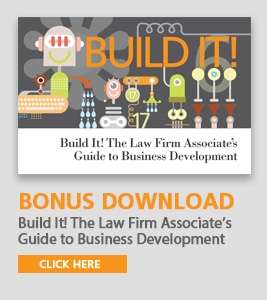 Needless to say, whenever discussing business development with attorneys, I tell them it's not complicated. Just remember one word.
Bob Denney is President of Robert Denney Associates, Inc., providing strategic management and marketing counsel to law firms. A respected speaker and author, his articles appear in many legal publications, and his firm publishes the highly regarded reports on What's Hot and What's Not in the Legal Profession.
Adapted from an Attorney at Work post by Bob Denney that was originally published in 2013.
Illustration ©ImageZoo.