The folks in the Mountain View studios of Google have been very busy of late, working out a number of new endeavors, including the launch of Google+, and the application of overarching revisions to the company's privacy policy. The most significant development of all, though, has been the recent unveiling of a change to Google search protocol that incorporates items shared or posted by your Google connections into returned results. What does Google's "Search Plus Your World" mean for lawyers, forced to the crossroads of search engine optimization and social networking? In part one of this post, I'll cover the need-to-knows of the new search protocol. In part two, I'll explain how lawyers can make the most of it.
 The Dawn of Social Search: Crowding Out Traditional Results
In the surest sign yet that Google is taking most seriously its latest foray into social networking, the online colossus has just gone all-in on Google+, its direct challenge to Facebook's platform, by folding Google+ generated results into its, heretofore impersonal, search engine results. While this most overtly represents a thinly-disguised attempt to drive usership of a potentially flagging Google+, the byproduct of such a large-scale and deeply-invested marketing pitch is that Google has just made the most dramatic change to its search tool in its history. Whether you think this a perversion of Internet search, or the natural progression toward what Internet search is to become, Search Plus Your World means that social networking has become inextricably linked to web search. What "The dawn of social search" means is that businesses and business people, including law firms and lawyers, will find and be found online in new, unique and more dynamic ways.
Plus One
Google Search Plus Your World is "on" when you're logged into your Google accounts via Google's universal log-in. (The most common entry point for Google log-in is via Gmail.) When it's on and you're logged in, you'll notice its application at several Google sites. For example, at the YouTube homepage, you'll see a list of videos that your social contacts (Google+ connections) have +1'd, or marked with their vague stamp of approval. At Google Images, the first several images, if enough shares are available, are those posted from your social contacts. (For a good time, type "LOMAP Blog" into Google Images to see all the wack pictures I've posted to my blog. If you're logged into Google, and connected with me, you'll see how Search Plus Your World works).
The most striking changes, though, appear at generic Google search results. Most obviously, social contact results are tabbed with a little person, and the bar at the top of your search results that used to read "About 186,000 results" now reads "40 personal results. 186,000 other results." The personal results indicator is clickable, so you can easily convert to a purely social search, arraying only those results that your social contacts have shared. I've referenced "social contacts" here and "shares" rather than "Google+ posts," because, while the main driver of these changes remains Google's fever dream to crush Facebook, social search pulls in other things shared within Google's closed universe by Google+ connections: Picasa photos, images posted to Blogger and +1'd YouTube videos, for example.
Since Google is all about not being evil and stuff, users can opt-out of Search Plus Your World. If you are logged-in, opt-out of personal search by clicking on the globe icon at the top right of the search screen, to the immediate, abutting right of the little person icon.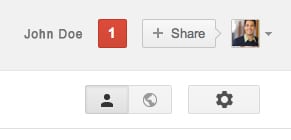 Of course, this is sort of nefarious. Google is certainly hoping you won't, or will forget to, opt-out; and, eventually, they're certain to remove the opt-out feature altogether. There is, though, the de facto opt-out. Avoid connecting with the Google world at all, by not liking (excuse me, +1ing) or linking to anything, and by not engaging Google+ or any potential contacts thereon. But since there are so many free and useful Google tools, that sort of asceticism becomes harder and harder to hold onto.
For an in-depth run-down of Google's new search capabilities (with considerations for privacy and security concerns, which, as listed, appear to be overblown), check out what Search Engine Land's Danny Sullivan has to say, here.
A Back Door to Relevancy
Google Search Plus World is transformative of search engine optimization because it creates a back door to relevancy.  If you perform a relevant search on Google in two ways—logged-in and opted-in versus logged-out or opted-out—you'll see that those search results differ in kind. Results from your social contacts are pushed to the first page when Search Plus Your World is in operation, yet those results don't appear on the first page when you do a general web search. This is a profound development, because it means that search rankings can be potentially improved merely by virtue of the content provider's knowing (in an online way) the searcher. In turn that means the more searchers you can connect to, the more likely you are to improve your page rankings—and your chances of getting found. Additionally, the tab that will appear first on any new Google Search Plus Your World query is a link to a listing of solely personalized results, making it more likely that the searcher will be tempted to click this first "result" to see what online friends are saying about the subject.
Those are two powerful methods for getting noticed. To make it happen, all you have to do is post to Google, and acquire connections.
Of course, there has been some backlash. But, even if Google eventually tones down Search Plus Your World, the muted version will remain. If Google inexplicably shuts down the new program altogether, the next Internet search giant will just pick up the mantle. The more likely scenario, though, is that Google continues to expand Search Plus Your World features, while eventually caving to increased pressure to make Facebook and Twitter, et al., connection/friend/follower posts more prominent.
So what does all this mean for your practice? Stay tuned for Part Two!
Jared Correia is the law practice advisor at the Massachusetts Law Office Management Assistance Program. Prior to joining LOMAP, he was the Publications Attorney for the Massachusetts Bar Association. Before that, he worked as a private practice lawyer. Jared is a graduate of Suffolk University Law School and of Saint Anselm College, where he was a captain of the debate squad that finished as national runner-up in 2000. He loves James Taylor.
Sign up for Attorney at Work
Subscribe to the Daily Dispatch or Weekly Wrap for "One Really Good Idea Every Day" for enterprising lawyers.