In his new book, Secrets of Lawyer Video Marketing in the Age of YouTube, trial lawyer Gerry Oginski lays out the dos and don'ts of creating effective videos for your law practice—the kind that compel viewers to actually call and hire you. In this excerpt, he explains why the most successful videos you make don't say a peep about the lawyer, or the law. It may seem counter-intuitive at first … 
1. Don't Talk about Yourself
You would think that this is self-explanatory by now. Unfortunately, it's not. Years ago the video production companies would tell lawyers that their potential clients wanted to hear all about their credentials and how great they were. What great knowledge and insight did we have, as mere practicing attorneys, to dispute what these wise production companies had to say?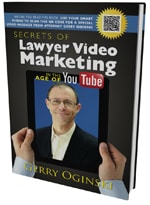 Most video marketing was terrible when it first became popular on the web about five or six years ago. Most video production companies still had the yellow pages mentality, thinking that if the lawyer talked about his or her credentials and all of their great experience, that would be an incentive to get someone to call.
It makes sense in a weird sort of way. However, as more and more people went online to search for information, it became apparent that the old-school style of creating marketing messages had changed. It changed so dramatically that viewers no longer cared about what law school you went to and what your qualifications were. The mind shift occurred because they realized they could bypass the TV ads and the yellow pages and find direct content about their particular legal problem. There was a huge disconnect between what people were searching for and what lawyers and their video production companies were providing to them.
The savvy lawyers who were learning to market their practices by learning from others outside the legal community recognized quickly that potential clients did not care about us as individuals. The only thing they cared about was whether we could help solve their pressing legal problem. If we could somehow show that we had the knowledge and intelligence to solve their problem, that enabled us to dramatically increase the chances that they would recognize us as an expert, without ever having to say that we were, in fact, an expert.
Useful information is more interesting than your bio. Some lawyers and video companies still believe that it is important to have the lawyers talk about themselves. I've stated repeatedly, lecturing to attorneys throughout the country and in hundreds of articles, that consumers and clients searching for you online simply do not care about you. Assuming that fact to be true, why then would you create a video that talks about you?
I have had smart lawyers tell me that they wanted to create an attorney bio as a video to supplement their bio page on their website. I told them that would be a waste of their time and resources. People are not coming to the bio page until they have already determined that they like what you have to say and have begun to trust you, based on the information you have already provided to them.
You gain much more traction by providing useful content than you do by talking about yourself or your law firm.
Think about it this way: When you go to buy a new car, do you really care whether the car dealer has sold 10 cars that month or 100 cars? Do you really care how long the car dealer has been in business in order for them to sell you a car that you want? The reality is that you don't care a bit about any of the salesman's credentials. You only want information about the car that will help you to make a purchasing decision.
2. Don't Talk about the Law
It should be common sense that you should never talk about the law in your videos, because you do not want to establish an attorney-client relationship with someone who's watching your video online. You also do not want someone to incorrectly apply the information you are discussing, since they may inaccurately interpret what you are saying.
In addition, you may be providing information that may be out of date the following day, week, month or year. By the time a viewer watches your information, they may not recognize that the information is untimely or has changed.
Under no circumstance should you provide legal information without providing a huge disclaimer both verbally and in written form. In fact, if you are going to discuss a specific law, make sure to include a verbal disclaimer that the viewer cannot and should not be relying on this information. That is a responsible way to present information to the general public. It also will conform with your state's ethics rules. Keep in mind that your videos must comply with the ethical rules specific to your own state.
Gerry Oginski is the founder of the Lawyers' Video Studio, a New York medical malpractice trial attorney and author of Secrets of Lawyer Video Marketing in the Age of YouTube.
Subscribe to Attorney at Work
Get really good ideas every day: Subscribe to the Daily Dispatch! (No charge … lots of updates.)