The grumpy Gus in the crowd who resists creating a simple LinkedIn profile would be blown away by all the things you can do with this most popular of professional social networks. But you, savvy user that you are, are probably still overlooking some nifty tricks. To see what you've been missing, check this week's Five and click the bonus download for the our best LinkedIn articles. Then strap on your seatbelt and implement!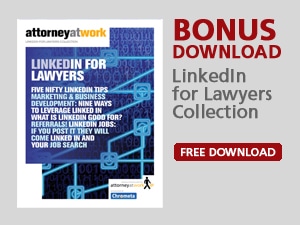 Get found. Use search engine optimization. For the uninitiated, SEO is the use of key words repetitively so that people can find you. Er … so that search engines can find you when being used by the people you want to find you. So if you're a patent lawyer, you'll want to make sure you use terms like "intellectual property," "patent," "invention," "trade secret" and "attorney." You're a litigator? Play around with terms like "trial," "litigation," "jury," "dispute" and "court." Make a list of the terms potential clients or employers might use in a search to find someone like you, and use them in your profile: Headline, summary, specialties, experience and recommendations sections. You may not even be actively looking for clients or a new job, but isn't it nice to be found by a great unexpected opportunity? (If you want help creating your keyword list, use Google Trends to research interest in different topics and see the terms that apply.
Go on and show off. Perhaps you already know that slides from your presentations can easily be included by using Google Presentation and SlideShare. (Careful with the second link. You're about to enter a wonderland of incredible presentations from which you may not soon return!) But don't limit yourself to presentation slides. Create a portfolio of accomplishment—perhaps real estate properties with which you've been involved. Or news media reports of big cases. You could even create a detailed presentation about your firm's capabilities. A pictures worth a … but you knew that, didn't you?
Be ready: Create a resume. You can use your LinkedIn profile to generate a fairly presentable resume. It won't be perfect without a little tweaking, but go to the LinkedIn Resume Generator and give it a try. Once you select a style, you'll find that you want to go back to your profile and modify a few things—it's helpful perspective to see the information in a standard resume format. And when you've got it  just like you want it, save it and it will be ready for you to attach and email or print any time you need it.
Be a leader. Start a group. By now, you've discovered LinkedIn groups and you've even joined one or two. Maybe you even engage by commenting on group discussions from time to time. Now it's time to start a group. Most who have started a LinkedIn group know the value. Those have haven't may be skeptical. Here's the skinny: By creating a group focused on an area of specific interest to your potential clients, you position yourself as an expert, understand their issues and questions that concern them, drive traffic to your own website and create a platform to demonstrate your own capabilities. There is, however, more to it than just pushing a couple of buttons. To be useful, your group must be well managed.
Be generous. Recommend others. Yep, it's delicious to gather those great recommendations of your work from colleagues and clients. But have you invested time in recommending others on LinkedIn? Some would say it's good kharma. Or maybe it's just good business. But praising others—sincerely—always reflects well on you. A potential referrer of your services is reminded of your value when you write a recommendation for their LinkedIn page. Those who view your recommendations of others perceive you as a kind, discerning and supportive person interested in good for others. And, go on, it feels good, too. If recommendations are strange to you, watch this quick video and you'll get the idea.
Bonus: Complimentary LinkedIn for Lawyers Collection
Download our nifty LinkedIn for Lawyers collection, containing some of the best LinkedIn articles on Attorney at Work this past year. Find tips on getting referrals, hiring someone, mastering social media potential and finding a job.