Krisp is a magical app I can't imagine living without — especially in a world with 300 million daily Zoom sessions. 
Let me guess. You're reading this as you eat lunch (leftovers) at your desk (in the spare bedroom) while attired in business very casual (sweatpants), ears still ringing as you prep for your next meeting (over Zoom).
I'm right there with you. We all are. But there's help.
Remote working has forced us all to adapt and it may have changed office dynamics forever … but it's also inspired some amazing tools like Krisp.
What Is Krisp?
Krisp is an AI-powered noise-canceling app that filters your microphone and speakers to remove extraneous sounds, leaving only speakers' voices — and a heightened sense of professionalism.
We've all been on Zoom when sirens pass, dogs go nuts in the background, children interrupt or echoes just drive you crazy. It's embarrassing for the speaker and distracting to the call. Krisp renders your workspace silent and your voice crystal clear, letting participants focus on the topic and your talent rather than the TV in the background.
Sound too good to be true? That's what I thought. After a colleague recommended Krisp, I signed up for a trial and put it to the test by joining an office meeting from a local bar and grill. Loud music, clanging plates, and a row of arcade games created chaos from which I would never typically work … but my assistant swore she heard only my voice. Even when the waitress came for my order (gourmet grilled cheese, yum), only my side of the interaction was audible on Zoom.
I was thoroughly impressed by the program (and the sandwich). No. I was blown away.
Who Is Krisp For?
Anyone participating in an endless procession of conference calls without reliable access to quiet spaces or acoustic studios. Anyone who's been shamed by their sound quality, embarrassed by background noises, or just wants to present more professionally. In short, everyone; especially those in the 300 million daily Zoom sessions.
How Do I Get Started?
Krisp offers a free personal plan with limited minutes (240 per week) and a $5 per month plan with unlimited minutes. You can easily add team members (up to 50), and there's an enterprise version, too. It's available for Mac and Windows, and it works with Zoom, Teams, Slack, FaceTime, Google and more.
Once installed, Krisp adds a new microphone button to your other apps — just click it at the start of a call, and your kids and pets will disappear (from the audio feed, not your home; you'll need another service for that). You'll still need to lock your door if you want to keep wandering kids off-camera, but so long as you've clicked the Krisp microphone, your children will only be seen, not heard.
In addition to removing distracting noise, Krisp recently added HD voice enhancement (which compensates for crappy mics) and echo cancellation (saving you from lousy room acoustics or feedback from unmuted connections). All modifications occur locally on your machine, eliminating privacy concerns.
Honestly, it's impressive how well Krisp works — and not only from your home office. You can work from coffee shops and other public venues and still sound like you're in a studio.
Keep It Down!
Selective listening is an annoying trait that damages relationship communication. Selective hearing, on the other hand, is a handy trick that permits us to isolate essential sounds within a chorus of noises, and Krisp makes it much more manageable.
Krisp cleans up your end of the call by eliminating background noise and enhancing your voice, but that's little help when someone else has joined the meeting from the front row of their child's recital. All it takes is one participant with noise on their end to disrupt an entire meeting — an echo, some buzzing, barking in the background. It's embarrassing for them, awkward for the call, and there are only so many times you can ask others to mute.
If only Krisp's magic technology could be applied to what we hear, not just what we say.
Behold — our wish is granted! Clicking on Krisp's "Remove Noise" feature applies the same technology to remove extraneous sound from the speaker end, allowing you to concentrate on what's being said. I don't use this all the time, but when necessary, it works like a charm.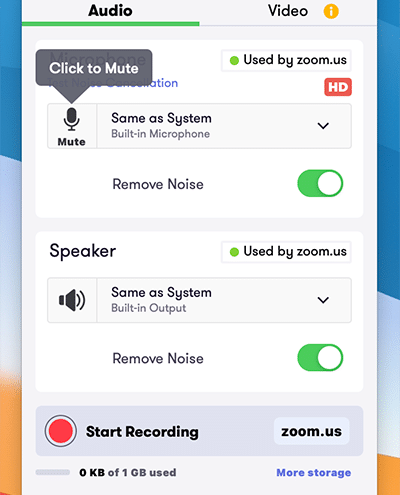 Serenity Now!
I'm still waiting for "Krispectacles" — goggles that filter out other callers' wildly distracting backgrounds. But I'll settle for this easy, affordable, brilliant audio app that lowers anxiety and heightens rewards during long days spent in tiny squares.
If you desire clear sound on Zoom, try Krisp now. And if you desire gooey cheese in Ohio, try Melt Bar & Grill.
Illustration ©iStockPhoto.com
Subscribe to Attorney at Work
Get really good ideas every day for your law practice: Subscribe to the Daily Dispatch (it's free). Follow us on Twitter @attnyatwork.