In today's saturated marketplace of ideas, many law firms struggle to create content that connects with audiences suffering from information overload. Faced with this challenge, legal content creators have three options: give up, trudge on or get strategic.
To develop valuable, informative and entertaining content, you need a content strategy that leverages your firm's collective brainpower and experience, while taking into account your resources, finite as they may be. As the old adage goes, it requires working smarter, not harder.
Think Evergreen
There is an important place in every firm's content marketing strategy for breaking news and updates — a temporal approach to content. But the foundation of your content pipeline should be evergreen content. Evergreen content is content that stands the test of time. It remains relevant. It's the best way to generate content ROI because it allows you to produce more content for less work, research and cost.
Quality + Timelessness = Evergreen
Content that remains popular over time, and that ranks highly in search engines, is genuinely helpful and actionable. Your clients — and prospective clients — face common challenges that you help them overcome through your work. By pinpointing those common pain points (and opportunities), you can produce evergreen content that will generate traffic and establish your expertise.
Evergreen Content Formats
There's no secret formula or format for creating evergreen content. But a few that work well include:
How-to's. Do your Google searches often start with "How to…"? So do everyone else's. If you can provide the answer to "How to" you're on the right track.
Resource lists. This involves curating and linking to content from other sources that is helpful to your audience, for example, "Top 10 Resources for …" and "Five Best Apps to … " and so on.
FAQs. Industries share commonalities, including questions they frequently ask.
Repurpose to Reach Further
Once you've created evergreen content, broaden its reach. An article dealing with a seller's remedies upon a breach of contract under the Uniform Commercial Code is good, but a series of articles on the topic custom-tailored to particular industries is even better. While the remedies may be the same for automotive suppliers and consumer products manufacturers, the course of dealings, business practices and customs in different industries may be different.
Instead of glossing over the unique characteristics of different industries by making your content more general, modify your content and make it more relevant to different audiences.
In other words, repurpose your evergreen.
A substantive 1,500 word article can be repurposed up to a white paper or e-book, or repurposed down to a series of blog posts or infographics.
A presentation can be given as a webinar.
A blog post can be made into a podcast.
This is the "hub and spoke" approach to content marketing. The original piece of content is the "hub" and the "spokes" are the other content formats you use to extend its reach. The options are limited only by your creativity.
Start by Looking Backwards
Review your Internet analytics to determine your most popular posts or articles. A good evergreen indicator is when an old post is still at the top of your charts months, or even years, later. See if you can update, or add a new perspective, to a popular piece of content, then consider ways that content can be repurposed into other formats. Revisit, remix, and reap the rewards of your best content.
It's the Long Game
Content marketing is not designed to, nor will it, convert leads immediately. It's the long game, requiring continuous, long-term engagement. That's why evergreen content is so important. It's the glue that holds a long-term content marketing strategy together, allowing it to pay continuous dividends.
Jay Harrington is co-founder of Harrington Communications, where he leads the agency's Brand Strategy, Content Creation and Client Service teams. He also writes weekly dispatches on the agency's blog, Simply Stated. Previously, Jay was a commercial litigator and corporate bankruptcy attorney at Skadden, Arps, Slate, Meagher & Flom and Foley & Lardner. He has an undergraduate degree in journalism and earned his law degree from the University of Michigan Law School. Follow him @harringj75.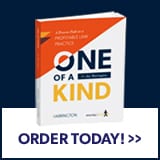 ONE OF A KIND:
A Proven Path to a Profitable Law Practice
Practical advice for building a more profitable practice. Almost every lawyer wants to command higher rates and attract more clients. But many are stuck perusing ineffective strategies. Others don't even know where to start. In his new book, lawyer-turned-legal marketer Jay Harrington lays out a path for lawyers to build a profitable practice.