You're busy and you need to know how to address an envelope, so let's get right into it.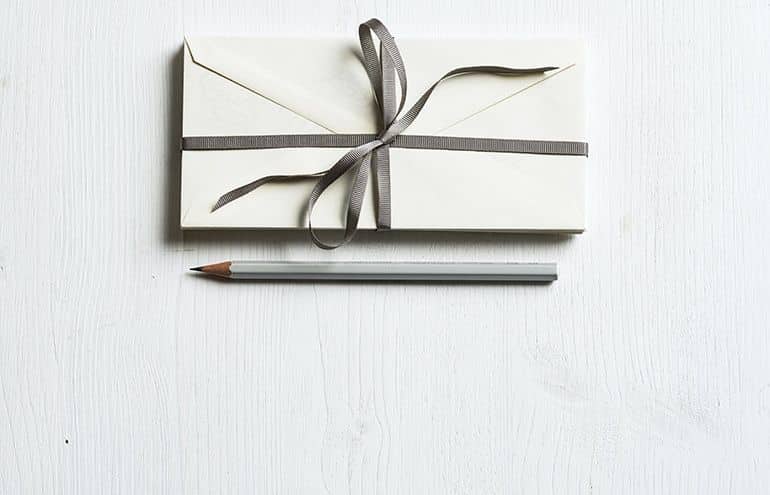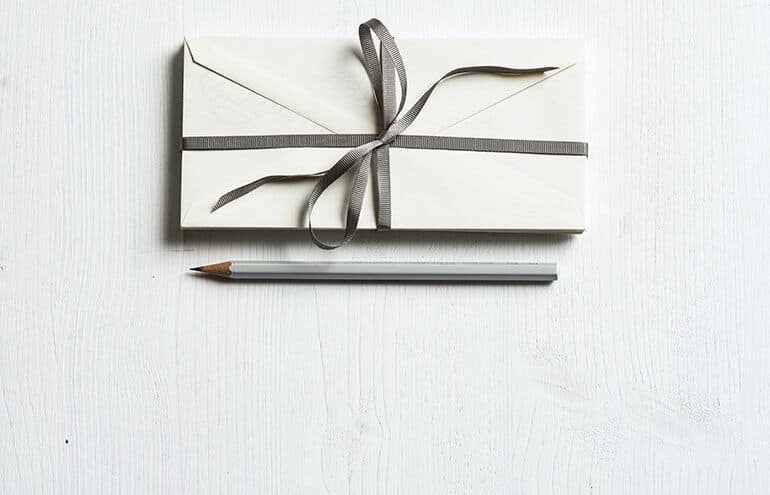 How to Address an Envelope in Three Steps
To address an envelope you will need to know three things: the recipient's address, your return address, and how to locate a postage stamp. Write or type all of the "to" information squarely in the center of the front side of the envelope, like this:
Step 1: The "To" Section
The address of whomever you are sending a letter TO.
ON THE FIRST LINE, PRINT THE NAME.
Print your recipient's name clearly. It's tempting to use your fancy handwriting to put their name down in loopy cursive, but your handwriting can't be read by doctors, so let's just go with printing the name in BLOCK CAPITALS because postal carriers are busy people, and they don't have ESP.
Example: BULL GARLINGTON
ON THE SECOND LINE, PRINT THE COMPANY NAME.
Add the name of the recipient's company if it is a business letter. (You don't have to write c/o or "In care of" unless the person to whom you are writing is actually in someone's care or, perhaps, imprisoned in a broom closet.
Example: ANALOG ATTORNEY
ON THE THIRD LINE, PRINT THEIR STREET ADDRESS.
Like this: NUMBER STREET NAME. If there is an apartment number or an office number, place it on the same line after the street unless it is too long or otherwise cumbersome; then put it on the next line.
Example: P.O. Box 352
ON THE FOURTH LINE, PRINT THE CITY STATE AND ZIP CODE.
You don't need a comma after the city, and please use the standard TWO LETTER postal abbreviations for states. It's not 1933.
Example: LAKE ZURICH IL 60047
Step 2: The "From" Section
Write your name and address. Essentially, use the very same format as the TO address, though you can use lowercase if you want, and you can be fancier if it suits you. Please don't put your return address on the back of the envelope, though. According to my local post office clerk, Diane, it's a pain to turn over that letter.
The return address — your address — should be in the upper left corner of the envelope and look like this:
YOUR NAME
111 YOUR STREET AVENUE
YOUR CITY, ST 777444
Step 3: The Postage Stamp
Place your postage stamp in the upper right corner of the envelope. (Stamps can be ordered online at the USPS site, at stamp machines at most post offices, or from the post office clerk.)
Your Addressed Envelope Should Look Like This: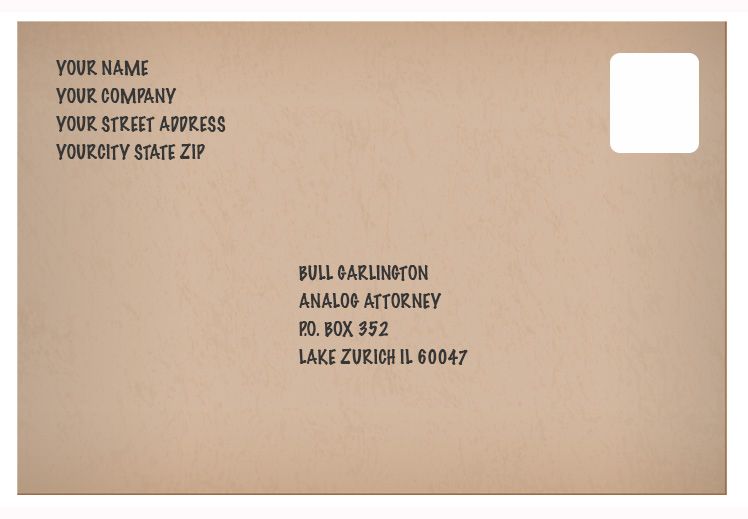 Sending a Letter to Someone in the U.S. Armed Forces
According to Frank's Compulsive Guide to Postal Addresses, military addresses employ APO (Army or Air Force Post Office) or FPO (Fleet Post Office for the Navy, Marine Corps or Coast Guard) instead of the city name, and then the state name is AA (for Americas), AE (for Europe) or AP (for Pacific). An example may look like this:
LT DAVID HAYNES
HEADQUARTERS COMPANY
7TH ARMY TRAINING CENTER
ATTN: AETT-AG
UNIT 28130
APO AE 09114-8130
Sending a letter to Canada
The format is the same, except it's a province, not a state, and their postal codes are weird. Also, add "CANADA" under the address. Here is an example:
DR. BIG FOOT
111 SASQUATCH DRIVE
MOOSE JAW SK S6H 2X1
CANADA
For an exhaustive list of examples for addressing international mail, visit Frank's Compulsive Guide.
Related Posts from Analog Attorney
For some of the many reasons addressing an envelope is useful, satisfying and can help your business, read:
"Analog Attorney: How to Fall in Love With the USPS"
"Five Personalized Stationery Notes to Love"
"Handwritten Notes Help Build Real Relationships"
Image © iStockPhoto.com

Don't miss out on our daily practice management tips. Subscribe to Attorney at Work's free newsletter here >