law firm innovation. A dozen business development professionals talk about the innovative ways their firms have strengthened relationships and created deeper ties.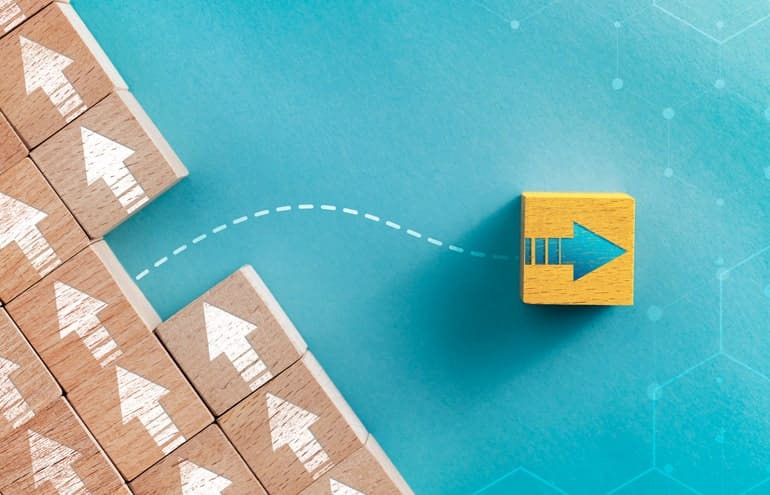 Businesses around the world continue to feel the pandemic's impact in countless ways. Most in-house legal departments still grapple with the challenges of working remotely, making do with leaner budgets and resources, and managing virtual teams — all during an unprecedented era across nearly all industries and geographies. Similarly, many private clients struggle to overcome hurdles related to limited access to technology or lack of funds.
Times of crisis and uncertainty always present opportunity. Turmoil forces us to think differently as humans and as organizations. While law firms may not have all the answers — let's face it, there is no playbook for this — firms that are flexible, agile and innovative can best serve their clients and stand apart from their competition. And law firms that resist the impetus for change will risk failure.
With no similar circumstance in modern history from which to learn, how have firms supported clients through a monumental global shift in working relationships? Here are some of the law firm innovation strategies in play.
Anticipating Changing Needs
Law Firm Innovation: Issue-spotting and anticipating potential needs are cornerstones of good client service. It becomes even more valuable to clients and a critical factor in building trust and strong relationships during periods of uncertainty. Connell Foley LLP understands the need to think ahead for its clients, especially in uncharted territory.

Mary Che, vice president of marketing, Connell Foley (Roseland, N.J.). "Anticipating client needs has always been a key component of good lawyering. But the pandemic created a sense of uncertainty and urgency, the likes of which most businesses could not have imagined. It was immediately evident to our firm that our role was to anticipate the questions and issues that our clients were going to face and provide them the information and resources they needed — before they could even ask the questions. Among the steps we took was creating a dedicated multidisciplinary team tasked with following state-level legislative developments that could directly affect our clients' operations. Frequent communications on these developments ensured information reached our clients as expeditiously as possible and allowed us to act as a sounding board for them as they tried to understand the various mandates and regulatory guidance for their specific industry. In addition, given the preponderance of employment law issues and the questions we knew clients would have once stay-at-home orders were lifted, we developed a comprehensive 'Re-Opening Handbook' to guide businesses through the considerations they would need to address in preparing to reopen their workplaces. Clients appreciate knowing that their outside counsel will guide them through even the most challenging times."
Becoming a Trusted Resource on the Ever-Changing Legal Landscape
Law Firm Innovation: Accessing patent data, tackling the changing court schedules and following judicial deadline extensions are just a few variables that businesses and lawyers are handling during the global pandemic. Licks Attorneys use their website as a one-stop resource to provide its global client base with up-to-date information that impacts case management.

Vivian Coco, head of legal marketing and client relations, Licks Attorneys (Rio de Janeiro, Brazil). "Licks Attorneys has invested in developing the capacity to conduct an exclusive search and real-time data analysis of the Brazilian Patent System's official database, enabling anyone visiting our website to obtain in seconds essential and strategic information regarding the country's patent landscape. We are also developing a series of different Business Information dashboards tailored to our client's specific needs, concentrating all relevant information concerning their patent portfolio in Brazil."

Bruna DeRegina, communication manager, Licks Attorneys. "Because most of our clients are foreigners with business interests in Brazil, Licks Attorneys created a dedicated page on its website entitled 'COVID-19 Legal Lab.' This is a multiphase project designed to keep our clients informed about the legal and regulatory consequences of the COVID-19 crisis in Brazil. The first phase entailed compiling articles — many written by our team members — regarding the legal and commercial aspects of COVID-19's impact, maps of Brazil's lockdown measures, and details of how the Brazilian court system functions during the epidemic. In this, the second stage of the project, we are surveying — and updating — the operation of most important Brazilian courts, including extensions of judicial deadlines and updated court schedules, and the time limits and proceedings of the Brazilian Patent Office."
Creating Custom Solutions to Client Challenges
Law Firm Innovation: While the pandemic created some universal challenges for clients, nuanced challenges exist for every type of client — both corporate and consumer. Beyond simply understanding the issues, creating custom solutions to assist clients during difficult times builds trust and loyalty. Cowen | Rodriguez | Peacock is doing just that.

Delisi Friday, director of marketing and business development, Cowen | Rodriguez | Peacock (San Antonio, Tex.). "2020 forced us to be flexible, creative and problem-solve. Our firm has two clients: our actual clients and the referral attorneys we partner with on cases. For us, we had to problem-solve for our clients, but we also had to be creative in how we marketed our firm to attorneys without being tone-deaf. With our clients, we ran up against technology issues. Virtual hearings and depositions inevitably became our path to continued momentum in our cases, so we had to train our clients in how to use it. We created short videos we shared with our clients on how to add Zoom to a phone or a computer, as well as how to use it. Our office would set up 'test run' sessions where we would make sure the client knew how to use Zoom for their upcoming deposition. The other hurdle was how to do this with clients who didn't have a smartphone or tablet. This forced us to buy tablets, set them up in advance with Zoom, and then send them to clients in advance to learn and use.
"When it came to potential referral attorneys, we knew there would be firms struggling with cash flow because the pandemic was so disruptive on law firms everywhere. If a solo attorney had to make a decision to take out a loan to fund a client's surgery, we wanted to be a solution for them instead of a loan. But how do you offer a partnership without it coming across as inauthentic or patronizing during an already difficult economic time? Our decision was a carefully worded commercial in our Trial Lawyer Nation podcast. And in 2020, we partnered with law firms across the country on wrongful death cases, strictly from new business generated from our podcast, which made 2020 our most successful year for new business."
Embracing Virtual Opportunities to Deepen Cross-Border Relationships
Law Firm Innovation: Many firms have mulled over how to maintain personal connections with clients during a period of forced virtual operations. McMillan LLP embraces virtual opportunities to serve and educate clients, as well as to deepen relations while many people continue to work virtually.

Hans Chang, marketing and business development manager, McMillan LLP (Vancouver, B.C.). "One unique opportunity that we took advantage of during this COVID era is reimagining 'client visits,' which have become much more time– and cost-efficient. As the pressure to visit clients in person has all but disappeared, it's become much easier to check in with our clients much more frequently and meaningfully. To that end, we have increased client-targeted education programs, workshops, and check-ins with institutional clients that have teams all over the world, which increases client satisfaction and generates more cross-selling opportunities. Along the same vein, because physical distance has carried much less meaning in the past year, we could more easily connect with associate firms and referral sources from all over the world. This has helped tremendously in our international business development efforts by allowing us to reach farther without reaching deep into our pockets. We saw tangible results from our targeted international business development efforts using a virtual platform."
Harnessing the Power of Online Collaboration
Law Firm Innovation: Online collaboration tools allow organizations to enhance communication, efficiency and productivity on projects and among team members. Eversheds Sutherland harnesses these online platforms' power to collaborate with clients on matter management.

Eric Gruis, senior client service manager, Eversheds Sutherland (Washington, D.C.). "Most law firms already have access to one or more platforms for building online client collaboration sites. These resources are often critically underutilized and can be a tremendous way to connect with clients and help them manage matters efficiently in a remote work setting. Clients can generally access these platforms from anywhere, including on mobile devices, and the capabilities go far beyond simple file-sharing. We've built sites to collaborate with both clients and co-counsel to manage pleadings, trial calendars, task lists, budgets and correspondence across multiple active matters through one virtual dashboard. The challenge with these sorts of efforts is always driving behavioral change to get people to use the site. But with the pandemic sending people scrambling for ways to make work-from-home work, this might be the easiest time to achieve that behavioral change."
Leveraging the Skills of Legal Operations Management
Law Firm Innovation: A critical component of any successful organization is leveraging top talent to create opportunities for long-term growth. Business professionals within law firms play a more important role than ever before in the ability for firms to advance business operations and client service offerings. For the first time in the firm's history, Lathrop GPM LLP named a business professional to a practice group leadership position.

Jasmine Trillos-Decarie, chief client officer, Lathrop GPM (Denver). "At Lathrop GPM, we are continually reviewing our management structure to ensure we have the right people, in the right positions to expand upon the value we deliver to our clients. Earlier this year, our firm named Kate Tompkins the leader of the IP practice group. What's innovative is that Kate is a business professional. She is focused on ensuring the IP practice operates efficiently and strategically supports the firm's clients. Our IP Practice Group structure lends itself to having a business professional manage the group so the attorneys can focus on what they do best, serving clients and bringing in new business. Our clients, especially those in Life Sciences, have welcomed Kate's role."
Prioritizing Client Feedback
Law Firm Innovation: A formalized approach to obtaining client feedback provides an important opportunity to understand your clients' needs and expectations, as well as understand how your firm is performing through the client's lens. During a time of disruption and uncertainty, identifying opportunities to proactively assess potential client pain points through their relationship with the firm can help to assuage unnecessary client stress and frustration. Empowering individuals within the firm to identify issues that arise in routine processes provides opportunities to make adjustments that create greater client satisfaction in the long run. Bell, Davis & Pitt, P.A., is doing just that.

Brandi Michelle Hobbs, client strategy officer, Bell, Davis & Pitt (Charlotte, N.C.). "Client service interviews, when done well, can be a valuable way to find out how individual clients feel about the experience they are having with your firm. Absent direct client feedback, identify individuals or teams primarily responsible for each step of the client journey — intake, billing, client relations, and so on — and discuss with them the issues that arise in the normal course of business. If your clients are frustrated, these conversations will help identify sources of friction and ways to relieve it. Collecting this information has always been important but never more so than after a period of significant change and disruption. This could be a firm merger, turnover within the firm or client company, or — as many of us have recently experienced — suddenly adjusting all of your firm's processes due to a global pandemic."
Providing Cost Certainty Without Compromising Quality
Law Firm Innovation: Cost predictability and certainty are of significant value to most clients when embarking on a matter, especially in times where decision-makers are pushed to reduce spend. Offering cost certainty without compromising on the quality of service provides clients with confidence in their hiring decision. Miles Mediation & Arbitration understands the need for cost certainty in alternative dispute resolution.

Marcie Dickson, former CMBDO, Miles Mediation & Arbitration (Atlanta). "At Miles Mediation & Arbitration, we elevated the quality of client service by adding an 'elite concierge team' that collaborates with customer success, marketing, operations and finance to ensure a seamless and enjoyable experience for every client. We also listened intently to clients about what they needed from us to expedite case resolution in a more cost-effective manner. With this feedback, we developed several innovative programs that addressed our clients' critical needs, including launching a flat fee online dispute resolution platform: ADR On Demand, which enables each party to pay a small fee to mediate a lower value claim for three hours. ADR On Demand has a separate panel of neutrals that handles these cases, and each case is assigned to a neutral via randomized selection. The response from clients has been phenomenal; they appreciate the opportunity to control costs, all while receiving the same high-quality service they would expect from our primary panel of neutrals."
Taking a Personal Approach to Thought Leadership
Law Firm Innovation: For years, studies have shown that content that an organization's employees share reaches exponentially further than the same content when the organization itself shares it. In fact, recent studies show that content travels as much as eight to 10 times further. Engaging lawyers and staff to share firm content with their networks through personalized outreach pays in dividends. Wilmer Cutler Pickering Hale and Dorr LLP knows the value of this strategic and thoughtful approach to content.

Chris Postizzi, director of marketing and communications, WilmerHale (Boston). "With the outbreak of COVID-19, our lawyers have truly embraced the idiom 'content is king.' Not only have our lawyers upped their game with the amount of thought leadership they produce, but they are now keenly focused on the resulting metrics of those efforts. We work closely with the lawyers to analyze the data and let it drive the topics and timing of the thought leadership being produced. We have also seen a shift in the lawyers' willingness to be more targeted and personal with the way they share content with their networks, be that through a significant increase in the adoption of social media or through the simple, yet very effective, approach of sharing content with their clients with an accompanying personalized note.
"One of our more effective communications that came out of the pandemic was the creation of a daily news roundup focused on COVID-19. This roundup is not overly branded or disseminated to a broad marketing list but is instead shared with a targeted audience of very interested clients and other firm contacts. Many of our lawyers take the time every day to share the roundup with their personal networks directly with an accompanying note that is not necessarily work-related. Maybe it involves asking how their families are coping or how they are balancing their professional and personal lives. Sharing thought leadership broadly with our entire network remains important, but the personal outreach between our lawyers and their contacts has been one of the great outcomes from what has been a very challenging year and will be something that I am confident will continue going forward."
Staying Connected
Law Firm Innovation: Especially in uncertain times, it is important that clients feel connected even if the connection method has changed. Cades Schutte LLP is finding innovative ways to stay in contact.

Erika Galarneau, marketing and business development manager, Cades Schutte (Honolulu). "Our firm, similar to many others around the world, was suddenly faced with challenges since in-person gatherings and meetings were no longer an option. It has been especially important during the pandemic to find innovative ways to stay connected with our clients and friends and act as a resource for any COVID-related legal issues they have. We immediately started by creating a Coronavirus Response Team and a dedicated page on our website (we were the first firm in Hawaii to launch this). This has been a useful resource for our clients and helped them get in touch with our attorneys that specialize in various subject matters, like employment law or litigation.
"We also strived to continue delivering value to our clients. For example, our firm holds an annual half-day CLE event every year that our clients look forward to (and also find helpful for earning CLE credit, especially in ethics). This year, since we could not hold the event in person, we converted it to a webinar. The result was actually very favorable; we ended up having double the number of participants as our usual in-person version of the event. As a result, we are rethinking how we can hold the event in future years, potentially doing a hybrid version with in-person and virtual elements. The pandemic has definitely created challenges, but it also has helped our attorneys think outside the box and discover new business development opportunities."
Transitioning to Interdisciplinary Approaches
Law Firm Innovation: Law firms have historically lagged behind corporate counterparts with respect to adopting a client-centric approach to service, though the COVID-19 pandemic significantly amplified the voice of the customer for law firms, big and small. Pryor Cashman LLP took notice and adjusted.

Mike Mellor, chief marketing and business development officer, Pryor Cashman (New York). "While obviously horrible, the pandemic created even more empathy in how we connect with our clients and the myriad struggles they face. We had a number of clients in life-or-death situations with their businesses, and I was so proud of our attorneys, who rallied together in novel ways to add value and offer a sense of stability and direction. Clients don't care who forms the company or who does the securities work. They want to know that someone has their best interests at heart and can help them to make sense of an upside-down world. Our team created focused 'speed-round' sessions with different audiences, including medical owners and restaurateurs, and brought in attorneys from the firm's finance, ERISA, labor, insurance and corporate groups to offer timely information on what clients needed to know and do during the next 30, 60 and 90 days. The feedback was amazing and humbling. It felt so good to be able to offer light and a few options to folks who were backed into a corner. Times like these are when relationships are truly forged."