Exploring the possibility of moving entirely to a virtual law office.
QUESTION: We are a small law firm with two attorneys and a legal assistant currently using shared office space to serve our clients. We mostly handle business transactions, family law and estate planning/probate matters for moderate-income clients within a 20-mile radius.
Before COVID-19 impacted our lives, we had started working more from home than in the office. Now, we are exploring the possibility of moving entirely to a virtual law office.
While some clients may even prefer only communicating online, we're hesitant to go virtual if it might violate our rules of professional conduct. What should we look out for?
ANSWER: As the situation surrounding COVID-19 evolves, and as we start to settle on what is the "new normal" in the legal profession, working remotely and hosting a full or partial practice out of a virtual law office (VLO) is an apparent reality. In the past, operating a VLO meant less overhead, more flexibility and even new marketability to target audiences and geographical regions. (See "The Disappearing Rural Lawyer." Nowadays, frankly, it may be less about convenience and more about necessity.
With modern technology, lawyers can draft, share, review and file documents and communicate with clients in an online environment, all while ensuring the data are kept secure and confidential. But before you start to dismantle your bricks-and-mortar office completely, let's review some ethical considerations faced with going virtual.
As you move to a VLO, questions will arise that relate to the rules of professional conduct in your jurisdiction and the varied ethics opinions interpreting them, such as:
Must I have some form of a physical office address?
Must I list a physical office address in advertisements and on letterheads?
May I work from a location outside my licensed jurisdiction so long as my served clients are in my licensed jurisdiction?
What technological safeguards must (should) I employ to protect my client's information and our communication?
Will I be able to ethically and adequately supervise other lawyers and staff?
"Office Address" Requirement
The office address requirement for lawyers and law offices can be bifurcated into two main issues: (1) a bona fide office requirement and (2) an advertising office requirement.
Attorneys should check the requirements in each of their practicing jurisdictions to determine if a physical office address is needed. For example, a state with an integrated bar such as Washington may require that each attorney furnish both a "physical residence address" (used to determine the attorney's district for Board of Governors elections) and a "principal office address" (that need not be a physical address).
As states may allow or even require service by email (e.g., Illinois attorneys must provide an email address for service on all pleadings, Ill. Supreme Court Rule 11(b)), physical addresses seem less important for mailings, let alone hand delivery. Nevertheless, most states have some version of ABA Model Rule 7.2(d) requiring legal marketing materials to include the "name and contact information of at least one lawyer or law firm responsible for its content." Comment 12 to Model Rule 7.2 provides an alternative means to listing a physical office location: "This Rule requires that any communication about a lawyer or law firm's services include the name of, and contact information for, the lawyer or law firm. Contact information includes a website address, a telephone number, an email address or a physical office location."
So, check your jurisdiction to determine your compliance with attorney regulations, business regulations and your advertising rules. It could be that a mailing address is required, whereas a physical address is not. As typical with VLO practitioners, you can meet in person with clients "by appointment only" on an as-needed basis.
Crossing Jurisdictional Boundaries
With your driver's license in hand, you're pretty much free to travel the open roads across the U.S. while remaining a valid, licensed driver. Laws may change state by state as to how you drive (e.g., speed, turning, etc.) and even what you drive (e.g., vehicle equipment regulations), but reciprocity of that piece of plastic with a wicked photo keeps you legal as you cruise. Not so for the practice of law.
Lawyers must be mindful of the geographical reach of not only their practice but their marketing. A recent case of one Colorado lawyer found to have engaged in the unauthorized practice of law (UPL) in Minnesota demonstrates this concern.
The experienced Colorado lawyer contacted a Minnesota lawyer via email to help his in-laws resolve a debt collection dispute in Minnesota. He hoped to settle the matter out of court and, nevertheless, told opposing counsel that should it come to a lawsuit he would retain local counsel, i.e., a Minnesota licensed attorney. Several months later, the opposing counsel reported him for UPL. The grievance panel agreed, finding his actions did not fall into any of the exceptions under Minnesota Rule 5.5, and issued a formal admonition. The Minnesota Supreme Court agreed with the panel:
We hold that engaging in email communications with people in Minnesota may constitute the unauthorized practice of law in Minnesota, in violation of Minn. R. Prof. Conduct 5.5(a), even if the lawyer is not physically present in Minnesota. The Panel's finding that appellant engaged in the unauthorized practice of law in Minnesota, in violation of Minn. R. Prof. Conduct 5.5(a), was not clearly erroneous. Appellant represented a Minnesota couple with respect to a Minnesota judgment and attempted to negotiate, via email, the satisfaction of that judgment with a Minnesota lawyer, and was not authorized to practice law in Minnesota temporarily. We further conclude that the appropriate disposition for this misconduct is an admonition.
The majority of the court found that UPL occurred even though the Colorado lawyer:
Did not physically appear in Minnesota when dealing with opposing counsel.
Did not attempt to solicit Minnesota clients.
Did not hold himself out as practicing in the jurisdiction.
Did not assist his family members with a legal issue beyond his licensed practice area.
In the opinion's dissent, three justices found his actions to fall within the UPL exceptions:
In sum, this case involves clients contacting an attorney, their son-in-law, in his home state of Colorado, to request his assistance regarding a small collection matter—an area that reasonably relates to appellant's expertise and experience in his Colorado litigation practice. Based on the relationship and contacts between the clients, appellant, and appellant's practice of law in Colorado, there is a sufficient "reasonable relationship" here to satisfy the broad, catch-all exception under Rule 5.5(c)(4). For the above reasons, I conclude that appellant did not engage in professional misconduct because the exception in Rule 5.5(c)(4) applies.
While states have varying opinions on defining and enforcing UPL, it's clear you must always engage new clients and deliver your services with caution. In the virtual world, the risk of crossing jurisdictional lines will likely be higher coming from the client side, as they could end up at your VLO "doorstep" from anywhere.
Thus, you must be diligent in your initial client interaction. Consider a very structured intake process to help lessen malpractice risks.
One recommended tool is clickwrap (or click-through) agreements. These online, self-guided forms require users to actively click "I agree" or digitally initial specific terms of your engagement agreement before they can proceed with their requested services. If they do not meet your requirements and consent to them, the virtual intake process cannot continue. This meeting of the minds better outlines the scope of representation (which may be subject to change after initial consultations with the client), including the ever-important jurisdiction of the client and the matter to be addressed (which may be two different places!).
Client Engagement
Going virtual demands a new learning curve for lawyers and legal professionals, some more than others. But remember, that is only half the equation. The client's experience in finding, engaging and communicating with your VLO will drive your practice's success. From their perspective, think about what you would want to find when virtually stepping into your online office.
Compare two lawyers' strategies:
Lawyer A has a basic website that he recently updated to have an "AI bot" (as it was marketed to him) respond to simple client questions and requests. The bot directs site visitors to fill out an online form, which generates an email to Lawyer A. From there, Lawyer A opens an email dialogue, back and forth, to establish the client intake agreement and start discussing the case.
Lawyer B has a dynamic website centered around a cloud-based client portal to automate the client intake process with clickwrap forms. Lawyer B communicates and shares documents with the new client all on a secure, online platform integrated with the firm's practice management and billing software. After representation, she welcomes feedback and review of the firm's services and the client's experience.
All other factors being equal, Lawyer B is more likely to have a happier client as well as a far easier time communicating and delivering legal services. She provided informed and competent representation to that client due to her adoption of innovative technology. Additionally, she has employed the latest in online security to protect her client communication and information. (See Model Rules 1.6(c), 1.15(a).) Her means of user-friendly communications tools better permit her clients to make informed decisions. (See Model Rule 1.4(b).)
The 2019 ABA Legal Technology Survey Report determined traditional office space was still the primary workplace for all lawyers (roughly 70%-90% across all firm sizes except for solos). Solos reported the highest use of home offices (34%). The ABA's 2020 survey will presumably reveal a measurable shift as to where, and more importantly, how lawyers work. Nevertheless, all attorneys, whether working from a VLO, a main-street front window or a downtown skyscraper, should be familiar with the ethical considerations inherent in the use of email, e-filing, cloud computing and other technology. See Model Rule 1.1, Comment 8; adopted in 38 states as of this post.
Supervising Subordinate Lawyers and Legal Professionals
Model Rules 5.1 to 5.3 govern the supervision by law firms and lawyers of subordinate lawyers and other legal professionals, and ongoing compliance with the rules of professional conduct. While the differences in physical locations of lawyers and other employees can create an inherent challenge, VLOs should use communication and process protocols to ensure that they are fulfilling their supervisory obligations.
The workflow and service to the clients in a VLO compared with a traditional law firm should not be compromised simply due to a lack of physical presence. In fact, established coordination of work review and feedback using online and practice management tools may even improve the quality of supervision while meeting any ethical concerns of practicing virtually.
Conclusion
Whether you're ready to embrace a complete VLO model or just want to expand your online presence, evaluate how you are delivering value to your clients, and how you might bring that value in different ways. Attorneys who elect to use VLOs to transform their law practice must be mindful of these ethical challenges, but should not be dissuaded from employing them.
Related Bar Opinions
State Bar of California Formal Opinion 2012-184
Illinois State Bar Association Advisory Opinion 12-09: Unauthorized Practice of Law; Multijurisdictional Practice
North Carolina State Bar Formal Ethics Opinion 2005-10: Virtual Law Practice and Unbundled Legal Services
New York City Bar Formal Opinion 2019-2: Use of a Virtual Law Office by New York Attorneys (replaces 2014 opinion)
Ohio Board of Professional Conduct Opinion 2017-05: Virtual Law Office
Pennsylvania Bar Association Formal Opinion 2010-200: Ethical Obligations on Maintaining a Virtual Office for the Practice of Law in Pennsylvania
Washington State Bar Association Advisory Opinion 2016-01: Ethical Practices of the Virtual Law Office
About the Illinois Supreme Court Commission on Professionalism
The Commission on Professionalism was established by the Illinois Supreme Court in September 2005 to foster increased civility, professionalism and inclusiveness among lawyers and judges in the state of Illinois. By advancing the highest standards of conduct among lawyers, we work to better serve clients and society alike. These duties we uphold are defined under Supreme Court Rule 799(c). For more information, visit 2Civility.org.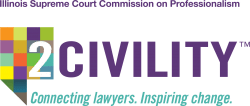 Illustration ©iStockPhoto.com
More Good Ideas from Attorney at Work
Subscribe to the Daily Dispatch and Weekly Wrap (it's free) and follow us on Twitter @attnyatwork.
You Might Also Like …