MyCase, a long-standing case management software provider, has established itself as an effective all-in-one solution for law firms, jam-packed with in-house features. Thus, MyCase has traditionally restricted the number of integration partners to only the most popular and ubiquitous technology platforms, like Microsoft Office and MailChimp, to name two. Now, in step with the growth of the legal tech space overall, the MyCase universe is beginning to expand. MyCase is still an effective standalone platform for law firms, but MyCase will integrate with other top-shelf technology partners when the opportunity presents itself.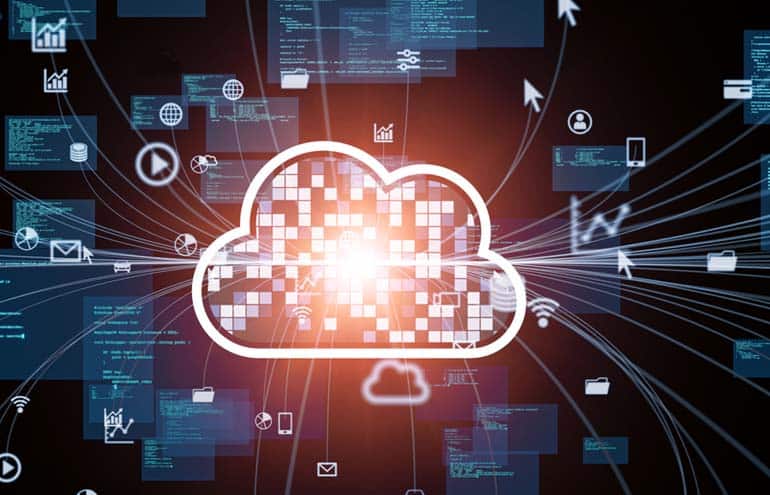 And so, opportunity has knocked: MyCase recently increased its slate of integration offerings by two, adding CalendarRules and Smith.ai to its stable.
Let's take a look at each, in turn.
On the Docket: MyCase Adds CalendarRules Integration
CalendarRules is a calendar add-on feature that pulls and calculates deadlines for specific courts around the United States. If there's one thing lawyers worry about more than revenue, it's malpractice claims; and, one consistent bogeyman invading those nightmares is missed court deadlines. CalendarRules makes it easier to manage court deadlines, including updates to rules, while largely removing human error from the equation.
Now, MyCase users can add CalendarRules features to the MyCase calendar.
Once the integration for CalendarRules has been installed through MyCase, users simply select the "Add Court Rule" option from the calendar or a case page to add CalendarRules functionality. From there, a handy wizard guides the user through the setup of the particular ruleset, through the selection of a case type, relevant jurisdiction, and rules triggers.
Once that's done, the user selects "Calculate," and the relevant court deadlines are added to the MyCase calendar. (Note that available jurisdictions are based on the user's underlying CalendarRules subscription.)
MyCase users also have additional functionality available to them in tweaking these deadlines sets beyond the standard operating procedures described above. Users can:
Add descriptive prefixes to a set of deadlines.
Select all of the deadline options presented by CalendarRules, or just the specific ones they want.
Color-code Calendar Rules ticklers in the MyCase calendar, or add additional ticklers.
Add and launch new event types and add descriptions for specific events.
Deadlines can be added individually or shared with staff, and required attendees can be added to events.
The marrying of CalendarRules deadline options with existing MyCase calendar functions combines to deliver a powerful tickler system that keeps attorneys on track.
Call Center: MyCase Adds Smith.ai Integration
Smith.ai is a virtual receptionist service that answers incoming phone calls for law firms, either as a complete replacement for law firm staff or as an adjunct to them.
According to Smith, 67% of legal consumers end up choosing the law firm that is most responsive, and yet so many law firms choose to let incoming calls go to voicemails … that they never return. Smith.ai offloads the burden of call answering to a remote team, freeing office staff to work on other projects or upskill. Now, MyCase users can access a direct line to new leads and existing client questions through the Smith.ai integration.
After establishing the integration via a tokenization process through Smith.ai, MyCase users can build and launch a shareable form that Smith.ai receptionists can use to generate contact information and notes from phone calls. (Note that only MyCase admin users can set up the Smith.ai integration and that Smith.ai receptionists do not have access to a MyCase account for the law firm: new data is input via the contact form only.) Smith.ai call notes generate as "call logs" in MyCase. To differentiate Smith.ai calls from calls taken by law firm attorneys and staff, the appellation "by Smith.ai integration" appears to denote the former.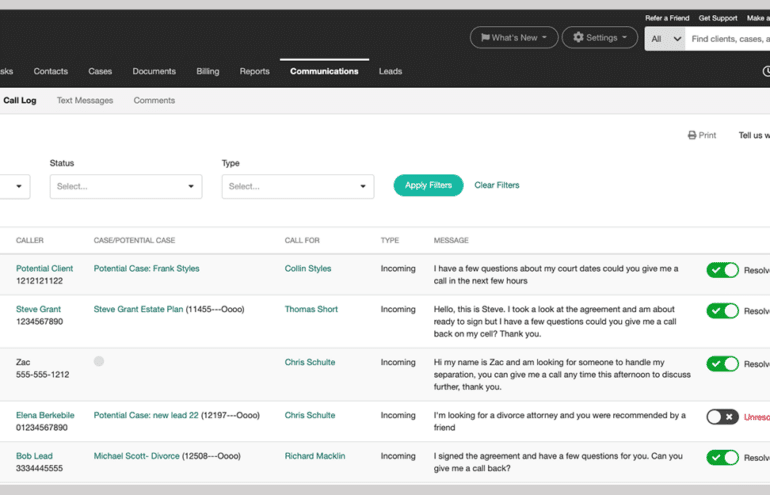 Once those call logs appear in MyCase, users can access filtering options, including for status and call type, and mark calls as "resolved" or leave them "unresolved." Users can also convert the call logs into time entries, in the same way MyCase users have been able to generate time entries from traditional call logs. The call logs can be converted to tasks as well, including within workflows. And call logs can be converted to new leads. Once users "approve" those online leads (which is how calls are tracked in MyCase for this purpose), those leads will enter the MyCase lead pipeline feature and begin the client journey.
This partnership between MyCase and Smith.ai offers MyCase users a new and unprecedented way to combine lead engagement and data management.
More Ahead for the MyCase Univers
Watch for MyCase to continue to add high-quality integration partners over time to further strengthen its already powerful suite of features.
If you're an existing MyCase user, it's time to check out the features and integrations that you may be missing.
And, if you've been thinking about adding law practice management software to your technology stack, there's no time like the present to start a free trial.
Attorney at Work's sponsored Product Reviews and Product Spotlights showcase news and features from legal technology industry leaders. For more information, click here.
Illustration ©iStockPhoto.com
Subscribe to Attorney at Work
Get really good ideas every day for your law practice: Subscribe to the Daily Dispatch (it's free). Follow us on Twitter @attnyatwork.