Starting a law blog for your firm? Here is solid advice for planning, targeting and managing a law blog while avoiding ethical missteps.
QUESTION: I've been bringing our law firm into the 21st century by tweeting and posting on our Facebook page about recent legal news and opinions. While I've shared a lot of content, I thought it was about time to start publishing our own content through a legal blog on our firm's website, especially if it will drive more traffic our way.
Our first blog post was about a recent criminal defense case for a returning client. It merely uses public information in the criminal complaint, which the post discusses, and identifies the legal issues and precedent in our jurisdiction.
Is this within the rules of professional responsibility? Any blogging tips?
ANSWER: Law Blogging by attorneys continues to grow in popularity. Some lawyers and firms create elaborate blogs using WordPress and other systems. (See the ABA Journal's Top 100 Blawgs for some great examples.) Others take an even simpler approach, posting their content on existing platforms that make drafting and publishing very easy — and without any need for specialized technical know-how beyond word processing. LinkedIn is an example.
Seeing that your first blog is already online, the cat seems to be out of the bag. Nevertheless, it may not be too late to make a few updates to your blogging strategy. First, let's talk about some of the rules, so you can avoid doing more harm than potential good.
Guidance from the ABA Rules of Professional Conduct
In your example of your first law blog post discussing a pending criminal case before the court, the confidential information protected by the attorney-client privilege is paramount (ABA Model Rule 1.6).
Just because a matter is currently pending, however, does not mean you must not discuss the case publicly in any manner whatsoever — zip, zero, zilch. ABA Model Rule 3.6 (Trial Publicity) enumerates the specific topics that are suitable for extrajudicial statements, such as information in the public record (the criminal complaint in your case). However, a proactive discussion with your client about disseminating information about their case can best uphold the integrity of your relationship. Whether it is part of your trial strategy or merely a courtesy, deciding early on who is the gatekeeper of what information is released outside your office can mean everything to that client-attorney relationship.
Additionally, be aware of your state's legal advertising rules (e.g., ABA Model Rules 7.1-7.4). While broad topic discussions and case reviews are generally not considered attorney advertisements, be mindful of the blog's content as well as the context and method of how it is being disseminated.
Law Blog Strategy: Prepare … Then Commit
Everyone has a voice on the internet. With that amazing power and reach comes responsibility beyond the ethical issues discussed above. Your blog will be part of your brand, whether a solo practitioner or a large firm. Just like other social media channels, you need engagement, dialogue and topics beyond your own work to draw in and keep readership. Don't just come into work one morning and try to start up a blog. If you want a loyal readership and quality connections to sprout from the time and effort you'll be putting into this new endeavor, then you must have a strategic plan: What? When? How? Where?
What topics will your law blog cover?
Once you've picked your niche, search to see what is already being written on the topic. Will your coverage be set apart somehow, perhaps by jurisdiction? What will your posts include to make them quality sources of information with the appropriate authoritativeness of the author to keep readers coming back for more?
When will you publish your blog posts?
(Note: "Publish" is the commonly used vernacular in writing blogs meaning your draft goes live online for your readers.) If you talk to successful bloggers in any industry, they will tell you consistency is key. Second to quality, your frequency of postings is how you keep your readers coming back and engaged. Thus, you should strongly consider having several drafts of future blog posts in your bank, ready to go. Topics that are "evergreen" can be plugged into your schedule when you have a vacation planned, for example.
How will your blog serve you and your firm?
If your answer is that it might bring in more clients, that's good. If your answer is that it will engage your readers through comments and discussions, that's great! Many readers prefer to remain static by simply reading your content and moving on. But even the static readers will become more active from time to time when an informative or controversial topic draws them into the conversation. Ever read a blog that ends with an open-ended question? There you go!
Where will your content go?
The term "sharing" has taken on an entirely new life online. We see interesting content shared among family, friends and colleagues via different social media platforms. The compounding effect extends your content's reach farther and farther. That's one of the great benefits of social media.
If you're getting serious about enhancing your blog's web traffic, look into how web metrics, such as Google Analytics, can measure your traffic and views. Who are your readers, where are they coming from, and how long are they reading your work? At a minimum, learn how SEO works to optimize your blog's position on search engines.
Can they contact you?
Lastly, don't forget to link back to information on your firm's website to let your readers know who you are and who your firm is. Is there an "About the Author" section with clickable links?
Just to Be Clear: Disclaimers
Be careful what you wish for, you might just get it. While we praise the benefits of social media to engage in dialogue with readers and the public in general, it must be done with extra caution when attorneys are at the helm.
As it's put in ABA Formal Ethics Opinion 10-457 (Lawyer Websites): "… the lawyer takes part in a bilateral discussion about the possibility of forming a client-lawyer relationship and has the opportunity to limit or encourage the flow of information. For example, the lawyer may ask for additional details or may caution against providing any personal or sensitive information until a conflicts check can be completed."
Some typical disclaimers used by lawyers include:
"Past results are not a guarantee of similar results for others."
Language conveying that the blog is not intended to convey legal advice.
Language conveying that the blog does not create an attorney-client relationship.
"You should contact a licensed attorney for assistance with your legal needs."
What other attorney blogging advice and tips do you have to share? I've love to hear from you!
Relevant Ethics Opinions
Virginia Legal Ethics Opinion 1842 (2008) – Obligations of a lawyer who receives confidential information via law firm website.
ABA Formal Opinion 10-457 (2010) – Guide to content in lawyer websites (including blogs).
SC Bar Ethics Advisory Opinion 12-03 (2012) – Lawyers may not participate in websites designed to allow non-lawyer users to post legal questions where the website describes the attorneys answering those questions as "experts."
NYSBA Opinion 967 (2013) – A blog written by an attorney, the primary purpose of which is not retention of the attorney, is not an advertisement.
Hunter v. Virginia State Bar, 744 S.E.2d 611 (Va. 2013) – Lawyer was allowed to blog about former client's non-privileged information without client's consent when case was closed and information was publicly available.
NYSBA Opinion 1039 (2014) – An attorney may operate a blog with an "opt-in" box for a "free report" to gain email subscribers so long as continuing to follow advertising rules.
DC Bar Opinion 370 (2016) – Attorneys may write about their own cases … with informed consent of their clients.
CA State Bar Opinion 2016-96 – When is "blogging" by an attorney a "communication"; and other discussion.
About the Illinois Supreme Court Commission on Professionalism
The Commission on Professionalism was established by the Illinois Supreme Court in September 2005 to foster increased civility, professionalism and inclusiveness among lawyers and judges in the state of Illinois. By advancing the highest standards of conduct among lawyers, we work to better serve clients and society alike. These duties we uphold are defined under Supreme Court Rule 799(c). For more information, please visit 2Civility.org, the Illinois Supreme Court Commission on Professionalism's website.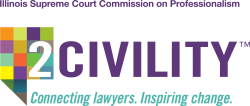 Illustration ©iStockPhoto.com
More Good Ideas from Attorney at Work
Subscribe to the Daily Dispatch and Weekly Wrap (it's free) and follow us on Twitter @attnyatwork.