With ABA TECHSHOW 2015 taking place April 16-18 in Chicago, we're scoping out some of the most intriguing product updates and launches so far this year — including highlights from the announcements crossing our screens as the legal technology companies rev up for the big week ahead. ABA TECHSHOW draws scores of practice management technology experts and innovative companies — watch for expert tips and more news here after the conference.
Practice Management Software Updates
Here's a sampling of the latest news on the practice management software front.
CosmoLex, the cloud-based practice management system launched last year, is aiming to "close the accounting gap" with its big April upgrade. Designed to fully integrate business accounting functions, the upgrade includes a customizable chart of accounts (below); standard banking (deposits, check-writing, reconciliation) and basic reporting features; the ability to link matters or client costs directly from bank account and credit card transaction screens (so you can reduce leakage and track income by practice area); and the ability to segregate income accounts. Combined with its built-in IOLTA accounting and time-and-billing features, the new enhancements make CosmoLex an enticing option for solo and small firm lawyers juggling multiple matter management and accounting systems.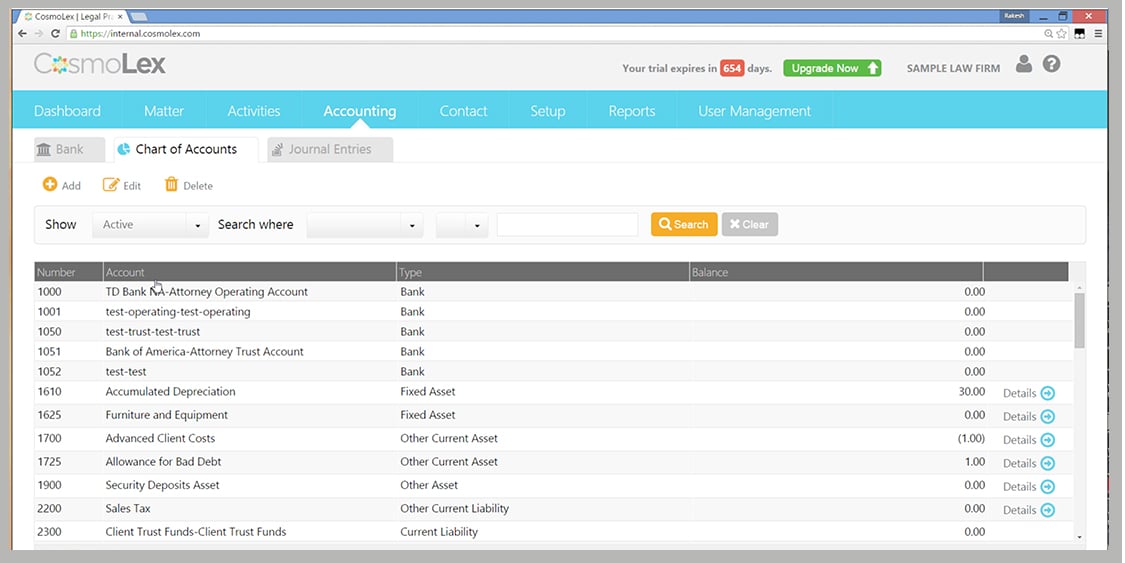 MatterCat, now in open beta, is a new — and free — web-based law office practice management system that offers legal time-and-billing with multiple timers, case management, trust accounting, notes, conflict avoidance, and a suite of accounting and managerial reports. Statements are attractive and fully user-modifiable. Developed by AltaPoint Data Systems, MatterCat is free for unlimited users, clients and matters.
LexisNexis Firm Manager just added batch invoicing with a "wizard"-style tool to guide attorneys through the process of creating batch invoices. Since a survey recently found that about 62 percent of small law firms spend roughly eight hours per month on billing processes and another quarter spend about 16 hours per month, this could be a big time-saver.
MatterMojo for Office 365 is a new cloud-based client and matter management platform that integrates with Microsoft Office 365. Features include a matter/client intake wizard, contact management, conflicts checking, task management and document storage.
MyCase continues to roll out new features. The web-based practice management software has added batch invoice printing, a handy date calculator, text formatting on notes, messages and comments, and a document management upgrade that lets users organize cases and matters into folders and subfolders. There's also drag-and-drop uploading of files directly into the MyCase database.
Clio, announcing a new integration with CalendarRules, brings court rules automation and legal docketing capabilities to its web-based practice management platform. Clio Elite Plan subscribers will be able to link matters to CalendarRules jurisdictions (rule sets), easily select triggers, generate events and populate their calendars, plus use the Rules engine to handle holidays, weekend rolling rules and court calendar days.
More Legal Product News
From business development to capturing digital evidence to cloud security, here are more products to investigate.
Lawcountability is a new cloud-based business development platform that supports rainmaking activity via live weekly 10-minute webinars and interactive features such as calendaring of key tasks and a reward system of competitive points. It also encourages the power of teaming with others for business development activities. It's an impressive, well-thought-out system built to work with the savvy analysis of Ari Kaplan, author of "Reinventing Professional Services: Building Your Business in the Digital Marketplace."
Abacus Private Cloud can take your local IT infrastructure, desktop software applications, SaaS applications and data and weave them into a fully integrated, custom virtual workplace. Abacus' state-of-the-art data centers are located exclusively in the U.S., supported 24/7.
LexisNexis has a new version of TextMap 8, its transcript review and management software, that creates a searchable database of electronic transcripts form depositions, examinations and other proceedings.
Legal Workspace will launch its HIPAA-compliant edition at ABA TECHSHOW. This edition allows small and midsize law firms that are considered "business associates" by the HIPAA Omnibus Final Rule to meet the necessary security regulations by offering a HIPAA Business Associate Agreement.
Avvo Advisor now includes real-time photo share and review. The on-demand legal services app "delivers help from top-reviewed lawyers whenever, wherever in a 15-minute call for only $39." Photo share means consumers can send a photo, including images of documents, related to legal issues for immediate review during their call with a lawyer. The Avvo Advisor service is available in nine legal categories and 18 states. The free app is available from the iPhone App Store or via the Avvo Advisor website.
NetDocuments recently acquired Recommind's Decisiv Email enterprise-grade email management system. The intelligent, predictive email filing system will augment NetDocuments' cloud-based document storage and email management offerings.
Sookasa cloud security software provides seamless Dropbox encryption and facilitates HIPAA- and FERPA-compliant use of the cloud. Its new File Delivery Suite allows users to securely send and receive encrypted files — whether or not clients and colleagues are Sookasa users.
The BlueStylus Bank Statement Management System is the first electronic statement system approved by the Executive Office for U.S. Trustees to replace paper statements for all bankruptcy cases. It simplifies case management for trustees and offers banks a way to store and archive statements for the time required by the U.S. Trustee Program.
Tikit has re-launched its timekeeping software as Carpe Diem Next Generation. Re-engineered from the ground up, the new web-based timekeeping system offers fully integrated timekeeping across all devices and platforms, with an intuitive, simple "consumer-grade" user interface. Plus it has out-of-the-box reporting features with time-capture metrics and dashboards that measure and report lag between time and cash.
BigHand is showcasing BigHand Pro, its cloud-based digital dictation platform, which offers cost-effective and secure digital dictation via computer, smartphone or tablet. With its subscription-based pricing, minimal IT infrastructure requirements and mobile productivity options, Pro is geared to small and medium-size law firms.
WebPreserver.com from PageFreezer Software is a new web-based platform with a Chrome browser plug-in aimed at making collecting digital evidence — authenticated snapshots of websites, blogs and those telltale social media accounts — easy, secure and legally admissible.  

Finally, speaking of keeping on top of social media, FlapIt is "the first available physical counter connected to all the major social media platforms." So, if you are truly Twitter addicted, you can set up the 1960s retro-style box and watch your followers rise in real-time, via a Wi-Fi connection to your accounts. Or set it up in your reception area to impress visitors to your firm with your Facebook likes, and encourage social interactivity. You'll want one of these on your desk, right beside your zen garden and paperweight collection. Unfortunately, as Gizmodo reports, the counter only goes up to 999,999.
Have legal product news to share? Send information to the editors at joan@attorneyatwork.com, and be sure to follow @attnyatwork on Twitter.
Illustration ©iStockPhoto.com