"My life sucks." That's what I said during the weekly video call with my mastermind group a few weeks ago. My life is actually awesome, but it's challenging with the amount of work I've heaped on my plate. Between clients, speaking engagements and new product ideas, I was overwhelmed. I could not wrap my head around everything I wanted to do and everything I was already committed to doing.
I needed to get organized — in the global sense. I needed more than a to-do list or a calendar. Glancing over at the empty wall in my office I thought, "I can use that."
My Life on the Wall
On the way to the office the next day, I stopped at an office supply store and picked up a pack of scratchpads and a roll of blue painters tape. Then I proceeded to make a giant to-do list for the month and broke down each project into its constituent tasks. I wrote each task on a separate piece of scratch paper with a marker. To help me stay even more organized, I used different markers according to a color key I created:
Blue: Client legal work with deadlines
Red: Speaking engagements
Purple: Online course I'm developing
Green: New book I'm working on
Orange: Ignite Phoenix — a community event I volunteer for
Brown: JFDI (Just F*cking Do It) — blog writing and other marketing tasks that are easy to procrastinate on
Black: Things to do today!
Then I taped the pieces of paper to the wall. My mastermind group watched me assemble my wall during our next call. They named it "The Wall of Pain."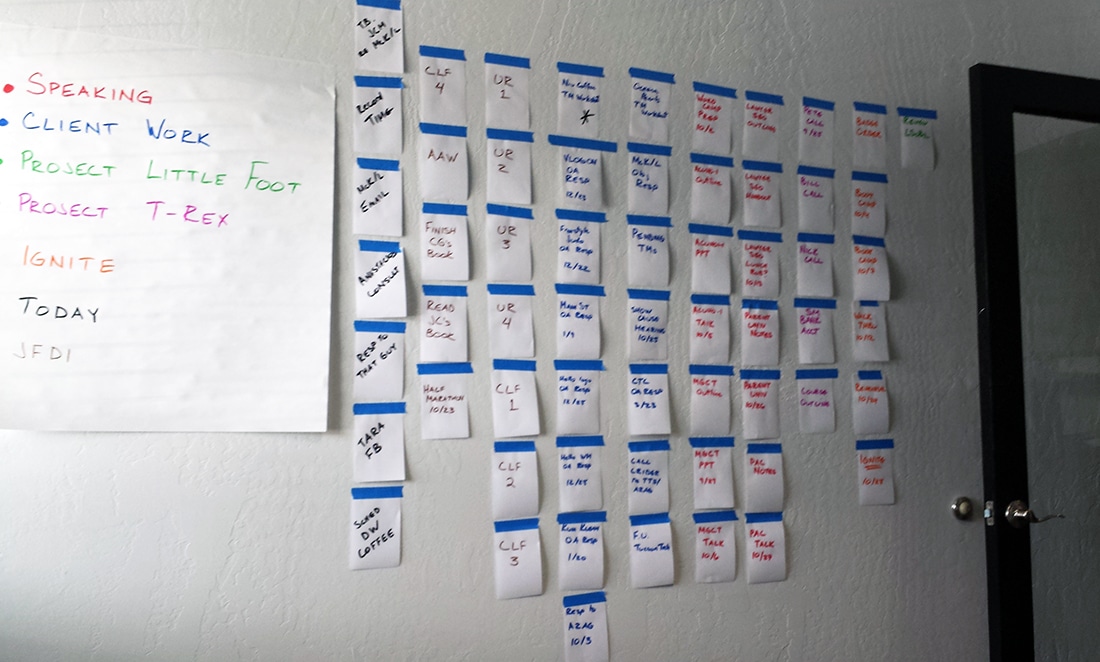 Now, at the start of each day, I pull out a scratchpad and add any new tasks that have come in since the previous day. Then, I add a black star to any task in any other color that needs to be complete before I leave the office that day. Throughout the day, I add tasks to the wall's contents as I take them on. A task may be as simple as "call that guy back."
As I complete tasks, I rip the corresponding note from the wall and throw it away. I love the feeling of satisfaction I get each time I can rip something off the wall.
The Benefits of the Wall
Putting my professional life's to-dos on the wall makes my whole life easier in several ways:
At a glance, I can see my commitments for the month.
At a glance, I can see my commitments for the day.
When I have a lull in my day, the wall reminds me of everything I can work on.
Breaking down projects into smaller, doable tasks keeps me from getting overwhelmed.
When I think I can take on "just one more thing," the wall reminds me why that might be a bad idea.
Share Your Wall
Have you considered organizing your life on the wall? Do you use sticky notes, flip chart paper, a white board or a bulletin board to stay on top of your work? I'd love to see pictures of what's working for you!
Image ©ImageZoo.