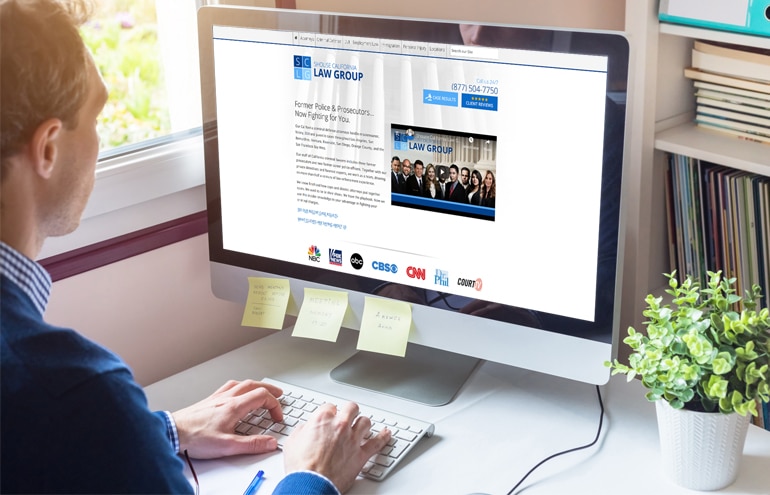 Law firm website design has traditionally branched, like two roads in that Robert Frost poem, between too expensive and too time-consuming. LawLytics has plowed directly through the middle of that fork with a bulldozer, by creating a platform that makes having a successful website both easy and affordable for all small firms and solo practitioners.
In much the same way that the cloud made legal software affordable by substantially reducing the buy-in cost, LawLytics is massively reducing the cost of building and maintaining a website by offering a subscription model. Instead of an upfront price to designers and marketers for completion of the website, attorneys who join LawLytics join a fully supported platform where all of the design, technology and strategy is taken care of for them. This drastically reduces not only the buy-in but also the long-term costs of owning a website that remains functional and up-to-date.
LawLytics creates value for members by providing continuously updated technology, built on best-of-class infrastructure, along with all of the marketing and lead generation strategy and support that lawyers need to be successful. The system just works. It makes it easy for attorneys to participate because it makes website edits and updates uncommonly simple and easy to perform.
Buying In
Buying into LawLytics at a low subscription rate is a no-brainer. Run your law firm's calculus of how often you need to seek out website edits or fixes, how long it takes to get them done (there's an opportunity cost here) and how much you pay for them. Compare those numbers to the annual cost of a LawLytics subscription.
Speed, control, flattened costs … these are all compelling factors in favor of LawLytics for law firms seeking web design services.
While the advent of content management systems has made website design easier, website design still hasn't been easy or accessible for lawyers. Most non-designers, lawyers included, are flummoxed when trying to build a website on WordPress. Even though content management systems mean that websites don't have to be "coded" anymore (or as much), managing themes, design elements, and plugins for SEO, forms or payment portals can be a real pain. LawLytics has eliminated that hassle.  If you know how to cut and paste and how to upload files, you can use LawLytics. It's really that easy. Add your text, upload your photos, and you can build a viable law firm website in no time flat.
Built for Lawyers
In addition to how easy LawLytics makes it to add website components, it also distills those website components to the most basic elements of import to law firms. LawLytics breaks down its primary sitemap to those website parts that are most relevant to law firms: practice areas, bios, contact information, reviews, case results, and blog.
Adding your content to these pre-built pages is as simple as pasting text or uploading photos. You can also easily edit text and crop photos.
With the LawLytics platform, it's easy to add page titles, navigational titles and to activate sidebars. The simple display quickly allows you to identify parent and child folders, with a subfolder-style display. LawLytics also allows you to build content libraries, making it possible to add your own images, videos, forms, links and disclaimers to your site at the touch of a button.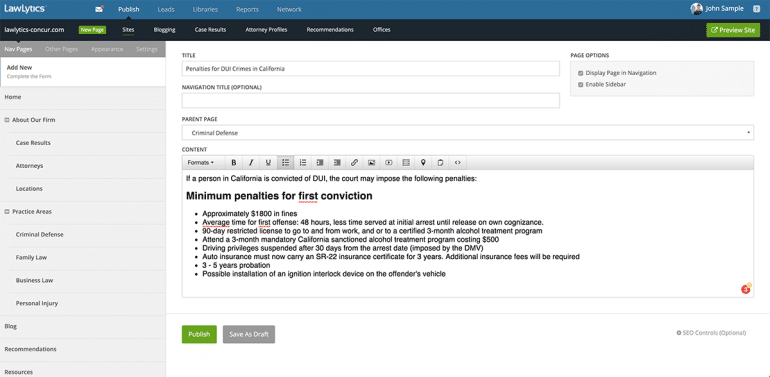 To help make sure your website is working, LawLytics offers marketing strategy and support. On the marketing side, the platform makes it easy to integrate your social media accounts into your website, manage SEO, track leads, and create "success stories." You can use a built-in form builder to create client intake forms and you can even request reviews from clients.
Easy Blogging
Blogging is generally about the easiest thing you can do on a website, and LawLytics' version of blogging is about as easy as it gets. Perhaps the highest praise I can offer for LawLytics is that its blogging panels look like Microsoft Word and its platform page displays sort of resemble Microsoft Outlook.  Now, you're all salivating, right?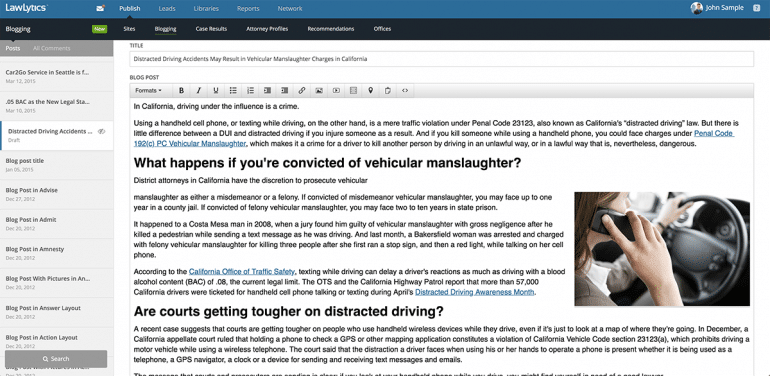 LawLytics wraps all of this up into a coherent dashboard that features quick links to popular tools, as well as robust support modules, including tutorials, links to posts from the LawLytics blog, contact information for help and a personalized inbox.
LawLytics wins by stripping website design to its most basic level, making building and maintaining a website a very simple proposition for lawyers, while at the same time establishing a truly approachable price point.
If you're even a little bit dissatisfied with your current website, or if you're thinking about starting a new website, see for yourself and schedule a personalized 20-minute demo