If you're a solo-solo who is wondering if you should hire someone — full time, part time or freelance — the first question to address is how much time you're spending on nonbillable versus billable work. Do you know how much of your day is spent doing various levels of work, from the high-level client development and strategy to the bottom level of emptying wastebaskets and changing toner cartridges?
How much time have you spent doing nonbillable administrative, financial, clerical or secretarial tasks when you could have been working on your exhibits? Many solo-solo practitioners spend up to half of their time "doing their own laundry" — all of those nonbillable things that a paralegal, clerk, assistant or receptionist could easily do.
Related: "Lawyers' Greatest Fear: Lack of Control"
Try This Exercise to Assess Your Capacity
If you're consistently working late, working weekends, and rarely taking more than a few days of vacation, you are at or near your capacity for hours worked. Here's an exercise that will help you gain some perspective.
Start by identifying how much of your time you are spending on nonlegal or very low-level legal work that is limiting your capacity to do higher-level work.
Identify how many hours you billed last week, then subtract them from the total number of hours you actually worked (whether in the office or at home).
Keep a time log for a week or two tracking your billable time, as well as the time you would consider paralegal, secretarial or clerical time.
For good measure, also track the time you spend at work doing personal things.
This exercise is invariably revealing — and often disturbing — because most of us are poor at setting boundaries, self-management and organizing our work.
How much time do you spend on work you could pay someone else to do at $15 to $30 an hour that is limiting your ability to do work you could bill at $300 an hour?
If you are spending 30 percent of your time doing work that could be delegated to a legal assistant or a clerk, that means you could immediately increase your capacity to do legal work and bill by that same 30 percent.
In other words, by adding an assistant at, say, $15 per hour, you could increase your capacity for high-level work — and consequently your revenues — by nearly a third.
Of course, if you don't have enough work to bill 30 to 35 hours per week, then you have a different problem: You should be more focused on business development and marketing. The question to ask yourself is, "Am I spending too much time on my laundry in order to avoid marketing?"
The Bigger Question
The question here really isn't whether you should hire an assistant. The question is, "What needs to change for me to free myself to spend a higher percentage of my time doing billable legal work?"
The reason many lawyers tend to live miserable lives is that they forget that a primary purpose of any business is to provide its owner with freedom. Not just money, but a great life. Frankly, most lawyers are trapped by their practices, whether those practices are small or large.
The lawyer asks 'How much work do I have to do?' while the businessperson asks 'How does this business need to work to provide me with both great income and a great life?'
Ask yourself, do you want to break through your current revenue ceiling, or do you want a better quality of life? It doesn't have to be one or the other — it can be both. But first you need perspective on how you are actually spending your time, and the objective commitment to change.
Get on Track to a Successful Practice and Happier Life
The crux of the matter is that successful lawyers learn new ways to operate their firms so they can keep building their practices while having (or recovering) a life.  Last year I wrote a series called "Why Lawyers Really Struggle with Work-Life Balance," aimed at helping lawyers build successful practices. The series covers six steps for laying a foundation of great business practices so you can stop struggling over revenue as the stress mounts, and instead prosper professionally and personally. Attorney at Work has created an e-guide based on the series, which you can download here: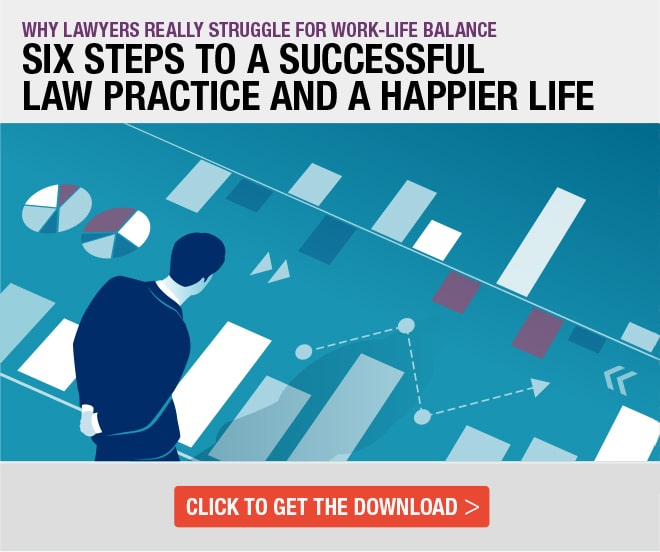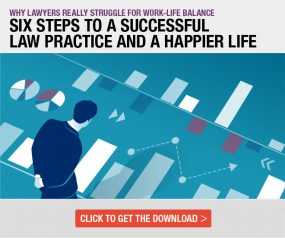 Subscribe to Attorney at Work
Get really good ideas every day: Subscribe to the Daily Dispatch and Weekly Wrap (it's free). Follow us on Twitter @attnyatwork.
Illustration ©iStockPhoto.com