Online attorney directories offer an array of benefits, for both marketing your practice and search engine optimization (SEO). These include the ability to participate in community discussions, position your firm as an authority in a specific practice area, obtain reviews and earn links to a website (which is a highly influential factor in Google search rankings).
Moreover, by belonging to a variety of authoritative legal directories, you can build a more comprehensive presence in search. For example, if you have a profile on seven or eight of the top directories and someone searches for you or your firm name, you'll have a better chance of dominating the slots on the first page of Google results.
What Are the Top Directories to Target?
Disclosure: Part of what my agency does is help attorneys get listed on hundreds of directory websites. Based on our experience, the following 10 are the cream of the crop. We'll get to "why" in a moment.
Avvo.com
What Makes a Good Directory?
Numerous other respectable legal directories exist in addition to the top 10. We grade the quality of directories based on three criteria:
Authoritativeness. Many directories have a significant amount of domain authority. This means that links from those sites pointing at your site can help you rank better in Google search. A link that leads to your site is like a vote for your site. And that endorsement becomes much stronger if it comes from an authoritative site relevant to your industry (in this case, the legal vertical).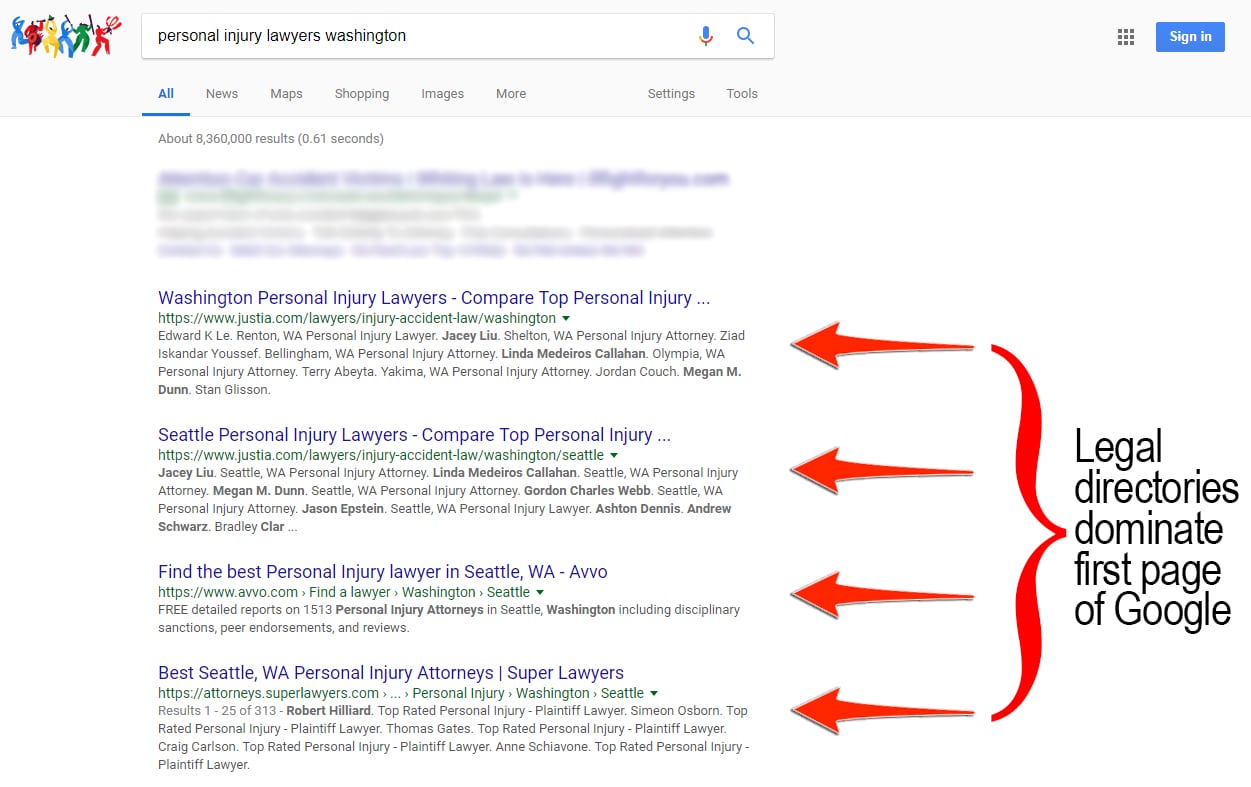 Ability to build authority. Joining a directory site involves more than simply filling out a profile and adding a link. Some of the best profiles allow lawyers to build authority for themselves and their firms. For instance, answering the legal questions of consumers, earning reviews, and collaborating with colleagues in online forums are all great ways to build authority.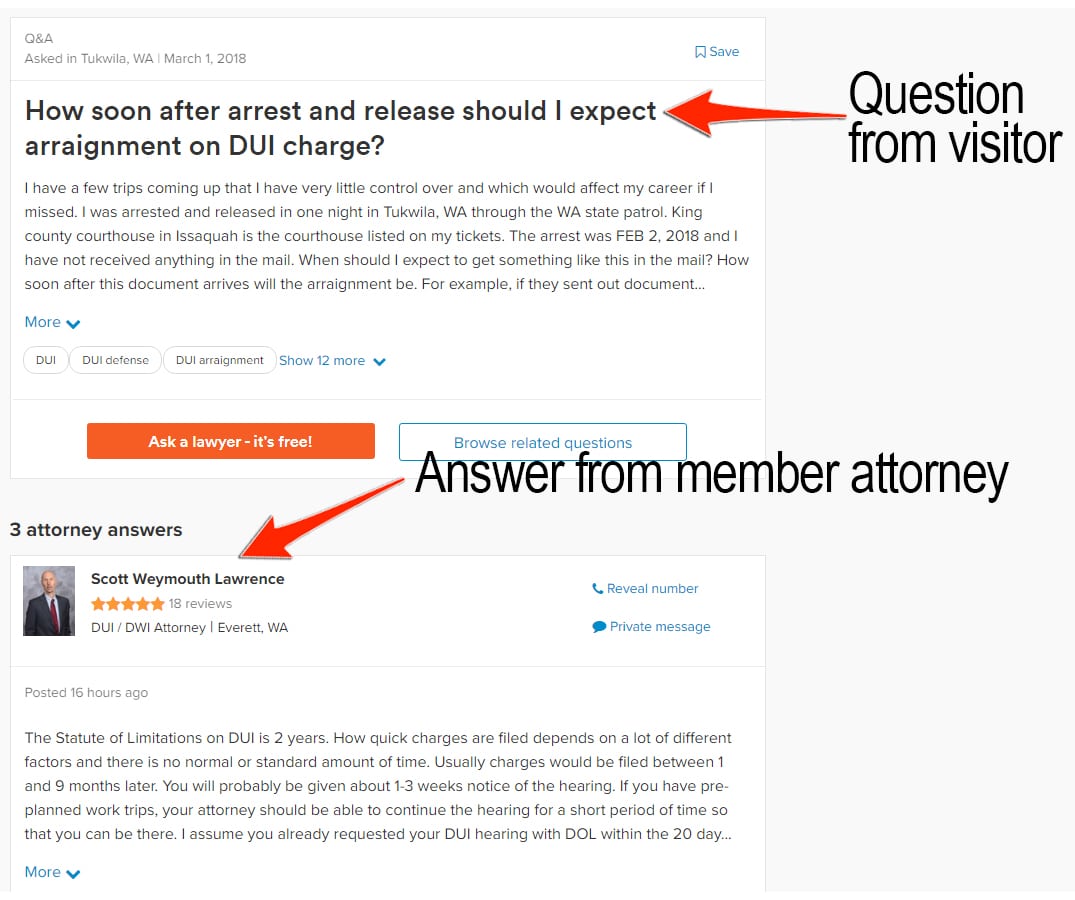 Social proof. Consumers searching for legal information want a site they can trust. Yet their methods of establishing trust are generally limited to a) trusting what Google serves them and b) judging the quality of the sites they view. Many of the top premium paid legal directories rank on the first page of Google for common legal searches and have the resources to build high-quality websites.
What Makes the Top Attorney Directories Picks Stand Out?
In one way or another, the directories in our top 10 are beneficial for SEO and are a great lawyer search engine, for building authority and for social proof. Here are some of the things we look for:
High DR sites. DR, which stands for Domain Rating, is a proprietary evaluation metric from Ahrefs (an SEO tool provider). DR measures a domain's authority in search on a scale from 0 to 100. The closer the score is to 100, the more authoritative the site is considered. To put that in context, Facebook.com has a DR100, Whitehouse.gov is at DR92 and Arizona State University is at DR89. High DR sites are the best sites from which to earn links for SEO. All of the directories named in the list above are at DR70-plus.
Contextual relevance. When earning links to a website, it is better to acquire them from sites related to your industry. For attorneys, legal directories fit neatly into that category while offering numerous other benefits.
Earn reviews. Many of the top 10 directories provide the ability to earn reviews, and reviews help build social proof. This also helps attorney profiles stand out in search results pages with elements like star ratings.
Answer legal questions. Some directories in our top 10 allow members to answer legal questions posed by consumer visitors to the site. This is another way to build authority and potentially generate direct leads from a directory site.
Submit guest content. Directories like HG.org allow members to submit guest content. By doing so, you can build authority, enhance your presence outside of your own site, and choose how and where to link to your site within the content on the HG.org blog.
Social proof. Consumers searching for legal information or others who notice your profile on these directories will have a greater sense of trust in your firm once they eventually arrive at your site. Names like Avvo, Nolo, Findlaw and Justia already have a following of potential clients who trust them.
Building an Undeniable Presence: Do You Need to Dominate Page One?
Finally, doing well in search results is not always about getting your own site to rank in the top spot, but to have an undeniable presence across the internet. If people are seeing your face or brand everywhere, you're more likely to convert them into paying clients. A great way to accomplish that is by joining and participating in many of the top directories that are already ranking on the first page of Google search.
That's Pretty Much It
If your goal is to gain more leads from search and the internet, the directories named here offer some of the best opportunities to help you get there.
Chris Dreyer is the founder and CEO of ‪Rankings.io,(@Rankingsio) an SEO-only agency for lawyers and small businesses built on the fundamental belief in using sustainable, white-hat SEO tactics and radical transparency with clients. With over 12 years of experience in Search Engine Optimization, Chris has helped hundreds of law firms, using innovative campaigns that are difficult for competitors to recreate.
Illustration ©iStockPhoto.com
Subscribe to Attorney at Work
Get really good ideas every day: Subscribe to the Daily Dispatch and Weekly Wrap (it's free). Follow us on Twitter @attnyatwork.