The best way to become more efficient is to take advantage of the tools you already have. There's no need to add to your tech stack or invest in costly implementations with these 10 tricks on how to get more of your Microsoft 365 subscription.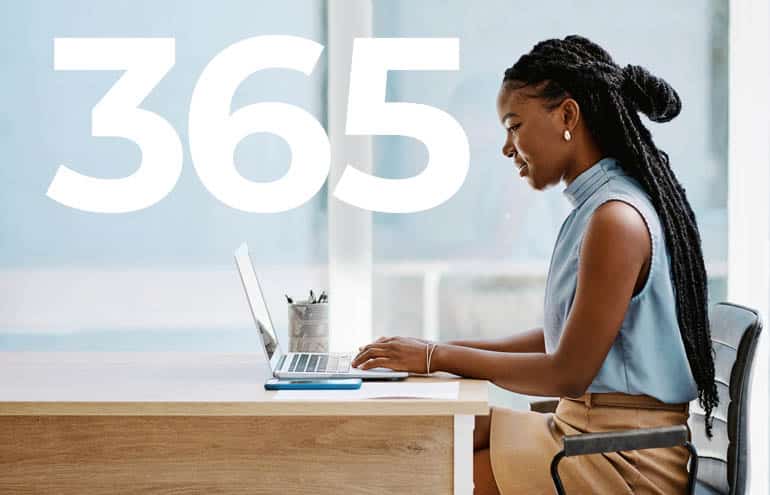 1. Schedule Meetings With Microsoft Bookings
Bookings is a meeting scheduling tool that allows you to create a customizable scheduling page where clients can easily schedule appointments online when it's convenient for them, eliminating the back-and-forth typically involved in scheduling meetings. You control when you're available for scheduling appointments and can set up automated meeting reminders for clients.
2. Manage Your Tasks With To Do
Microsoft To Do is a simple, intuitive task list that makes it easy to organize your task list, set due dates, and prioritize what needs done first. You can share task lists and quickly delegate to others. If you already use Outlook tasks, To Do syncs with those tasks, making it easy to make the switch.
3. Collaborate With Others in Real Time
You can collaborate with others in real time. With Microsoft 365 subscriptions, there's no need to keep emailing documents back and forth between collaborators. Everyone can be in the document, editing it, at the same time. You can see where your colleagues are working and the changes they make as they make them.
4. Use OneDrive for Document Storage
Every Microsoft 365 subscription license comes with 1 TB of storage. OneDrive allows you to sync documents across multiple devices and share links to them with your team members and clients.
5. Improve Communication With Teams
Whether everyone is in the office together or people are working from a variety of locations, Teams makes it easier to keep internal communication organized and easily searchable. If you've ever debated who to copy on an email, Teams makes it easy for people to find communications between others without distracting notifications.
6. Collect Feedback With Microsoft Forms
Forms make it easy to create surveys and share them with your team or clients. Whether you want your team's input on a new process or want to hear from your clients after your representation ends, Forms can handle it. You can quickly add questions and reroute respondents depending on their answers without coding a thing.
7. Take Advantage of Artificial Intelligence
While you shouldn't let AI write a brief for you without checking its sources, you can take advantage of AI built into Microsoft to help you write better. Microsoft's Editor tool, built into Word, uses AI to help you make your writing clear and concise.
8. Get More Out of the Backstage View
When you open Word, it opens to the backstage view. It offers you recent documents and a button to launch a blank document with a single click. Pin documents you frequently need, and they'll always appear at the top of the backstage view list. You can also filter the list to show only pinned documents.
9. Search for Features
You know Word has the feature you're looking for, but you just can't remember which ribbon it's on. Never fear – use the search bar at the top of your Word document to search for the feature you are looking for you. You can then use the feature directly from the search drop-down. The search bar is great for those features you use occasionally, but not often enough to remember where they are located.
10. Try New Things
Microsoft is constantly making changes to its office applications. Sometimes, you'll get a toggle to try what's new. Toggle it on to see what changes are coming and get a grip on them before everyone else. Currently, Microsoft is streamlining its Outlook interfaces. If you toggle "What's New" on in Outlook, you'll get a glimpse into the future of Outlook and its new, simplified interface.
Want to Learn How to Get More from Microsoft 365?
Check out Affinity Consulting Group's "Microsoft Word for Legal Professionals," "Excel for Legal Professionals," "Outlook for Legal Professionals" and "Powerpoint for Legal Professionals." Each manual zeros in on your practice's needs with in-depth instructions from Affinity experts on getting the most out of your tech.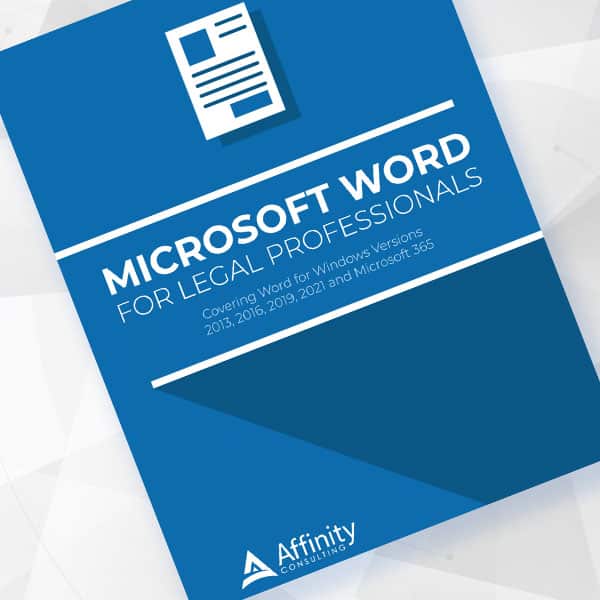 About Affinity Consulting Group
Affinity Consulting works with law firms and legal departments on strategy and technology engagements that help them create a great place to work and deliver excellent services to clients by improving how work gets done, aligning their stakeholders, while focusing on profitability.


Don't miss out on our daily practice management tips. Subscribe to Attorney at Work's free newsletter here >