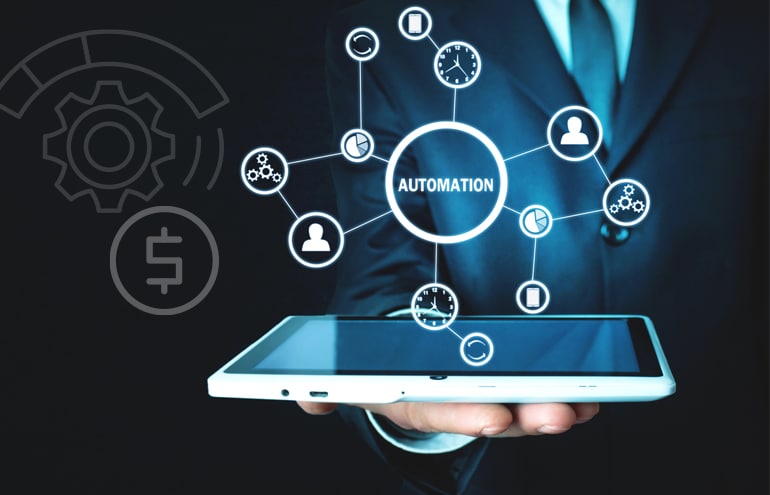 Lawmatics is a customer relationship management software (CRM) that automates every angle of lead management by allowing law firms to build "triggers" to create and link tasks and events and chains of tasks and events, ad infinitum. Law firm intake procedures tend to be a red-hot dumpster fire, but with Lawmatics, attorneys can manage the entire process, right up to lead conversion, with minimal active intervention.
Lawmatics Puts Your Lead Management on Autopilot
You may be asking yourself: Why does my law firm need a CRM that automates processes? Well, believe it or not, the latest information reveals that the law firms that make the most money aren't necessarily the ones that charge the highest prices. In fact, prices are essentially static across similarly-situated law firms. The main difference between law firms that grow revenue significantly and law firms that shed revenue significantly is efficiency. Described in terms of utilization rate, even a small boost in efficiency (less than 5% by that metric) means massive revenue gains for the highest-earning law firms. The way to drive efficiency is to use processes and workflows to automate tasks that were traditionally done by humans, or by humans exclusively.
Simply put: If you want to make more money, you do it by adding systems to your law practice that are backed by the right technology.
This is, of course, true of almost every other law firm process. In many ways, however, intake also has a more direct effect on your bottom line. If you convert more of the right types of clients you make more money, while suffering through fewer headaches. Of course, process management is even more important when it comes to law firm intake because modern legal consumers seek immediate engagement: Automation makes it possible to quickly and effectively engage leads without lawyer or staff intervention.
Trigger Happy
As you've likely guessed, the entire Lawmatics platform, made up of a voluminous feature set, drives automation at every turn. Literally any action in Lawmatics can be used to trigger any other action — or series of actions — in Lawmatics. Trying to nail down the various methodologies through which one can create automations and automation sets is like trying to count to a googolplex — Buzz Lightyear would be very happy.
In a larger sense, this means any feature within Lawmatics can be linked to any other feature in Lawmatics, including both internal and consumer-facing tools. So, for example, you could build the following connections:
Triggering an invoice when someone books a consultation
Triggering sending a document based on a response to an email marketing campaign
Triggering an esignature request based on a lead's completion of a contact form
(It's all about the triggers. Lawmatics loves Triggers more than Roy Rogers.)
Or, you could get really wild, and link together all of those operations, in any order you want, without using any software tools outside of the Lawmatics suite. Because any action in Lawmatics can trigger any other action within the system, your options are essentially unlimited. So, under Saint Anselm's definition, you may actually be God.
Inside Out: Lawmatics Is Much More Than a Full-Featured CRM
I've been referring to Lawmatics as CRM, but that's not quite right. It's more than that. You might label it a "marketing automation system," but Lawmatics does more than automate marketing. So, maybe the name for this type of tech has not yet been invented. Perhaps, then, the best way to proceed is to address the features, which are robust, like a freshly-opened jar of Grey Poupon.
Lawmatics is a marketing automation tool.
Lawmatics is also a CRM in the traditional sense: It can help you to manage leads and lead stages through its Kanban-style pipeline tool, and via tagging and integrations, and will also generate consumer-facing intake features, like contact forms. To that end, it is an intake machine.
It is also an email marketing program — with all the features you'd expect from an email marketing system, but built into a platform that offers far more features.
Lawmatics is a reporting dynamo, offering substantial insights into lead, intake and marketing management via a slick visual display, including a goal tracing feature — all for law firms that generally ignore or eschew such data points.
Most surprisingly, Lawmatics is also a form and document automation tool, with a drag-and-drop interface that tops a number of standard-bearing systems focused exclusively on that feature set.
Lawmatics' breadth of features is part of the reason why it blurs the lines of traditional CRM applications. Because Lawmatics can automate document creation, generate sophisticated reports, build workflows, manage esignatures and automate email drip campaigns (among other things), you could argue that Lawmatics could pull double duty as law practice management software (and I wouldn't debate you on that point very aggressively). And, because Lawmatics wraps up all the above-mentioned features into one system, it becomes an extreme value — you won't have to shell out extra for things like separate email marketing tool (that's not even built for lawyers) like Constant Contact, or buy a separate esignature program, to boot.
Of course, if you do want to continue using other software products (since, after all, we do live in a world of software integrations), Lawmatics offers integrations with leading law practice management providers, a virtual receptionist service, and LawPay. With its tremendously pliable API, more prime integration partners are sure to follow.
You, I, UI: Lawmatics' User Interface Is Killer
Now, if that sounds good, but also complicated — don't worry: Lawmatics has got you covered. It is super easy to use, with drag-and-drop functionality across the board. The UI is fantastic. Like butter. And if you're more overwhelmed than impressed by the fact that Lawmatics offers automation via any number of triggers, they've developed "playbooks" that allow you to build common workflows quickly.
A Completely Impressive Legal Marketing Suite
Lawmatics is, perhaps, the most complete and impressive legal marketing suite I've ever seen. Being is a relatively new entry into the legal market, the fact that it is already this sophisticated bodes well for future development — especially since Lawmatics is being developed by Matt Spiegel, founder of MyCase and legal industry veteran. So, run, don't walk, to set up a demo of Lawmatics.
You won't be disappointed — that is, unless you want your intake and marketing management to continue running at dumpster fire-levels, in which case you will be.