For law firms, regular blogging is an essential element of a search engine optimization strategy —— and one that can provide a tremendous return on your investment. Google rewards sites that provide fresh, useful content with better rankings, and your law firm blog is your platform to regularly publish material that fits those parameters.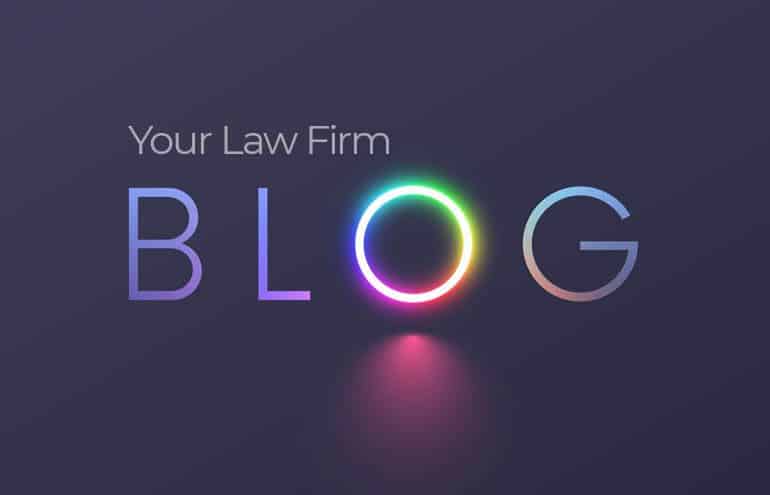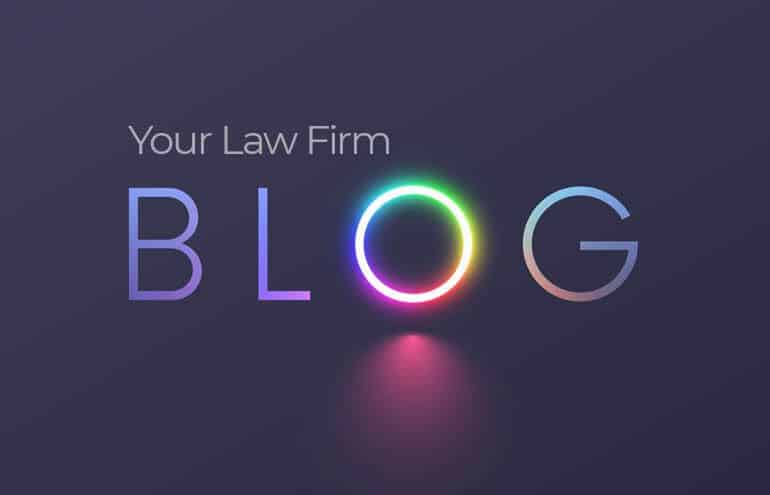 So, how do you create blog posts that are useful for clients while keeping your SEO tight? Here are a few best practices for your law firm's blog.
Answer Your Clients' Questions — And Use Those Questions to Create Engaging Headlines
Perhaps the most important thing about blogging is that it should always focus on your clients' needs. When consumers are looking for a lawyer, their search often starts by putting legal questions into a search engine. Someone facing a DUI might ask Google "What are the penalties for a first time DUI?" and someone getting a divorce might search for "How does child custody work in a divorce case?"
While your practice area pages should sell your services generally, your blog is an opportunity to interact with clients directly and target long-tail keyword phrases that directly answer their pressing questions.
Also, Address Your Clients' Concerns
It's one thing to answer their questions, but it's another to address the issues clients are concerned about. For example, you can tell a potential client that they have two years to file their claim after a car accident, but that's probably not what they are most worried about. In all likelihood, they are anxious about paying their medical bills, dealing with insurance companies, and the plethora of other issues that arise after an accident.
Keep in mind that in addition to helping them obtain a favorable legal outcome, as a lawyer you can also help them deal with the stress and anxiety that comes from not understanding the legal process. Letting people know you can solve their problems can go a long way in turning a website visitor into a client.
Don't Write Like a Lawyer
Communicating effectively with non-lawyers is a difficult thing for a lot of practicing attorneys. When lawyers write, they are often communicating with other attorneys, judges or legal professionals. As such, they assume the recipient has a certain level of knowledge on the subject they are discussing. For example, if you used the word "negligence" to an attorney, you (rightfully) should assume they know exactly what you are talking about.
When you are creating content for potential clients, however, you should assume they are starting from zero when it comes to legal knowledge. So, if you say "negligence," you should also explain that it's when a "person fails to use the degree of care that would ordinarily be used by a reasonable person in the same or similar circumstances." Better yet, you could say that "negligence" happens when a person does something that causes an unreasonable risk of harm or breaks a safety rule meant to keep everyone safe.
Striking a balance between maintaining a professional tone and explaining the law in layman's terms is a challenging thing to accomplish for many attorneys.
Don't Worry Too Much About Word Count, But Consider "E-E-A-T" Signals
Google rewards helpful content, and it explicitly says that helpful content is content that demonstrates experience, expertise, authority and trust: E-E-A-T. Importantly, this is particularly true for content topics that deal with your money or your life. That's YMYL in Google's parlance.
While Google says that word count is not a ranking factor, the reality is that demonstrating E-E-A-T requires depth and depth often requires more words. Tools like SEMRush and SurferSEO can help you determine what length of content performs best for particular keyword phrase searches.
That said, you shouldn't write more for word count's sake: Make sure that the content that you create is helpful for your readers. For example, 200 words of fluff about how great your firm is won't help your post outrank your competitors. You need to thoroughly address substantive topics that can help potential readers.
Practice On-Page Optimization
It's not enough to write a blog post and hit "publish." There are certain steps you should take to optimize your blog posts so they will rank as high as possible for the search terms you are going after. Some of these steps include:
Adding an image and alt text that contains your keyphrase
Writing a unique meta description
Adding categories and tags to your blog
Make Your Posts Scannable
While it is important to write great, in-depth blog content, it's also critical to keep in mind that people read web pages differently than they read books or magazines. According to the Nielsen Norman Group, nearly 80% of people just scan new pages they come across, and only 16% of people read them word for word.
As a result, you should make your law firm blog posts scannable. Some ways to do this include:
Using relevant subheadings (H2s and H3s)
Highlighting keywords
Including bulleted lists
Using short paragraphs
Starting with the conclusion
To Use AI or Not to Use AI?
Generative AI has been a hot topic lately, and people in every industry have been trying to figure out how to use it to get more done faster. The technology is undoubtedly amazing at first blush — it can write poetry, create full blog posts, plan your vacation, and even write a solid business plan. That said, it also has some issues that are of particular concern to the legal profession. Some of these problems include the following:
It confidently spits out incorrect information.
AI professionals have termed this phenomenon "hallucinating," which is a nice way of saying that the software has no idea about the truth of its output. As a result, relying on AI to create content or conduct legal research can result in misstatements of law or fact. In fact, ChatGPT has a disclaimer directly under the search bar letting people know that it may not provide accurate information:
Content created by AI is not copyrightable.
According to guidance recently issued by the U.S. Copyright Office, content created by AI without significant human authorship is not eligible for copyright protection. As such, if you use content created by AI, you have no ownership rights in it.
Using AI may result in plagiarism.
The technology underlying AIs like ChatGPT is known as a Large Language Model (LLM), which you can think of as an extraordinarily advanced predictive text. OpenAI, the company behind GPT-4, describes its training the following way:
…the GPT-4 base model was trained to predict the next word in a document, and was trained using publicly available data (such as internet data) as well as data we've licensed.
Basically, ChatGPT determines what the next word should be based on having read billions of other web pages. In other words, none of what it is coming up with is original. If you play with it enough, you will see that while its outputs are slightly different, it often uses the same phrasing repeatedly.
So, if you and other personal injury lawyers ask it to provide a blog on "What to Do After a Car Accident" (something that is reasonably likely to happen), you may end up with extremely similar content. Not only could it look like you're plagiarizing someone else's material, but Google is not in the business of rewarding content that doesn't add anything new to a particular topic.
How to Safely Use AI for Your Law Firm Blog
Even with all of the issues mentioned above, AI does have a place in content creation and blogging. Some of the ways you can use safely use AI to speed up the process include:
Coming up with blog topics
Doing keyword research
Overcoming writer's block
Editing and proofreading
Rewriting boilerplate sections
Creating bulleted lists
You can also work with content professionals who know how to harness the power of AI to efficiently and effectively create content that meets Google's standards and eliminates the above concerns.
More on Content Marketing and AI from Attorney at Work
More Content Marketing and AI Tips from Attorney at Work