Greater efficiency and smoother operations are among the real benefits of using case management software. But have you considered the benefits to your clients — and to your law firm's growth?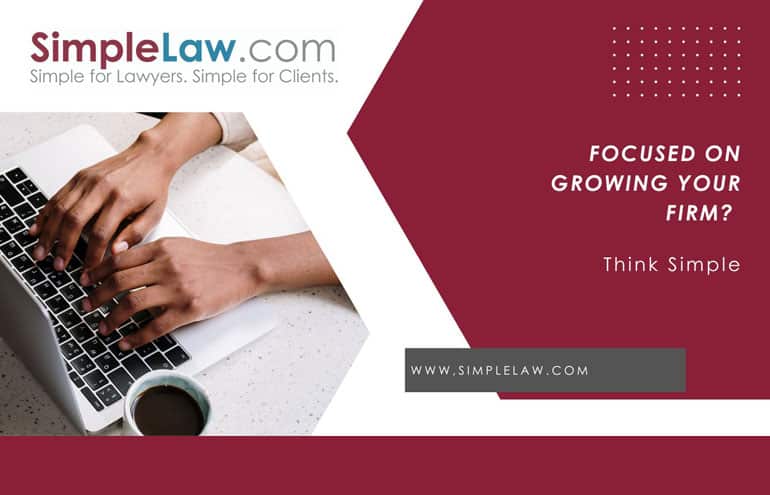 The right software not only improves productivity, it improves the client experience as well. And happy clients become great referral sources — especially when they leave positive reviews that drive even more clients to your firm.
Want to Improve Client Satisfaction?
Give clients the tools they want and need. Clients are looking for law firms that make communication easy, provide transparency to their legal matters, and make it simple for them to contribute to their case to manage costs. Is your case management software delivering these benefits? With no additional subscription fee? If not, it's time to reconsider.
Check Your Case Management Software's Benefits for Clients
It all starts with offering a client portal. From there, it's about the functionality available to the client and your flexibility to customize the process based on the type of law you practice and your visibility preferences. The customization not only helps deliver efficiency to the firm but makes it easier on the client, too. Here are some questions to ask your software provider:
Optional Client Portal: Does the software include the option of a client portal with the subscription fee? Can you choose not only which clients, but which matters clients have access to? The client portal should be available at the matter level, as well as at the client level.
Customized Access Control: Does the provider offer granular permission sets that can be customized by person, not by role? After all, not all clients are the same.
Communication Tools: Can the software assign tasks, set and view appointments, let users add notes, and store all documents centrally? Look for software that lets you assign tasks to clients, gives them the ability to upload documents, submit questions, and more through the portal, and view it all at any time, without requiring support from law firm members.
View and Pay Invoices: Does the client portal give the client the ability to review invoices and pay them right through their portal? Research shows that online payment drives quicker invoice payments, improving law firm cash flow. And firms that offer online payment spend less time tracking down overdue invoices, too.
Optional and Customized Automated Emails: Does the software let you choose which emails clients receive, the content included in those emails, and the "triggers" that send those emails? Law firms should be able to create new automated emails, remove existing options, customize content, and pick the action that triggers the email send.
Public vs. Private Entries and Documents: Can you choose which entries clients see and which ones they don't? Sometimes, individual documents and notes are meant solely for the law firm. Giving you the option to make notes, documents and other items public or private ensures the law firm has one central location for all the information needed to manage the case. It also ensures clients see only what they need to see.
Customized Features: Can the software customize features for your law firm? With SimpleLaw, each subscribing firm has its own custom look and feel, including its own web address, law firm logo, lots of customizable fields, and workflows. This makes your clients feel they are using a customized platform designed to meet their needs — not a generic, off-the-shelf solution. And that customization makes both your law firm and your client more efficient.
Client Form Completion: Are custom intake forms available for leads, clients, and matters? Is there a limit on the number of forms included with your subscription? With SimpleLaw, firms can create an unlimited number of intake forms for any stage of the process.
Availability for the Client: Can clients submit their information at a time convenient to them, whether it's 1 p.m. or 1 a.m.? Can clients submit their information without assistance from the law firm? The right case management software gives clients the option to ask questions, see responses, and view documents, invoices and more — at any time.
Request Additional Legal Support and Referrals: Can clients request additional support for new matters from their portal? From time to time, clients have multiple legal needs. Rather than sending them away to look for referrals or search the internet, SimpleLaw gives clients the ability to submit additional legal support requests right from their portal, and this helps improve client retention. If your firm can support that issue, it's simple to get started. If your law firm can't accept that new potential matter, SimpleLaw gives subscribers the option to refer it to other attorneys and law firms, whether they subscribe to SimpleLaw or not. No need for the law firm to spend time calling fellow attorneys to look for a firm they can refer their client to.
Audit Trails: Can you see "who did what when" in your software? Audit trails should not only give you a complete timeline of actions taken but also by whom and when.
Multi-factor authentication: Both you and your clients have greater protection and confidence with multi-factor authentication. With SimpleLaw, individual users can choose to receive the security code via email or text.
Just in case you were wondering, yes, SimpleLaw offers all these benefits.
SimpleLaw was founded by attorneys who know what law firms and their clients need and want. All SimpleLaw features are included in the monthly subscription fee — only $39 per user per month with an annual subscription. No tiered pricing or tiered benefits here. Simple.
Attorney at Work Subscribers Get 3 Months Free!
Attorney At Work subscribers get three months free and "white glove service," which includes SimpleLaw setting up workflows, document automation, and more. At SimpleLaw, we pride ourselves on delivering exceptional support, too.
Are you ready to find out more? Contact SimpleLaw to book a private demo, get started, and see your client satisfaction improve.
---
SPONSORED CONTENT. Our product spotlight content is provided by Attorney at Work sponsors and advertisers. This does not constitute a product endorsement by Attorney at Work. See Terms and Conditions for more information.