The name you choose for your website — the words that come before the .com or .law in your URL — is essential to building a powerful online presence for your law practice. In this handy guide, Annette Choti explains everything you need to know to make an informed decision about your law firm domain name.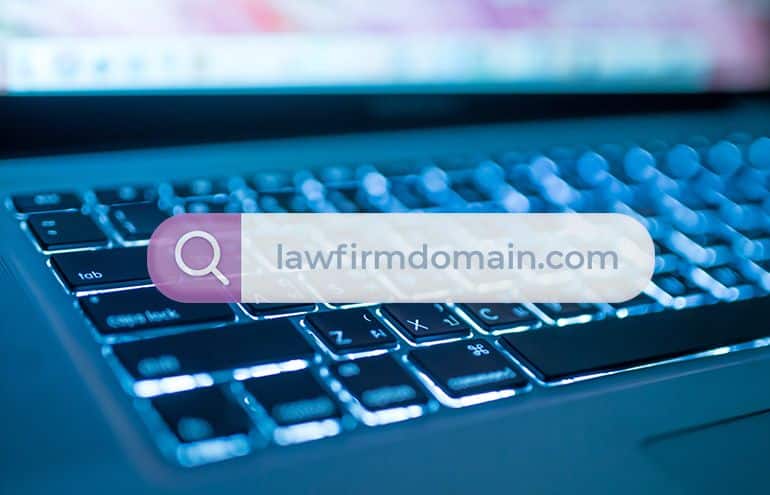 A wisely chosen domain name can make a lasting impression, improving search engine rankings and making your firm easier for future clients to remember. The following tips will guide you through choosing your website's name.
Importance of a Strong Domain Name
A well-chosen domain name improves your Google ranking and makes it easier for potential clients to find you when searching for legal help. The right domain name speaks of trust, authority and expertise while being clear and descriptive about the nature of your practice.
The significance of having a powerful domain name is immense; it's an integral part of creating a successful web presence.
Make it local. Localizing your domain name can help you reach potential clients in specific regions and enhance visibility for your law firm.
Make it memorable. An easy-to-remember domain helps users recall your website's address when they need legal assistance in the future.
Make it relevant. A relevant URL that includes keywords related to your firm's services can boost its visibility on search engines like Google.
Localizing Your Domain Name
Including local references to your state or city in your law firm's domain name can increase the likelihood of potential clients finding you when searching for legal assistance close to home.
Boosting Visibility by Targeting Specific Regions
If possible, include specific details about your target market location within the URL itself. Including geographic indicators like state, city or county names in your URL can significantly improve the chances of potential clients finding you when searching for a lawyer nearby.
Attracting Local Clientele Through Geo-Targeted Domains
Localizing your domain name can be a great way to increase visibility and attract local clients. A geo-targeted domain name uses a combination of geography and business or service category to attract clients who are specifically looking for legal services in a particular region. For example, a domain name such as "NewYorkDivorceLawyer.com" makes it easier for potential clients to identify and trust your practice.
Keeping It Simple and Memorable
Choose a domain name that is easy for potential clients to remember, such as your last name + .com, rather than something complicated like jones-smith-associates-lawyers.net.
Increasing Memorability by Avoiding Complex Terms
Avoid using hyphens or other separators between words in your domain name. Stick with just letters and refrain from using legal jargon or words that are difficult to spell. Studies have found that shorter URLs with more context perform better in terms of SEO compared to longer ones without any clear meaning.
Enhancing SEO Performance With Short yet Meaningful URLs
Create a URL that clearly conveys the nature of your practice while remaining concise, such as kansascityfamilylawyer + .com. By optimizing your URL with your location and practice area keywords, you can increase your visibility on search engines and make it easier for users to locate you online.
Choosing a branded or partial match domain can further enhance your firm's memorability while also optimizing SEO performance.
Choosing Branded or Partial Match Domains
A good strategy for choosing a domain name is to opt for branded or "partial match" domains, which include one or two words from the keyphrase you are trying to rank for, paired with another unrelated word (e.g., childcustodyhero vs. childcustodyattorney). These types of domains tend to be more memorable and effective at conveying the services you offer.
Balancing Brand Identity With Keyword Optimization
To strike a balance between brand identity and keyword optimization, consider incorporating your law firm's name along with relevant legal terms in your domain name. For example, smithfamilylaw.com is a good option.
Selecting Memorable Names That Resonate With Potential Clients
When selecting a domain, aim for names that are easy to remember and resonate with potential clients. Focus on simplicity and clarity. For instance, yourcityinjuryattorneys.com clearly communicates the area of practice and location.
It is essential to strike a harmony between brand recognition and optimizing for keywords when deciding on a domain name. To ensure maximum reach and potential growth, consider multiple variations of your chosen domain as well as alternative extensions that best suit your target audience.
Multiple Variations and Extensions
In today's competitive online landscape, you want to secure multiple variations and extensions of your law firm domain name. This not only prevents competitors from using similar options but also allows for future growth and expansion. To save money, consider buying several years' worth of registration fees upfront and renewing annually thereafter as required to maintain ownership rights over your chosen web addresses.
While .com domains remain the most desirable due to their familiarity among users worldwide, country-specific extensions like .ca (Canada) or .co.uk (United Kingdom) might be worth considering if you are heavily invested in brand advertising locally. By selecting a variety of domain names and extensions, you can effectively target different segments of your audience while maintaining a strong online presence.
Checking availability for potential legal issues with trademarked names is also essential before making your final selection.
Note: Purchasing various domains from a hosting site doesn't necessarily mean building out a website for each domain name — usually, you can redirect those URLs to your main website URL or a pertinent landing page.
Checking Domain Name Availability
Before finalizing decisions on your law firm's domain name, make sure your preferred choice is available and unique. You can easily check for domain availability using domain registration and website hosting sites like GoDaddy. If your desired domain name is taken, continue searching until you discover a suitable and distinctive option for your brand identity.
Avoid choosing a domain name similar to an existing one as this may lead to confusion among potential clients.
Avoid potential legal issues with trademarked names — you don't want to infringe on any trademarks or copyrighted materials when selecting your law firm's domain name. Consider talking with an experienced trademark attorney to help you with your choice.
Note: Incorporating relevant keywords into your domain name can improve your search engine rankings. However, always avoid keyword stuffing and instead focus on creating a memorable and brandable domain name.
11 Tips for Choosing the Right Law Firm Domain Name
Choosing the right domain name for your law firm can be a daunting task. Use these 11 tips to help make the right decision:
Keep it short and simple: A shorter domain name is easier to remember and type.
Make it easy to spell: Avoid using complex words or spellings that may confuse potential clients.
Include your location (if possible and appropriate): If your law firm serves a specific geographic area, consider including your city or state in your domain name.
Use your firm's name: If your law firm has a unique and memorable name, consider using it as your domain name.
Use your practice area: If appropriate, including your practice area in your domain name can help potential clients understand what services you offer.
Avoid hyphens and numbers: Hyphens and numbers can make your domain name harder to remember and type.
Make it brandable: Your domain name should be unique and memorable to help your law firm stand out.
Check social media availability: Before finalizing your domain name, check to see if the corresponding social media handles are available.
Consider future growth: Choose a domain name that can grow with your law firm as you expand your services or locations.
Get feedback: Ask colleagues, friends and family for their opinions on your potential domain names.
Register your domain name: Once you've chosen the perfect domain name, register it as soon as possible to ensure that it's yours. (Read this advice on shopping for your domain on Whois, and be sure to read the contract carefully.)
By following these tips, you can choose a domain name that accurately represents your law firm and helps you stand out in a crowded online marketplace. If you are unsure about what to name your law firm, consider talking with an experienced digital marketing agency that specializes in working with law firms.
FAQs About Choosing the Right Law Firm Domain Name
What Is the Domain Code for Lawyers?
There are several top-level domains (TLDs) suitable for lawyers including generic TLDs like .com or country-specific ones like .co.uk. However, there are also specialized TLDs designed specifically for legal professionals such as .law, .legal and .attorney.
Who Can Use a .law Domain?
The .law domain extension is reserved for qualified lawyers and authorized legal institutions only. Applicants must meet eligibility criteria that include being licensed by a relevant regulatory authority or possessing an equivalent professional certification in their jurisdiction. Find more information here.
Can a Law Firm Have Multiple Domain Names?
Yes, law firms can have multiple domain names to secure different variations of their primary URL or target specific regions and practice areas. Owning multiple domains helps prevent competitors from using similar URLs while providing flexibility in marketing efforts. However, in almost all cases, it is better to have just one domain name, as then you only have one virtual home to build on the internet for your law firm.
Image ©iStockPhoto.com

Don't miss out on our daily practice management tips. Subscribe to Attorney at Work's free newsletter here >
Illustration ©iStockPhoto.com
You Might Also Like These From Annette Choti:
Subscribe to Attorney at Work
Get really good ideas every day for your law practice: Subscribe to the Daily Dispatch (it's free). Follow us on Twitter @attnyatwork.