Compared with their counterparts in urban and suburban regions, rural attorneys often have less reliable access to critical skill sets and tools to support their practice. For example, there may be a scarcity of local IT professionals to help them troubleshoot technology problems. They may also have trouble finding qualified personnel to help with practice management and paralegal tasks. Even if they can find talented people with the right skills, small firms and solo practitioners in rural areas may not be able to afford the cost of recruiting and retaining them.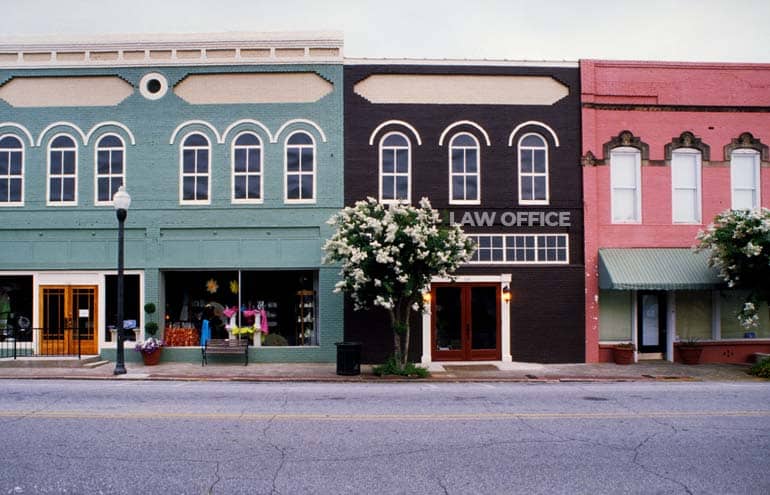 How can rural attorneys consistently get on the same playing field as urban and suburban lawyers?
Two trends in the legal market provide an answer: automation and utilization of legal technology and service providers.
First, now is the time for rural practices to embrace automation. A host of highly practical, legal-specific do-it-yourself technology solutions have emerged in the past few years, and many are designed and priced to meet the needs of very modest-sized practices.
Second, specialized skills and expertise in legal technology, marketing and practice management services are now available to even the smallest and most remote practices, often eliminating the need to find local talent or invest in full-time help.
The Foundation for Success: Establishing Priorities
Before turning to these resources, however, rural practitioners struggling with the business side of their practice should first bring their focus to sound decision-making and establish a clear set of priorities. This includes deciding which problems are most urgent and which solutions will have the most impact.
By taking a more formal approach to determining how to handle incoming work, rural attorneys can get the most out of their limited resources and avoid wasting time and money. While it is a simple tool, the Eisenhower Decision Matrix is an excellent rubric for rural lawyers to consult as client work flows into their practice. Essentially, the matrix forces practitioners to classify tasks in terms of relative importance (important, less important) and urgency (urgent, less urgent). Tasks with clear deadlines that bring significant consequences if not completed on time should be the top focus, while important tasks that are less urgent can be scheduled appropriately. Less important tasks that still need to get done can be delegated. Lastly, tasks deemed neither important nor urgent are potential distractions that should probably be removed from consideration.
Technology as Team and Task Master
With work prioritized, rural lawyers can take advantage of new technologies and resources that weren't available even a few years ago. For instance, easy-to-use calendaring tools allow attorneys to offer appointment booking on their websites. These tools can be configured to require answers to basic intake questions before scheduling a booking and to collect credit card payments before booking paid consultations. They can also automatically trigger appointment reminders to reduce the number of no-shows.
Other legal technology tools can help lawyers handle billing, time-tracking and case management. If tech-savviness is a concern, nearly all these services are backed by robust software support teams who take on the IT work internally on behalf of users, so independent IT professionals needn't be engaged. Plus, these tools are typically simple to use and do not require a technical background to master. Once setup is complete, most users manage their accounts independently. And with data stored in the cloud, the need for onsite IT is virtually eliminated.
Boosting Efficiency: Automated, Custom Workflows
In addition to reducing both the cost and the need for skilled onsite personnel (like IT), rural practices can use automation to create more customized workflows and integrate related tasks for more efficiency. For example, rather than plod through a manual client intake process, automated intake workflows can be used to engage potential clients and keep track of existing clients.
The process starts with developing a practice-specific intake form to collect pertinent information in one of the many legal intake, marketing automation, form-building, or practice management programs now available. The form, which can be made available through a hyperlink on the firm's website, can be completed by the client or a virtual receptionist. Submitting the form then automatically creates a new record in the firm's client relationship management (CRM) system. Once the consultation with the attorney occurs, it triggers a new workflow: The new client signs an agreement, a matter is created, a bill is generated (if required to begin work), and associated deadlines are scheduled and assigned.
Related: "Five Ways to Automate Workflow in Your Law Firm"
Virtual, But Real Receptionists
For additional administrative assistance beyond automation, rural attorneys can engage virtual assistants and virtual legal receptionists. Virtual receptionists can help new clients complete intake forms, schedule consultations, help you collect unpaid invoices and more. A virtual receptionist is a real person who works from a remote location and typically handles calls via internet phone service (VoIP), which provides rural attorneys access to affordable, skilled, high-demand receptionists who otherwise wouldn't be attainable locally. Virtual legal receptionists are familiar with legal workflows and fluent in legal language. Some may even be bilingual — a requirement for some firms, particularly those in immigration law or coastal regions. Virtual receptionists can accept calls, transfer callers to appropriate team members in the office, follow up on online leads, answer texts and website chats, and more.
Since virtual receptionist companies handle recruiting, vetting and training, it is easy to find great, reliable frontline workers for part-time or full-time work. Also, virtual receptionist services often have tech teams on staff. They can work with many of the software solutions mentioned above to assist with call forwarding, program website chat widgets, and compile leads into outreach campaigns. These tasks can be managed without local IT support, which eliminates the need for rural attorneys to undergo the hassle of finding someone willing and able to do the work onsite.
Sourcing Specialty Talent: Freelance Paralegals and Legal Secretaries
In addition to IT specialists and receptionists, it can be difficult for rural lawyers to fill critical positions for paralegals and legal secretaries. However, there has been a noticeable shift in the labor force in recent years, especially regarding the rise in freelance talent. For example, relatively new services like Upwork and LawClerk allow individuals to search for and connect with freelancers and contract attorneys throughout the U.S. and beyond. The emergence of these innovative businesses means that rural attorneys are no longer constrained by their local labor markets. They can work with a talent pool that is larger, more specialized and more varied. And they can devote the time they would otherwise spend conducting remote interviewing and skills testing to substantive legal work instead.
Most remote legal staffing services provide ample online reviews to help vet candidates and proactively address any concerns that may not arise in the same way from local referrals.
Overall, while rural lawyers may not have access to the same resources as urban attorneys, new technologies and staffing models are quickly closing the gap. What used to be a distinct disadvantage has become a catalyst for adopting new DIY technologies and business models, spurring alternative solutions and changing the legal landscape.
Illustration ©iStockPhoto.com
Related: "Urban Lawyers, Rural Clients: Tech Considerations"
Subscribe to Attorney at Work
Get really good ideas every day for your law practice: Subscribe to the Daily Dispatch (it's free). Follow us on Twitter @attnyatwork.