If you think the "i" guys are the only ones with apps to brag about, think again. Some of the big names in legal technology proudly carry Android devices, and they've got plenty of apps to brag about, too. Among the notable users: Andy Adkins, the CIO for Steptoe & Johnson; Future Lawyer blogger Rick Georges; Monroe Horn, who's Chief Technology Officer at Sunstein Kann Murphy & Timbers; Nerino Petro, the Practice Management Advisor for the State Bar of Wisconsin; Catherine Sanders Reach, the Chicago Bar Association's Director of Law Practice Management & Technology; and Droid Lawyer blogger Jeff Taylor.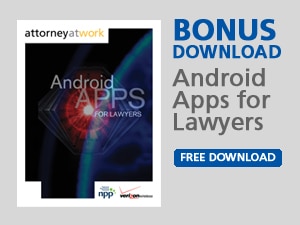 These tech wizards were happy to answer our questions about their favorite apps, security tips and a whole lot more. Plus, National Purchasing Partners and Verizon provide a bonus Attorney at Work download, Android Apps for Lawyers, with descriptions of more than 40 of the most popular apps. Just click the "free download" link.
Today's post is for you, Android attorney!
What's your favorite new app for the Android?
What about your essential, go-to apps?
What are your best security tips?
Still Waiting …
We asked our contributors to tell us what's on their wish list for Android devices and the response was unanimous: More lawyer-specific apps like iJuror or TrialPad. (Unfortunately, TrialPad tells us they have no current plans for the Android market.) Jeff Taylor adds this to his "waiting wants" as well: "A Siri-like Android competitor. Even though Android's voice search rocks, it's still missing some of the glitz and glamour of Siri. Rumor has it, though, that 2012 is the year of 'Assistant,' which is supposed to be Google's answer."
More About the Contributors
Joan Feldman (@JoanHFeldman) is Editor-in-Chief at Attorney at Work (@attnyatwork) in Chicago.
Subscribe to Attorney at Work!
Don't miss out on "one really good idea every day." Subscribe now to get our Daily Dispatch or Weekly Wrap.