Introverts can play to their strengths in today's world of asynchronous communication.
I'm an introvert, so the first five years of my legal career spent cloistered in my BigLaw office were in my comfort zone. When I quit and hung a shingle, it was like getting tossed in the deep end because I had no choice but to go out and hustle for business. In 2009, that meant lots of face-to-face small talk with strangers in group settings.
I was not playing to my strengths. I did it anyway because I had bills to pay. Business development was exhausting.
It no longer has to be. And in today's environment, introverts have an advantage.
From Synchronous to Asynchronous Communication
Many things are stressful and exhausting about the current moment, but fortunately, the anticipation and actuality of attending large-scale networking events is not one of them.
And I don't think that will change post-pandemic as much as some might think.
Many of us anticipate (some with hope, others with trepidation) getting back to business development as usual: networking events, in-person meetings, two-hour lunches. But it takes two to tango. Do our clients still desire these types of interactions? Did they ever?
We know that COVID-19 has been an accelerant of preexisting trends, and by most accounts, clients were opting out of traditional business development processes even before the pandemic.
Here's one data point: A 2019 study by Gartner found that buyers of sophisticated services made it almost 60% of the way through the buying process before contacting a service provider, such as a lawyer or consultant.
How is this possible? Clients were (and are, to an even greater extent) doing due diligence and winnowing down their options online. Instead of taking the measure of who they want to hire by looking them in the eye across a table, clients are searching for expertise and vetting lawyers based on what they find in digital domains.
It's inconceivable that this trend hasn't accelerated over the past 11 months. Are we really going back? People are buying houses sight unseen over the internet. If they won't go to an open house, will they trudge to a law firm for an introductory meeting?
Clients still want to "converse" before making a hiring decision. But instead of synchronous, real-time conversations, clients desire, at least as a starting point, asynchronous communication that unfolds at their pace and on their terms.
Here's how it works: You share your ideas through an article, LinkedIn post or podcast episode. Clients find your ideas and decide whether to continue the conversation.
In short, clients are increasingly in control, and it's incumbent upon lawyers to meet them where they are, which is online in the marketplace of ideas.
And that's an environment in which introverts can compete effectively.
Introverts Are Having a Moment: Asynchronous Communication at Scale
As an introvert, business development, at least in the traditional sense, has always been taxing for me. On the other hand, marketing comes easy. Marketing, and particularly thought leadership marketing, is asynchronous communication at scale.
In today's world, the line between marketing and business development has blurred. And because thought leadership marketing requires thinking and writing (or audio/video content), most introverts are primed for the challenge. We spend an inordinate amount of time in our own heads and often capture our thoughts on paper. We're prepared for this moment.
By demonstrating expertise through thought leadership content, lawyers create business opportunities themselves.
Here's How You Plant the Seeds
Lawyers (and marketers working on their behalf) spend lots of time trying to find and pitch for valuable marketing opportunities. Podcast appearances, publishing opportunities, speaking gigs and PR mentions, to name a few. What's often missed is that the best way to secure these opportunities is by making a positive impression on the gatekeepers — reporters and editors, podcast hosts, event organizers — with your content. They'll take notice when you share your best ideas and seek you out to appear on their platforms to further market your services.
By consistently creating content that resonates with your audience, you'll build trust and generate inbound opportunities. When those in your network face the problems you address through your content, they'll logically think of you as the solution.
Content keeps you top of mind. When you reach out to prospects and referral sources in your network, it's no longer "cold" outreach. You've already warmed up the relationship and built trust.
In short, content creates opportunities.
But keep in mind that you're playing the long game when you commit to a content strategy — farming, not hunting. Your content is the seed. However, at some point, to the chagrin of many introverts, a direct business development conversation is required to reap the harvest.
There's No Need to Fear These Conversations
Over time, I learned that the best way to close the deal with a prospective client is to do what introverts do best — which is listening.
When starting out, I found the approach I needed to make business development conversations bearable in an old book, Dale Carnegie's "How to Win Friends and Influence People."
Carnegie writes: "Ask questions the other person will enjoy answering."
The goal of a business development conversation is not to convince a prospective client how smart you are. It's to make the other person feel good about themselves and excited about future possibilities.
If you make them feel good about themselves — which occurs as a result of your questions that spur them to talk about themselves — they'll view you favorably as a consequence and desire more interaction.
And remember, during business development conversations, there's a good chance the person you're speaking with is feeling apprehensive, too. Accordingly, if you're ready with lots of good questions, everyone will benefit.
Good questions make your client feel respected and heard, which is what introverts do best in interpersonal communications.
Introverted lawyers should confidently engage in today's brave new world of asynchronous business development.
Use thought leadership — your best ideas — to generate opportunities. Use conversation leadership — your best questions — to close the deal.
Illustration ©iStockPhoto.com
Subscribe to Attorney at Work
Get really good ideas every day for your law practice: Subscribe to the Daily Dispatch (it's free). Follow us on Twitter @attnyatwork.
BUSINESS DEVELOPMENT RESOURCE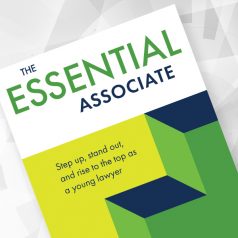 The Essential Associate: Step Up, Stand Out, and Rise to the Top as a Young Lawyer. From attorney, coach and legal marketing expert Jay Harrington, "The Essential Associate" is for young lawyers who aspire to grow, succeed and advance on a partnership track at a law firm. Jay's practical, step-by-step guide is aimed at helping new lawyers thrive in today's competitive law firm environment. It includes insights from dozens of successful lawyers at firms across the country, general counsel at Fortune 500 companies, and top consultants to the legal industry.