What technology gifts can make a legal professional merry and bright this year? Attorney at Work authors share what's on their wish list.
It's been a heck of a year (yep, an understatement), with twists and turns and hits too numerous to recount. Given all the dark spots, it seems like most of us — that includes you, legal professionals — deserve a special treat or two this holiday season.
We asked our practice management and technology experts: What tech would you like to find in your "stocking" this year — for improved efficiency, organization, stress reduction – or just fun? Here are shiny picks from Sheila Blackford, Brett Burney, Jim Calloway, Anne Haag, Tom Lambotte, Sharon Nelson and John Simek, Nerino Petro and Reid Trautz.
Anne Haag: I Dream of Apple Treats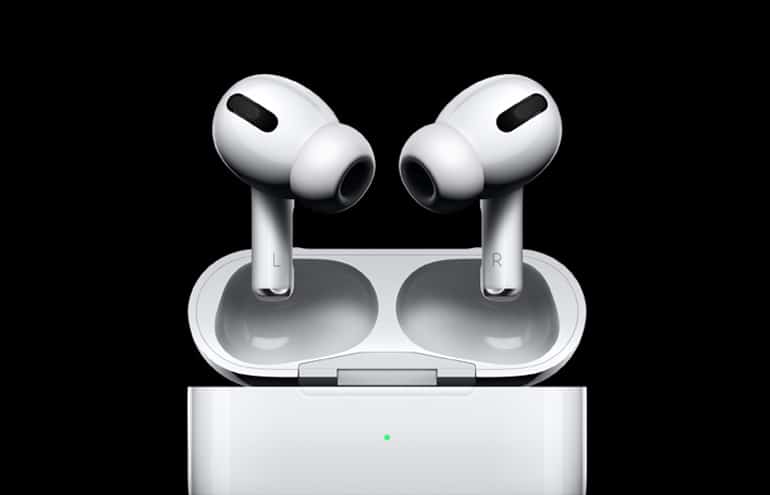 My dream holiday gift this year (and believe me, it's just a dream because these bad boys are not cheap) is a new iMac. I am so unbelievably tired of staring at a laptop all day after working from home since March, and my previous iMac bit the dust during this no-good year. (It was from 2009 and had a good, respectable run.) The thought of being able to teach a seminar on Zoom without stacking my laptop on top of dictionary-sized tomes is an absolute delight. Maybe Santa will settle for a payment plan.
I would gladly accept a pair of AirPods as a more wallet-friendly alternative. My high-quality over-the-ear headphones are overkill for a work-from-home situation. I've found myself wearing the old-school wired Apple earbuds all day instead, essentially tethering myself to my phone. I have gotten the cord wrapped around doorknobs more than once, and I'd love to be free of that.
Anne Haag (@CBA_LPMT) is a Practice Management Advisor at the Chicago Bar Association. Anne worked as a patent paralegal at a Chicago IP firm before arriving at the CBA in 2017 as the Law Practice Management and Technology department's trainer/coordinator. She is also a certified crisis counselor and volunteers as a patient advocate in the ER.
Tom Lambotte: Stocking Stuffers for Better Communication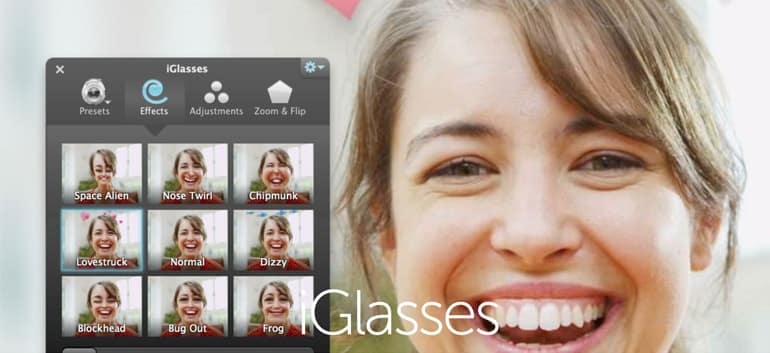 With most of us working from home and spending more time than ever in home offices, my wish list is focused on comfort and improved communication. What I'd like to find in my stocking this year are a number of little items that all make communication a little better.
Krisp. The first is an annual subscription to Krisp. This magical app, introduced to me by Maddy Martin with Smith.ai, is pure magic. Once installed on your computer it acts to filter out noises in any communication app, like Zoom or Microsoft Teams, for example.
I was doubtful of how well it would work. My first experience was when I had a Zoom meeting with my assistant in a loud, hip restaurant complete with rock music and a cacophony of other sounds around me. I turned it on and my assistant could not hear a thing, except for my voice. I've been a huge fan ever since. With this enabled you don't need to worry about those in your meetings hearing your dogs barking, kids arguing or city noises in the background. It's magic. Trust me.
iGlasses. The next item on my list addresses the issue of your head position in the Zoom window. I can't stand when people are so far away and in the bottom right corner of the screen. It drive me nuts! The easy, inexpensive fix for this (at least for Mac users) is called iGlasses and it's a one-time $20 purchase. This little app lets you zoom in and move the focus so you can center yourself. You can also tap into effects and style adjustments. More magic.
Coffee warmer. Winter is coming. At least it is here in Ohio. This one is a comfort item I recently did a lot of research on. I can't tell you how many times I reheat my coffee. It's a task I don't enjoy. I have to leave my desk, go downstairs, microwave it. Wait while that happens. Then bring it back up. Uh! (First-world problems, right?)
Well, this coffee warmer turns on when a cup is on it, turns off automatically, and with a flat surface is suitable for most cups. The one on my wish list is the Misby coffee mug warmer.
Tom Lambotte (@LegalMacIT) is CEO of GlobalMacIT, a company specializing in providing IT support to Mac-based law firms. Tom is the author of "Hassle Free Mac IT Support for Law Firms" and "Legal Boost: Big Profits Through an IT Transformation" and publishes the weekly "Stupid Simple Mac Tips" series.
Jim Calloway: The Joy of Mesh Wi-Fi
Between working from home and virtual schooling, we've asked a lot of our home Wi-Fi systems this year, and trying to stream simultaneous video meetings or classes could cause bandwidth challenges. I recommend the gift of mesh Wi-Fi.
What is a mesh Wi-Fi system? Mesh Wi-Fi systems are also called whole-home Wi-Fi systems. They are recommended for homes over 3,000 square feet, but they can also be useful in smaller homes (or offices) with thick walls or other Wi-Fi challenges. A main router connects to the modem. Several satellite devices are positioned around the house that link to it. The result is one single wireless network that uses the same SSID and password — no more logging into a different router if you change locations within the house. A co-worker took me up on my mesh Wi-Fi suggestion and was thrilled to have a strong signal throughout the house and her large backyard.
I like the eero systems. The company and its products have proved reliable. In addition, setting up an eero system is extremely simple and easy. The latest model is the eero Pro 6, which supports speeds up to a gigabyte and homes of 6,000 square feet, and promises enough bandwidth to support over 70 devices via tri-band. The three-pack system sells for $599. But for most of us, the eero 6 (non-pro) version at $279, or the dual-band mesh Wi-Fi 5 system (three-pack) at $249, may fit more comfortably into your gift-giving or home improvement budget.
Jim Calloway (@JimCalloway) is Director of the Management Assistance Program for the Oklahoma Bar Association and author of several ABA books. He blogs at Jim Calloway's Law Practice Tips and co-produces the podcast The Digital Edge: Lawyers and Technology.
Reid Trautz: The Gift of Workday Comfort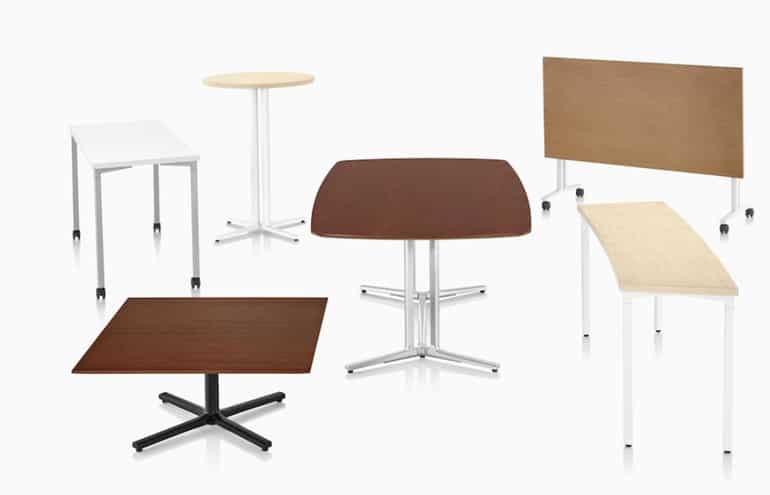 Working from home at least one or two days per week is here to stay so we need to stop working in ad hoc spaces and create a suitable office environment in our homes. That doesn't necessarily mean big and bulky but it does need to be productive, comfortable and healthy. That starts by having the foundation of a good desk and comfortable chair.
You deserve a good chair. Herman Miller Embody or Aeron desk chairs are fabulous and pricey. (Probably reserved for those who've been nice, not naughty, this year.) I can personally attest that the day-in/day-out comfort of the Aeron chair is worth the money. Receiving high marks from several sites is the Alera Elusion Series Mesh Mid-Back Multifunction Chair. It is adjustable, comfortable and very affordable. Similarly, the Office Star FreeFlex Seat Adjustable Office Chair is also a good choice for an ergonomic chair that has multiple comfort adjustments at an affordable price.
And a worthy desk. A good desk should be sturdy, large enough to fit your work style, and sized to fit your work-at-home office space. A table desk like the Herman Miller Everywhere rectangular desk meets those criteria and can be used as an extra table for the family when needed. Similar in design but more affordable is the Tribesigns Modern Style Computer Desk. It comes in two sizes to fit just about any work style and space. If you prefer a standing desk with a small profile and push-button adjustment, then consider the Jarvis Bamboo Standing Desk.
Don't forget some photographs. No comfortable office is complete without personalized decor. Family and travel photos are my wall decor of choice. Scour your smartphone for the best pictures and send them off to have your favorite prints made in a variety of sizes. Ask Santa for some unique picture frames for your walls and then arrange them on the wall in front of you to look at — or on the wall behind you for all the world to see on your Zoom video calls.
I can't think of a better gift this year than of being more comfortable and productive while working from home.
Reid Trautz (@RTrautz) is founding Director of the Practice & Professionalism Center at the American Immigration Lawyers Association, where he provides practice advisory services to members. A past chair of ABA TECHSHOW, he is co-chair of the ABA Law Practice Division Futures Initiative and co-authors Future Proofing, a column about the future of law practice in the ABA's Law Practice magazine.
Sheila Blackford: Tech Treats to Fill Some WFH Holes
Technology has been a part of our daily lives for so long that it is easily taken for granted until we hit an open space that looms large where the technology is missing. I have been working remotely for nine long months, well, six if you subtract my stay-at-home sabbatical. Here are my wish-list technology solutions to problems I didn't know I had until I exited my office last March:
A white noise machine may block out background noise but creates a noise of a different flavor. Can someone package and sell the deep silence of a forest or an old mossy covered grotto? Paul Simon, I'd really like to listen to the sound of silence. I've been realizing how noisy my world has become. I'd just as soon skip out on hearing my husband teach 135 middle school students about fractions. Sixth grade math was a contributor to my becoming an English major.
Perhaps more realistically, I'd go for a wireless headset with microphone and noise-canceling earphones, please. Though I like to visit with colleagues, clients, doctors, family and friends on Zoom, I am just not a fan of presenting on there. A good set of headphones would cut down on feedback noise and make me look the part of the smart presenter I intend to be.
And while I'm at it, a nice page-turning device so that I can eat my lunch and read my Kindle without facing the dilemma of having to choose a sticky screen or a warm lunch gone cold.
I have amassed plenty enough sparkly things in my jewelry box. Now I am hoping for something useful under the holiday tree.
Sheila M. Blackford (@SheilaBlackford) has been a Practice Management Attorney for the Oregon State Bar Professional Liability Fund since 2005. She is the author of the ABA book "Trust Accounting in One Hour For Lawyers," co-author of "Paperless in One Hour for Lawyers," and a contributing author to "Flying Solo: A Survival Guide" and the Oregon State Bar "Fee Agreement Compendium."
Nerino Petro: A Camera Built to Vlog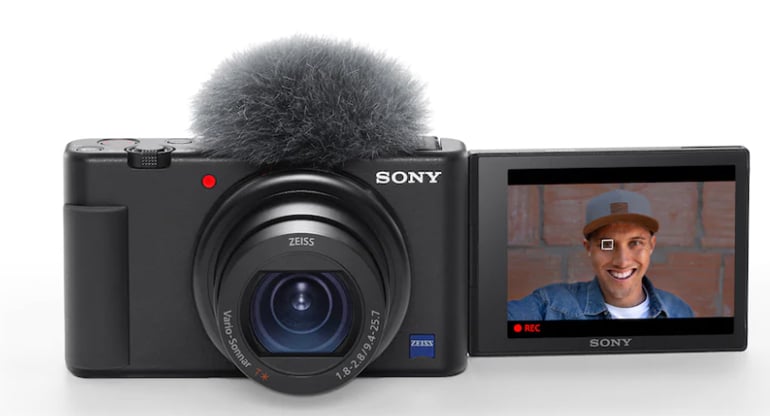 I'd like to find a Sony ZV-1 digital camera in my stocking. Initially it may seem to be another point-and-shoot camera, but it is in fact designed specifically for vlogging and video. Built-in image stabilization, a flip-out screen to see how you look, a good internal microphone and the ability to record in 4K, make this a great tool if you are looking to start vlogging or creating videos for your office, or if you want to improve your current setup (business expense anyone), or for fun. The ZV-1 is currently one of the best and simplest cameras to use for this task.
It includes an external mic jack to add a variety of external microphones for better sound, an HDMI jack to connect to a computer or screen and a micro-USB jack (think external battery). It even takes decent photographs.
Nerino J. Petro Jr. (@NerinoPetro) is President of the Erickson Group in Rockford, Ill. Previously he was CIO for Holmstrom Kennedy PC and was the first practice management advisor for the State Bar of Wisconsin's Law Office Management Assistance Program. He is a certified independent consultant for a number of legal products.
Sharon Nelson and John Simek: The Amazing Levitating Speaker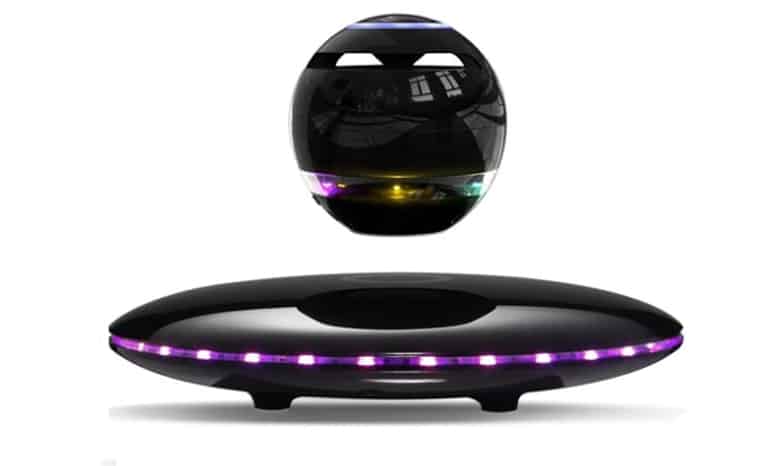 We are all wishing for a rapid end to this year and anxiously anticipating looking at 2020 in the rear-view mirror. But not so fast. The holidays are upon us and Christmas will be here before we know it. With a hat tip to our good friend Jim Calloway, we recommend purchasing the Magnetic Levitating Bluetooth Speaker with stunning effects as a special holiday gift. You can use the speaker as a hands-free device for your phone calls or to listen to music. The 500mAH battery provides eight hours of use with a single charge. The sphere levitates and has stunning LED visual effects. Think of it as a hovering Star Wars "Death Star" that doubles as a speaker.
The speaker normally sells for $179.99 but as of this writing it's on sale for $119.99. There is a huge demand right now and it could take seven to 20 working days to get your purchase. That means you should order now to be sure you have this sparkly gift in time for holiday-giving.
Sharon D. Nelson (@SharonNelsonEsq) and John W. Simek (@SenseiEnt) are President and Vice President of Sensei Enterprises, Inc., a digital forensics, legal technology and cybersecurity firm based in Fairfax, Va. They have written 16 books published by the ABA, including "The Solo and Small Firm Legal Technology Guides" and "Encryption Made Simple for Lawyers."
Brett Burney: An M1 and a K1 With a Delightful Cup of Joe
Faster app launching! 20-hour battery life! Crisper graphics! But I'm not talking about the newest iPhone — I'm electrified for the new MacBook Pro from Apple boasting the M1 processor. Lawyers don't usually care too much about the guts of their computer. But the fact that Apple is now fabricating all the internal pieces with radical results (buh-bye, Intel) has signaled a drastic departure for the world of personal computing as we currently know it.
Another tech treat to consider: We all type a lot, so why not make it a pleasurable experience? I finally sprung for a mechanical keyboard and got the Bluetooth wireless Keychron K1 (87-key Gateron Brown, RGB backlight to be specific). My hands are less fatigued, my typing is faster and more accurate, and the purring clickity-click fuels my productivity dopamine.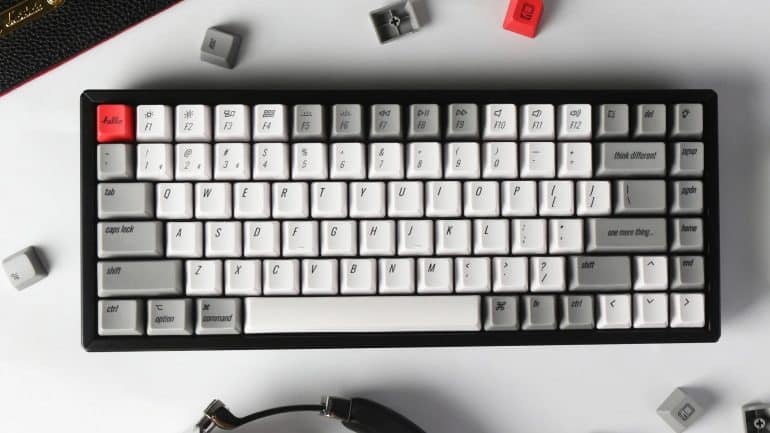 Also, being home without easy access to my normal coffee haunts, I have consummately enjoyed a subscription to Trade Coffee, which lets me pick my roast, style and origin from a wonderful variety of roasters across the country. I've never considered myself a coffee snob, but every morning I look forward to grinding and pouring myself a fresh cup of ambition that tastes amazing. You don't have to use my link to try the service, but it'll give you a free bag to start with!
Brett Burney (@BBurney) is Principal of Burney Consultants LLC, an independent legal technology consulting practice. He is also a sought-after trainer and presenter for lawyers who seek to integrate Macs and iPads into their practice. Brett is a past ABA TECHSHOW Planning Board Chair and a popular speaker on legal technology.
Also be sure to check out The Digital Edge's annual "'Tis the Season" podcast, in which Jim Calloway and Sharon Nelson share more of their favorite wish-list picks.
Illustration ©iStockPhoto.com
Disclosure: While we may receive a small affiliate fee for some of these links, commissions or fees earned from partners such as Amazon do not affect our recommendations or opinions.
Subscribe to Attorney at Work
Get really good ideas every day for your law practice: Subscribe to the Daily Dispatch (it's free). Follow us on Twitter @attnyatwork.
Also be sure to check out The Digital Edge's annual "'Tis the Season" podcast, in which Jim Calloway and Sharon Nelson share more of their favorite wish-list picks.
Illustration ©iStockPhoto.com
Subscribe to Attorney at Work
Get really good ideas every day for your law practice: Subscribe to the Daily Dispatch (it's free). Follow us on Twitter @attnyatwork.