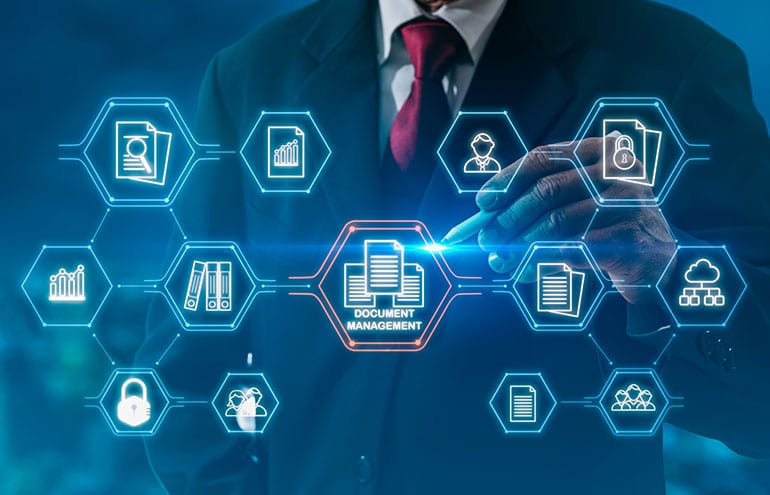 A document management system (DMS) isn't just where firms store and organize documents — it's where work happens. That's Work Inspired.™
Replace Inflexible, Generic Document Management Tools
The reality of the modern workplace is that nearly everything we do happens on our devices: We use them constantly, around the clock, to communicate, research, create, collaborate and more. Information is constantly circulating in, out and through the office. Because of this, a document management system (DMS) isn't just where firms store and organize documents — it's where work happens.
A Best-in-Class, Cloud-Based Solution That Inspires Your Best Work
Beyond mere storage, a great DMS empowers organization.
Legal teams handle massive quantities of information and documents, and being able to quickly find and retrieve necessary information is vital to productivity and providing timely client service. A robust DMS can even make it possible to create workspace templates, so new projects can be seamlessly integrated into the existing organizational structure.
As lawyers work together — remotely or in person — it is crucial to ensure everyone has the most up-to-date information. Passing multiple versions of documents between various parties can be a recipe for version-control disaster. A DMS makes it easier to collaborate, keep track of the latest version, and mark up documents so everyone stays on the same page.
Finally, with cloud-based document management, firms enjoy mobility across various devices and can securely share documents within the team members and external stakeholders.
Multiply Your Time With NetDocuments ORGANIZE
NetDocuments ORGANIZE includes the core capabilities you need to reach new levels of productivity — including document management, email management and optical character recognition (OCR) tools. With ORGANIZE, you can replace inflexible, off-the-shelf document products with a best-in-class, cloud-based solution that is built specifically for the legal profession.
The ORGANIZE solution includes a variety of technologies to help you store, manage and organize files in a secure setting. For example:
The NetDocuments DMS Platform: Using the industry's leading cloud-based document management system, firms can increase productivity, collaboration, organization and security. NetDocuments provides a reliable and secure way to create, edit, store, locate and collaborate on documents anywhere using any device, so you can stay focused on clients and outcomes, instead of mundane and tedious tasks. NetDocuments meets users where they work, operating in the applications that they already use each and every day. Additionally, workspaces are designed around your matters and projects. Flexible metadata, document versioning and unrivaled searchability all work together to make your documents more useful and productive.
ndMail: ndMail helps you take control of your inbox and keep all your communications secure and organized. ndMail uses predictive filing—powered by artificial intelligence—to make your inbox more collaborative and efficient. You can file emails quickly and accurately, see emails that other members of your organization have filed, and dramatically reduce the time you spend organizing and sharing emails—all directly within Microsoft Outlook.
NetDocuments OCR: Make your document searches smarter and more efficient by digitizing and indexing content from scanned documents or photos. With NetDocuments OCR, you gain the peace of mind that comes from knowing every search will yield complete results. The system works behind the scenes 24/7 to automatically digitize content, so it becomes a fully integrated, easily searchable piece of your collective knowledge.
Microsoft Power Automate: With this technology, you can automate time-consuming, manual processes by adding UI flows and robotic process automation to your NetDocuments solution. The NetDocuments Connector for Power Automate provides access to 58 NetDocuments API calls, which allows Power Automate flows to take actions on the workspaces, folders documents, users and groups in your NetDocuments repository. With this tool, you can create WorkSpaces and CollabSpaces, add users to a repository, create groups, add to a cabinet and more.
About NetDocuments
Storing, managing, and protecting millions of documents that are created and shared by thousands of people is never easy. All too often, they become a chaotic, obtrusive and risky burden on your organization.
NetDocuments changes the equation, with a content platform that removes the barriers and transforms all your documents into an unstoppable engine for collaboration, productivity, growth, and inspired work—without limitations or restrictions.
With NetDocuments, millions of scattered documents become one source of unified insights. Your content management processes and workflows make the leap from intuitive to invisible. The full power of your collective knowledge and past work becomes available wherever your people need it. And every document gets the industry's best protection against any type of threat—from careless employees to nation-state attacks.
So when you imagine a future where your content is always safe, organized, compliant, and available to inspire your best work, NetDocuments is ready to take you there.
Founded in 1999 with over 3,050+ customer firms, NetDocuments is the trusted documents and email management provider for thousands of lawyers worldwide. Click here to request a consultation and see how you can boost productivity, security, and organization in your firm with NetDocuments.
Illustration ©iStockPhoto.com
SPONSORED CONTENT. Product Spotlight showcases content provided by Attorney at Work sponsors and advertisers. This does not constitute an endorsement by Attorney at Work. See Terms and Conditions for more information.