We asked legal tech and practice management pros, "What's your favorite tech tip for taking notes in meetings — and using them once you've written, typed or recorded them?"
Here's great advice from Jim Calloway, Erik Mazzone, Catherine Reach, Nora Regis and Lee Rosen.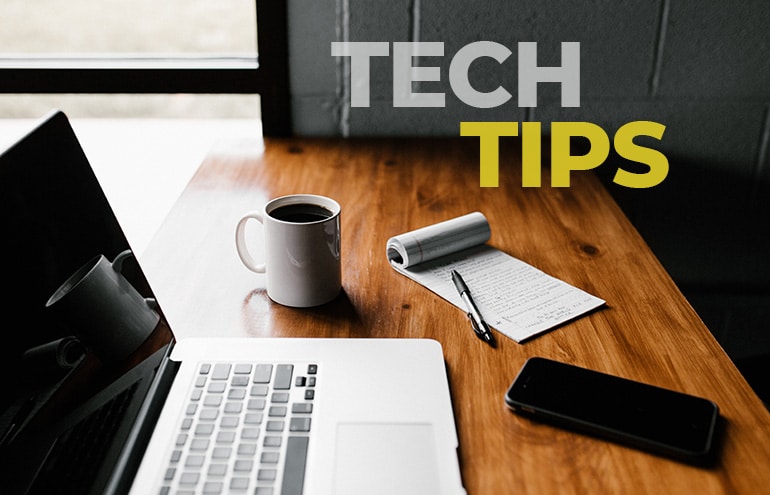 Here are this month's top tips and note-taking apps from the experts.
Lee Rosen: Listen First, Take Notes Second
Following this tip in client meetings might mean not even taking notes during the meeting itself. Pay rapt attention and get it down later.
If the meeting is with someone other than a client, then listen hard, but get what's required. Just be careful to keep your note-taking from interfering with your listening.
If you've got to take notes, then do it in a distraction-free text editor. (Don't let your other software pull your attention.) Personally, I like Byword for Mac and Notepad in MS Windows. They're both simple, plain and easy. Drag and drop your notes to your favorite repository.
Note-taking is important, but it's secondary to listening. Listening — hearing what is being said — is an essential element of great lawyering.
Lee Rosen (@LeeRosen) practices family law in North Carolina. His blog, Divorce Discourse, is a three-time ABA Blawg 100 popular vote winner. He is a recipient of the ABA James Keane Award for excellence in eLawyering.
Erik Mazzone: Simplify to Get Things Done
I've plugged away with Evernote for years but have reluctantly come to the conclusion that what I need most in a note-taking app is simplicity, not flexibility. Evernote's Swiss Army knife adaptability is too much for limited organizational abilities. My current favorite note-taking app is the super simple, iOS-only Vesper ($7.99). Vesper gives me everything I need and not one thing extra.
More important than the app, though, is one's note-taking methodology. A few years ago I came across the Cornell Note-Taking System and grafted on a little of David Allen's Getting Things Done. I've been really happy with this method for a while. Here it is in brief:
I divide the page into quadrants (not equally sized), with one quadrant for notes, one for key points and one for a summary. This is the Cornell method, and I love that it forces me to review my notes to summarize them. The fourth quadrant is given over to "next actions," which is Getting Things Done lingo for the to-do's that result from the meeting.
Digital purists may scoff, but for me, paper is still the perfect technology for note-taking. I love having Vesper on my phone for when I'm on the go, but when it's meeting time, give me a sheet of paper any day.
Okay, maybe I should scan it and store it in Evernote.
Erik Mazzone (@ErikMazzone) is a practice management advisor and Director of the Center for Practice Management for the North Carolina Bar Association. He writes and speaks widely on legal technology and practice management, in North Carolina and throughout the country.
Catherine Sanders Reach:  I Cannot Tell a Lie
I try on note-taking apps like a little girl trying on Easter dresses. I might stick with one for a while, but soon enough I'll want another.
The one note-taking tactic that has never let me down is pen and paper. I can write faster with a pen, paper lets me free-hand in the margins, and I can doodle (because doodling makes you think better — it has been proven). Yes, I've tried Penultimate and many other iPad apps with a stylus but it just doesn't feel the same. However, I have learned that to organize and share the notes, or refer to them again, I can scan the notes with my Android phone with Evernote Premium and annotate them further with Skitch or use the new iOS scanner app from Evernote. Since my initial notes are hardly ever in a state to share them with someone else, when I need to email them out, I retype the notes first, then save the email in the folder with the scanned original. That activity takes extra time but helps me solidify the information and organize my thoughts.
However, even though I may walk into a meeting with trusty pen and paper, I always have my phone out to check my calendar and add events, tasks, and important items as the need arises in the meeting.
Catherine Sanders Reach (@CatherineReach) is Director, Law Practice Management and Technology, for the Chicago Bar Association. She was Director of the American Bar Association's Legal Technology Resource Center for over 10 years. Catherine is one of the inaugural Fastcase 50 and a Fellow of the College of Law Practice Management, and she currently serves on the board of ABA TECHSHOW.
Nora Regis: Never Miss a Word with Livescribe
I swear by my Livescribe 3 smartpen. It's a ballpoint pen with a computer and audio recorder embedded. The pen's microphone records audio of your meeting or deposition while also recording what you write on its special Anoto digital paper, and it syncs and indexes them together. After a meeting, tap your notes and the audio will begin to play to the exact moment you wrote your note.
The secret is the special Anoto paper that features an imperceptible dot design the pen reads. Livescribe sells notebooks with this paper, but you can also print it out with a laser printer capable of at least 600 dpi. The notebooks feature calculator cards so the pen works as a calculator as well. You can share your notes with others in a "pencast" via email, Facebook, Google Docs or Evernote. Your notes can be saved as an interactive PDF with Adobe Reader (version 10 and higher), too. Never miss a word again!
Nora Regis (@NoraRegisCBA) is Trainer & Coordinator, Law Practice Management and Technology, for the Chicago Bar Association. Nora is a former paralegal, specializing in litigation and bankruptcy. Prior to working in legal, she was a technology help desk agent at the University of Wisconsin-Madison.
Jim Calloway: Dictate+Connect
For taking notes in meetings, many lawyers have made extensive use of voice dictation and some still do. But you cannot carry your handheld recorder with you at all times, so check out the app Dictate+Connect, which allows your mobile phone to function as a handheld recorder.
Unlike many mobile voice-recording apps, Dictate+Connect allows you to easily rewind, listen and overwrite your dictation if needed. Then you can instantly send the sound file to a transcriber or to anyone as a verbal memo. It can also be used to record a meeting with its voice-activation feature. The price: $9.99 for Android or $16.99 for iOS. A free version allows you to test the apps with sound files limited to only 30 seconds instead of the 24-hour maximum for the paid version.
Jim Calloway (@Jim Calloway) is Director of the Management Assistance Program for the Oklahoma Bar Association and is the author of several ABA books. He blogs at Jim Calloway's Law Practice Tips and co-produces the podcast The Digital Edge: Lawyers and Technology.
What's your favorite tip for taking notes in meetings?
Image © iStockPhoto.com

Don't miss out on our daily practice management tips. Subscribe to Attorney at Work's free newsletter here >