What top legal software products are TechnoLawyer readers raving about this year? Thanks to publisher Neil Squillante for sharing his perspective on the 2020 picks.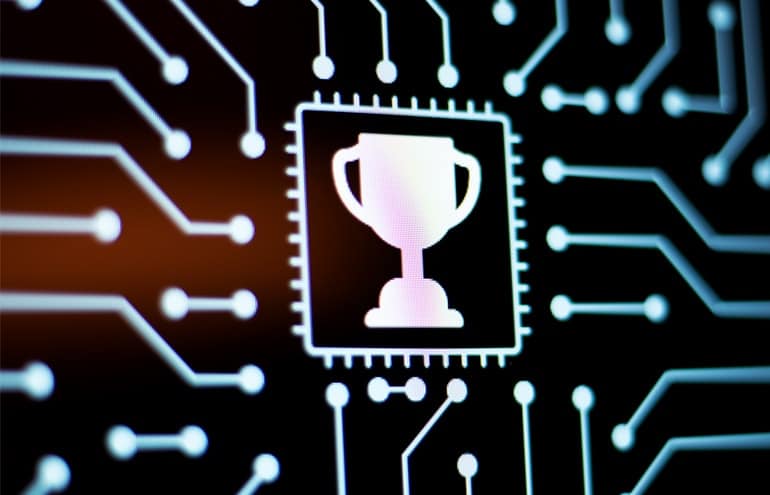 Over yonder at TechnoLawyer, we just published our 10th annual TechnoLawyer Top Products Awards — chosen by the subscribers of our flagship TechnoLawyer newsletter. Whenever lawyers and others who work in law firms tell you which products most intrigue them, it's worth paying attention. It's a good buyer's guide for one thing. But it also offers some insights about the legal profession as a whole, which I'd like to explore with you below.
1. Litigation Analytics Companies Have It Easy Nowadays
Among the winners is CourtLink, a court dockets research tool on the Lexis Advance platform. CourtLink was originally an independent company and is the granddaddy of a genre of companies that package difficult-to-access court data into well-designed web applications that can provide valuable insights, especially when presented in charts.
These companies rely on web scraping — software that collects all the information from a website. Nowadays, you can buy a commercial web scraper such as Apify. Also, some government sites like PACER make it even easier by offering developer tools.
CourtLink didn't have the benefit of the modern web and its wealth of resources when it started. In fact, many court dockets weren't even on the web back then. CourtLink was the proverbial kid who had to walk 10 miles to and from school uphill both ways in a blizzard. That said, today's easier path to litigation data means more competition for the new crop of startups. And there's nothing that entrepreneurs dislike more than competition.
2. The Cloud Had Already Won in 2019 and Now, in 2020 It's Doing Donuts in Empty Mall Parking Lots
Our 2020 awards derive from articles we published in our TechnoLawyer newsletter in 2019 — much like the Academy Awards reflect the previous year's films.
Seven of the 10 winners are web-based products and nine of the 10 connect to the internet. I don't know exactly when the cloud won its decisive victory in legal software, but it was before 2020. And then COVID-19 accelerated this trend to the extreme, forcing lagging law firms to finally move to the cloud. What might have taken six more years transpired in six months.
A walkthrough of several of the cloud-based winners underscores this dramatic shift — TrialLine is timeline creation software, Actionstep Express and Zola Suite are practice management systems, Lawyaw is document automation software, CourtLink and Tracers are research services, PCLaw Go is billing software, and Zola CRM is marketing software (yes, Zola Media picked up two awards).
TrialLine in particular offers a road map to aspiring software entrepreneurs — find a software niche that has not yet jumped to the cloud in a meaningful way and get to work.
3. The No-Code Software Revolution Is Underway
The cloud is foundational. As with all foundations, people are building on it. Arguably, the most important of these is the No-Code movement.
No-Code (aka visual programming) refers to products that enable non-programmers to build applications that previously would have required a programmer. The archetypal example is the website builder — services like WordPress and Wix that not only eliminate the need for programmers but also graphic designers. Buy a domain name, choose a template, and you've got yourself a website.
In the legal space, document automation is a notable beneficiary of the No-Code movement. With a product like Lawyaw, anyone with computer skills and a grasp of logic can transform your firm's documents into fillable templates, including advanced if/then constructions and whatnot. The LSAT tested us on logic, remember? We lawyers are natural programmers. We just don't have time to learn a programming language and now we don't have to.
4. The Holy Grail of Law Firm Efficiency May Finally Exist
Flat-fee billing is really hourly billing in disguise. In fact, an efficient lawyer using automation technology can charge flat fees that no client would pay if translated to the corresponding hourly rate. What clients really want is a reliable cost estimate upfront.
There's really only one way for law firms to deliver this: Analyze historical data to determine the price of a legal task, and then use project and knowledge management tools to ensure that lawyers of varying abilities in the firm can produce the work product within the cost estimate. This is the Holy Grail of legal efficiency and what award-winner Panoramic delivers.
For historical data, Panoramic connects to the firm's billing system. Panoramic itself contains tools for creating workflows that walk lawyers through a task, including model templates from the firm and links to related resources in Practical Law, a Thomson Reuters service that offers checklists, guides, templates, issue trackers and more. A supervising attorney can monitor this work in real-time to make sure it stays within the estimate promised to the client.
5. Sales and Marketing Software Matters
Sales is one of the business world's great joys. Both sides of a purchase typically feel positive about the experience or the sale would not have occurred. The most successful lawyers are good salespeople.
Award-winner Zola CRM and competing products like Clio Grow signal that legal marketing software has arrived. The marketing software world (MarTech) is vast with products for email, social media, landing pages, search engine optimization, etc. You may end up using all of these at some point, but law firms should start with sales software, often called CRM or customer relationship management.
CRM software enables you to collect leads, track proposals, and identify your best sources of new clients. The legal-specific products save time that you would otherwise spend customizing a generic product like HubSpot. More importantly, they integrate with practice management software for the seamless conversion of leads into clients and matters.
6. Word Rules
Word LX has won the TechnoLawyer Top Products Awards for three consecutive years, which demonstrates the enduring nature of Microsoft Word as the most important software in most law firms. The threepeat is also a testament to the ambitious product development road map at Infoware since our TechnoLawyer newsletter only reports on products with significant new features.
Word LX resides in Word's toolbar and traditionally offered templates and formatting tools to save law firm staff time and ensure document consistency. In 2019, Word LX gained document assembly functionality, so it now speeds up a lawyer's work, too.
Why don't we see more legal-specific add-ins for Word like Word LX? Probably because of the rise of the cloud, which offers another path to integrating with Microsoft Word. But there's no denying the convenience of the prime real estate of Word's toolbar.
Be sure to check out the full list in the 10th annual TechnoLawyer Top Products Awards here, and be sure to subscribe to the TechnoLawyer newsletters.
Illustration ©iStockPhoto.com
Subscribe to Attorney at Work
Get really good ideas every day for your law practice: Subscribe to the Daily Dispatch (it's free). Follow us on Twitter @attnyatwork.