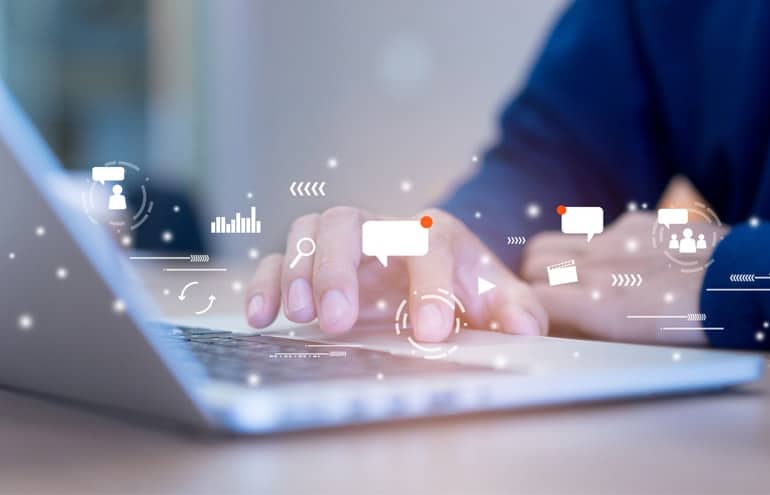 This latest MyCase product review covers three major updates — two-way texting, expanded esignature functionality, and internal chat.
MyCase has maintained an industry-leading, cloud-based case management software solution for over a decade. And, even after all that time, the company continues to drop customer-focused updates reflecting the legal industry's real-time needs. The latest MyCase service pack is no exception, not only meeting current MyCase customer needs but also squarely addressing the new legal consumer experience.
It's undeniable now that the entrenched coronavirus pandemic has changed the lives of everyone on the planet in several significant and (sure to be) lasting ways. It has affected every area of life, from personal (my kids are home all the time) to professional (you know what "WFH" stands for now). In terms of expectations surrounding the consumer experience, the pandemic has made it abundantly clear that businesses must adapt virtual processes and use those exclusively, or align them with traditional analog systems, as alternatives to in-person services. Of course, for those who have been watching, this is really just the extension of a consumer preference for online service options — a preference that law firms are only now coming around to meet.
The latest MyCase update reflects this reality by adopting changes that make it easier for attorneys to communicate with leads and clients in the modern ecosystem and for lawyers to work remotely.
Let's drill down into each major update:
Double Play: Two-Way Texting Is Here
Of all the modern forms of communication, texting gets the best response from your mom, from your kids, probably from your dog. And so, businesses, including law firms, have begun to adopt SMS messaging as a viable and effective form of business communication. In fact, if you want to get your client's attention, texting gives you the best chance to get a quick reply.
MyCase released a proprietary one-way text system over a year ago, which is used to inform clients about upcoming events on their cases or payments; but, that feature has now been expanded to include two-way texting so that clients can reply and engage attorneys and staff via ongoing SMS conversations. Users will find the new texting component under the Communications tab, where they can text clients directly via a MyCase-assigned phone number. Any number of systems users can be added to the thread to communicate directly with clients and each other. The entire chain of communication is archived in MyCase, just as an email thread would be.
One of the issues related to traditional lawyer-client texting was that there was no convenient place to archive those conversations, which placed law firms at a malpractice risk. Now, all text conversations live in MyCase. And, because texting happens via a MyCase-assigned phone numbers, lawyers don't need to offer up their personal phone numbers to clients. The texting feature is also available on the MyCase mobile app. You can even create time entries via the texting application. Since the vast majority of text communications between lawyer and client are unbilled, this feature can add directly to your bottom line. On the opposite side of the ledger, MyCase users get unlimited texts at no additional cost.
Sign Me Up: Extended eSignature Functionality
MyCase already had a proprietary esignature solution — included in the price of the software. But in the latest release, the esignature feature set has been amplified in a major way.
The biggest change is the ability to create template documents for esignature. Consider documents you regularly use in your practice, like engagement agreements — users can now add those documents to a MyCase templates collection and pluck them for esignature whenever needed. This simplifies workflow to a great degree.
With the new templates feature, MyCase users can select the appropriate document, add fields (date, text, signature) via a preview screen, and click to send the prepared document to clients or other signatories. In addition to allowing multiple signers on single documents (which speeds up the signature acquisition process significantly), MyCase users can include a custom message with the email notification sent to signers and receive a notification via email and within the system when all parties have signed. At that point, the lawyer can add their signature to complete the process. A unique ID is attached to each signature.
A Virtual Water-Cooler: Internal Chat Is Activated
In a work-from-home environment, one major component of office life lost is in-person communications. When a workforce becomes distributed, you can't just get up from your desk and check on something with somebody. No one is sharing dialogue about case progress over a cruller in the kitchen anymore. So, in every business, that communication has shifted. In law firms, where there is a continual over-reliance on email, that communication shift has amounted to a spike in email volume. And that interferes with an attorney's ability to maintain a mission-critical inbox for client matters.
This has led to a rise in the use of off-email communication platforms, which are invite-only. Slack, for example, has exploded in popularity since the pandemic hit full swing, as has Zoom. The problem with Slack for lawyers is that, as with text messages, there isn't a convenient way to archive those communications via a central repository as a method to reduce malpractice risk.
MyCase's new internal chat tool, however, both segregates staff communications from email and archives those conversations within the hub of law firm operations: the case management system. If you've used an alternate communications platform, you'll recognize the features of MyCase chat immediately: direct messages and group message channels for specific topics. MyCase chat is a persistent option at the bottom of the screen, and pop-up notifications alert users to new messages. A near-term step on the MyCase development timeline will be to allow users to attach chat conversations to the Communications tab.
MyCase chat unclutters your inbox and aggregates staff communications in an internal system.
No Costly Add-ons Required: Big Win for Lawyers
The latest changes to MyCase reflect the common thread of new developments from the software provider: build internal features, accessible via a single sign-in experience, with no additional cost to users. For attorneys who are price-sensitive generally, and even more so during the ongoing pandemic, the ability of MyCase to deliver modern updates to its proprietary software outside of an integration environment represents a big win.
If you want to learn more about MyCase, sign up for a demo today.
Attorney at Work's sponsored Product Reviews and Product Spotlights showcase news and features from legal technology industry leaders. For more information, click here.
Illustration ©iStockPhoto.com
Subscribe to Attorney at Work
Get really good ideas every day for your law practice: Subscribe to the Daily Dispatch (it's free). Follow us on Twitter @attnyatwork.