These Zoom tools improve your Zoomiverse by streamlining call scheduling, automating video enhancement, and transcribing meetings.
When the pandemic closed offices and forced working from home, we were instantly turned into "Zoomers" without little to no instruction.  The technology let us connect and kept businesses afloat — but often while looking and sounding bad in less-than-productive meetings.
Since Zoom is here to stay, let's make the best of it
By now, most have grasped logging on to Zoom and unmuting, but it's amazing how many still haven't optimized their setup or discovered the wonders of add-ons.
Read on, and I'll show you how to appear more professional with a few essential workspace tips, then introduce applications that will improve your Zoomiverse by streamlining call scheduling, automating video enhancement, and transcribing meetings, so your ideas are always preserved.
5 Steps to Get Ready for Your Close-up
More than 18 months (and one thousand Zooms) later, it's still shocking how many participants join calls from horrible windows. It's not your fault — you're no videographer — but you can look and sound like one with these five easy tips:
Set your camera just above eye level. Looking down at the camera makes us look older and overweight. Raising the lens is like an instant diet and can be the difference between Jabba and Luke.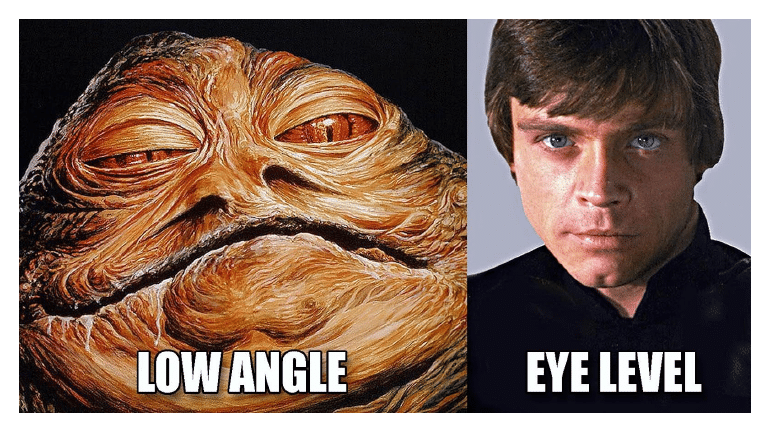 Look at the camera, not your screen. It's human nature to address someone's face as you speak. But on Zoom, eye contact requires looking into the lens. A good trick is to position caller windows right below your camera, aligning you with both simultaneously.
Balance your lighting. Ideally, you will be lit directly from the front to eliminate odd shadowy effects (but not so close as to cause facial glare). If your space features lighting from one side or the other, counter it with an opposite source of light.
Control the noise. Nothing is more distracting than background noise on a call, but not everyone has a quiet workspace. So I recommend Krisp's AI app to filter out all but your voice. (Really, I consider this a must-have.)
Get a quality camera. Built-in webcams are pretty terrible, even in the newest Macs. If you spend considerable time on Zoom, it's worth investing in an external camera. The improvement is vast, and the cost very reasonable. Two that I recommend are the (very good) Logitech C930e ($103 on Amazon) and the (best) 4K Logitech BRIO ($164 on Amazon).
That's a good start – a few minor setup adjustments that will quickly have you looking like $1,000 a thousand bucks.
3 Third-Party Apps That Will Make Your Day
Now that you're more comfortable and natural on camera in Zoom, here are some third-party apps that will help you get the most out of meetings and integrate Zoom with other parts of your workflow.
1. Meeter
Working from home means we've become our own assistants (unless you have a remarkably talented parrot), while virtual meetings have overstuffed our calendars with video invites and endless embedded links.
One of my favorite tools to cut through the mess is Meeter. It's a free, lightweight Mac app that connects to your calendar and organizes all your Zoom calls (time, topic, link/ID) under one menu bar icon from which you can quickly connect with a click.

Before installing Meeter, I was constantly scrambling just before meetings to find the correct Zoom URL – jumping from Outlook to my calendar to the original message and then having to dig through the notes.
Meeter takes care of all that. It goes from extracting info from invites, organizing it all, and setting automated desktop reminders on to dialing in with a single step. Meeter supports more than 30 platforms.
As a bonus, the program's drop-down bar also features "speed-dial" slots so you can instantly connect with colleagues and clients with whom you regularly chat.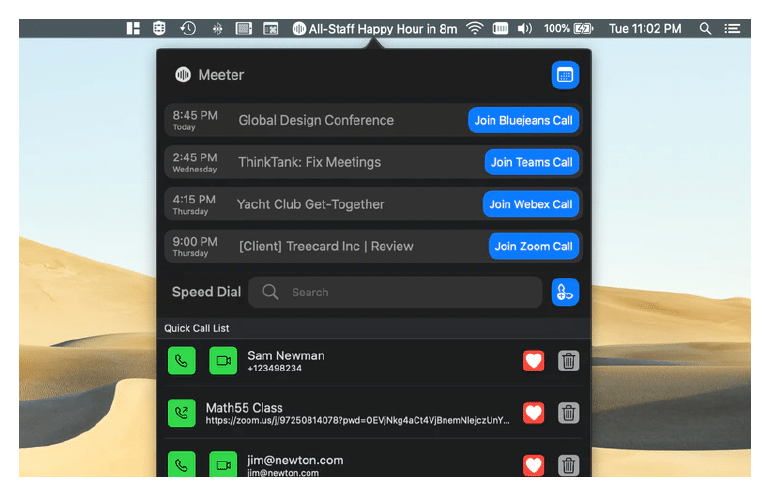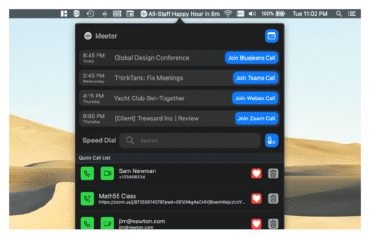 The way Meeter manages and streamlines the Zoom log-in process keeps my day on track, reduces anxiety, and provides a much-needed pre-meeting moment of  Zen to take a deep breath and focus on the subject at hand (and check for food in my teeth).
2. iGlasses
Sometimes looking presentable or professional on a call feels downright unachievable. Maybe your lighting is weird, your space is a mess, or you're stuck in a dreadful motel … perhaps you had a rough night and woke up without a good side.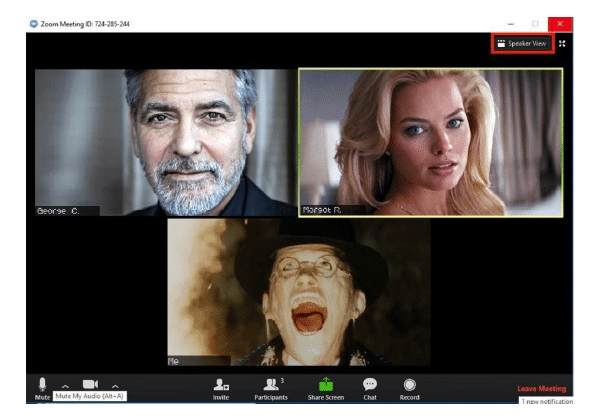 Whatever the issue, don't get irate; just get iGlasses, the original virtual camera. iGlasses is a Mac-only app that integrates seamlessly with your webcam to grant comprehensive control over the image. Once installed, it shows up as a native device ready for use with virtually any videoconferencing platform.
Two ways I use this all the time:
The app lets me instantly improve lighting, color balance and sharpness with a full slate of effects and adjustments. For example, are you looking paler than you'd like? Just adjust the temperature a bit.
My favorite feature is the digital pan and zoom tool that keeps you close and centered without any camera or physical repositioning needed.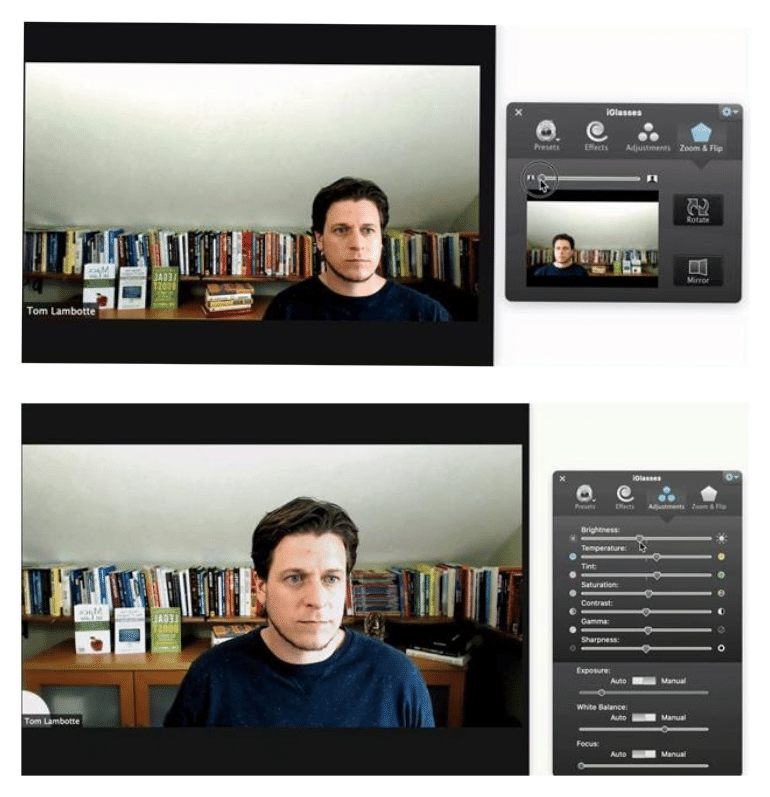 Are you like me and hate off-kilter, distant speakers who fill only a screen's distant corner, or when cluttered backdrops become distracting foregrounds? iGlasses takes care of that by letting you dynamically crop your shot and remain in frame. And when meetings are over, your kids can have fun with an array of filters that will bug out their eyes or turn them into chipmunks. Just be sure to reset them before your next call, or you might end up like the "cat lawyer"!
iGlasses isn't compatible with Skype or FaceTime, but it works with just about everything else. Hence, at $20, a lifetime subscription (updates included) is an excellent deal on a great product.
3. Otter.AI
We all know the feeling of forgetting a dream nearly as soon as it's over — the thread of a thought just out of reach, soon to be lost forever. I've found that frustration can also occur with Zoom meetings when brainstorming provokes a breakthrough idea or perfect expression of a thought … only to be lost before writing it down.
This time, modern technology can help, thanks to the folks at Otter.ai.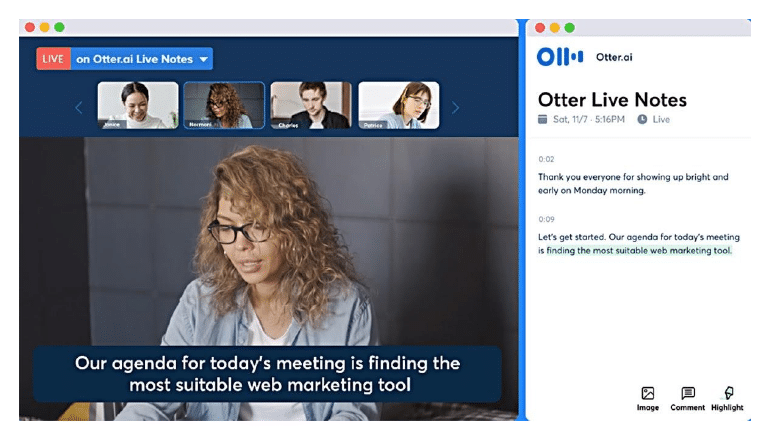 Otter marries AI voice recognition with your Zoom interface to transcribe meetings in real-time. With zero need for training, it works eerily well to provide a transcript of your call and can even display a scrolling readout during the session (like having closed captioning and a court reporter).
You'll never lose another "Eureka!" moment or struggle to recall what you said on Zoom.
Another great use is during client intake interviews, where you want to provide undivided attention but also preserve every fact. Otter lets you do both. Without the need to take furious notes, you can be fully present and still have every word documented (and searchable).
In the interest of privacy, courtesy and legality, I seek permission from all parties with a brief note ahead of appointments:
"I'm planning to record and transcribe our conversation in real-time – that way, we don't have to take detailed notes or worry about remembering all the details of any breakthroughs. Let me know if that works for you, and I'll be happy to send a copy after the call."
Invariably, everyone agrees and is thankful for the transcript.
Live Zoom transcription requires the business subscription at $20 a month but is otter-ly worth it. I promise you'll be otter-nally grateful.
OK, Enough with the Puns and on to Productivity!
There you have it – now you're Zooming like a pro and can give your parrot the week off.
Illustration ©iStockPhoto.com
Subscribe to Attorney at Work
Get really good ideas every day for your law practice: Subscribe to the Daily Dispatch (it's free). Follow us on Twitter @attnyatwork.