This week at Attorney at Work, we've collected some of our most popular posts — the "classics" that get quoted, reprinted and shared over and over — to kick off your summer and ignite some creative thinking. If the idea of getting paid faster and easier (with fewer service charges) sparks a smile, you'll appreciate this update to Ruth Carter's mega-popular post on accepting credit cards. — The Editors
Nothing But the Ruth! | Every law firm has a trust account and an operating bank account and allows clients to pay with a check or cash. But in this day, many clients don't have paper checks and most of my clients assume that credit card payments are the norm. They are confused that we don't have a credit card machine at our front desk.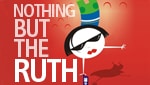 There are many options to consider when deciding if you'll accept credit cards. I researched credit card payment options for lawyers in 2012. My awesome editors at Attorney at Work asked for an update.
Of course, consult your state's ethics rules regarding electronic and credit card payments. There may be restrictions regarding which bank account you can use to accept payments using one of these services.
1. QuickBooks. If you already use QuickBooks to manage your accounts, you might consider activating QuickBooks' Merchant Services for receiving credit cards. You can pay per transaction or you can pay $19.95 a month for lower transaction fees. QuickBooks also has a card-swiper option that attaches to your mobile device as part of its GoPayment service. This has a separate $19.95 monthly fee, plus a fee for each transaction.
The benefit of this service is it's integrated into the QuickBooks you're already using. Its transaction fee is lower than other services too, especially if you pay the monthly fee, but you have to consider the total cost to determine which option is best for your needs.
2. LawPay. LawPay is a payment processing service designed for lawyers. Unlike other services, where you can only attach one bank account to your account, you can process transactions into your trust account or your operating account. It's also set up to take all the fees for the service from your operating account, so you'll never have to worry about inadvertently paying your processing fees with clients' money.
LawPay charges a monthly fee and a fee for each transaction. Partnered with numerous state bar associations, dozens of other bar associations and the American Bar Association, LawPay is highly regarded among lawyers.
(Full disclosure: Venjuris law firm, where I'm of counsel, uses LawPay and seems to be happy with it. As of counsel, I have the pleasure of staying out of such discussions and decisions. Whenever a client wants to pay their bill with a credit card, I ask our biller to send them a link.)
3. Stripe. Stripe is a newer credit card processing service favored by entrepreneurs who engage in commerce online. The company only charges a fee per transaction, with no monthly fee. In addition to credit cards, Stripe can also accept payment via Bitcoin. Stripe claims it has the infrastructure to operate an online business at scale.
Stripe is strictly for online transactions. It does not come with an option to swipe a client's card at your office.
4. Square. Square made a name for itself with its card-swiper that you can plug in and use with your iPhone, iPad or Android device. Square is frequently used on a tablet connected to a swiveling stand in retail locations instead of a traditional credit card machine. There's no monthly fee to use Square, only a transactional fee.
Initially, Square had to be used at the point of service and you had to physically swipe the person's card. Since my original post on credit card options, they've added the ability to send clients invoices for payment.
5. PayPal. PayPal is well-known and so commonly used to process payments that many clients ask, "Do you do PayPal?" It's easy to set up a PayPal account with your email address and a bank account number. PayPal can be used to accept payments via credit cards, checks or customers' PayPal accounts, and you can also use it to send invoices to clients. There's no monthly fee, just a fee per transaction based on the size of the payment. PayPal also offers a card-swiper that you can use with your smartphone or tablet.
PayPal has been criticized by lawyers for the amount required to stay in the account reserve to act as a cushion in case of event payment issues.
(Full disclosure: I use PayPal with Carter Law Firm to accept payment for my speaking engagements and writing projects. I like that clients are familiar with using it and it's easy enough to use with QuickBooks, but I'm not a fan of their fees.)
Researching credit card processing services makes my head hurt. It's not a decision to make lightly, especially given the number of lawyers who have faced disciplinary actions because they did not manage clients' or the firm's money properly. In addition to reviewing your state's guidelines regarding funds, run the numbers based on your expected usage to determine which service is right for you. You may also want to contact the bank where you maintain your firm's accounts to inquire about the options they offer for electronic payments.
Image ©iStock.com
Updated from a post published by Attorney at Work in 2012.