When it comes to your website and marketing campaigns, data is your best friend. Better decision-making can happen when you better understand how visitors are getting to your site, and what they are doing once they get there.
In a previous post, we looked at how Google is becoming your new website home page, with all the Google My Business (GMB) features it continues to add. Understanding how potential clients are interacting with your "Google home page" and segmenting out the traffic coming to your actual site are vital in terms of information. And they are measurable with the use of UTMs. UTM (which stands for Urchin Tracking Module) is the format Google uses to track your unique URLs.
What Is a UTM?
Basically, a UTM is a piece of code you attach to a URL so you can track your website traffic on a more granular level. (This is similar to the way direct marketers place codes on paper mailing labels and forms to track response to specific direct-mail campaigns.)
Here is an example of a custom URL without a UTM code and with the code. (The URLs are inside the quote marks.)
"http://naqvilaw.com"
"http://naqvilaw.com/?utm_source=local&utm
_medium=organic&utm_campaign=gmb"
You can see the elements of the UTM: source, medium and campaign.
Even with Google Analytics set up for your website, you still can't segment out the site traffic coming from GMB. You need to set up a custom URL using a UTM code. UTMs allow Google Analytics to tell you not only where searchers came from — such as GMB — but UTMs also allow you to track specific traffic from multiple GMB listings if you have them. This is crucial for local businesses. If you don't know where your traffic is coming from, how do you know if your marketing strategies are working?
Let's Get Started
Here are the steps to set up your custom URL:
1. Go to Google's URL Builder.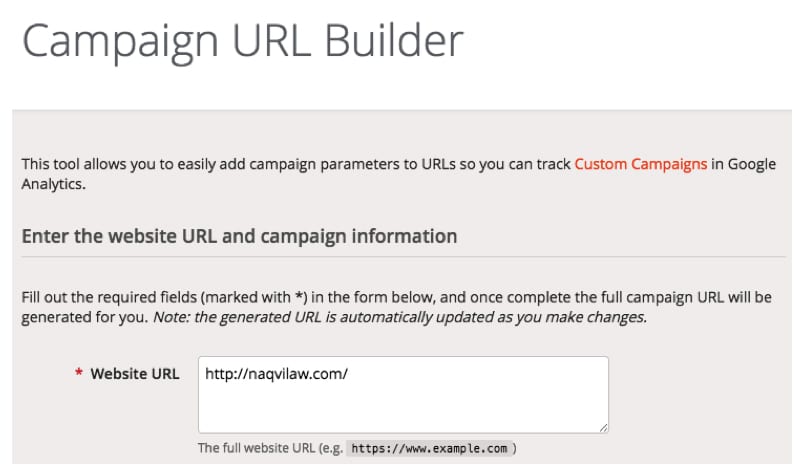 2. Enter your site URL, campaign source, medium and name. You can see in the example below a way to do this for Google My Business. If you have multiple locations, you can make the campaign source unique per location to track traffic by geography.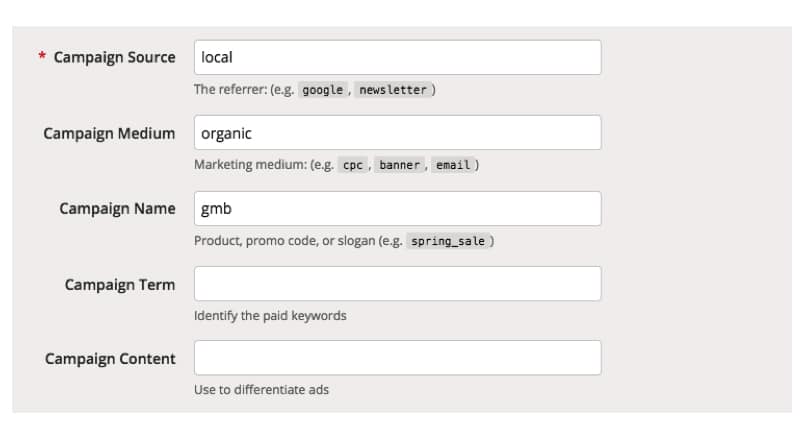 3. Copy the tracking URL Google gives you and add it to your GMB page.
Tracking UTM Traffic in Google Analytics
Once you have set up your custom URL and it is tracking hits correctly, you can access this new information in Google Analytics. Go to:
Acquisition > All Traffic > Source/Medium
Look for the source/medium that you set for your custom URL in the URL builder. In the example above, you would look for "local/organic."
You now have the ability to see how many people actually visited your site from GMB, how long they stayed, what other pages they viewed and so on. If you see a dip in traffic you couldn't explain before, you can now pinpoint the issue quicker and with more accuracy. We have also noticed that data appears to be inaccurate and missing from within the GMB Insights dashboard. We were seeing this with tracked phone calls and now are seeing it with site visits.
Below is the site traffic from a GMB listing for one of our clients. GMB Insights reported 353 website visits on their end; however, since adding a UTM code on the listing, we were able to track an additional 116 visits in the span of a month to the client's site.
By implementing a custom URL, we now know that 469 visits came from GMB. And, we can now segment this data within Google Analytics to analyze what the visitors did once they arrived on the site. It is also 116 more visits that we would not have been able to report on with GMB Insights reporting alone.
Again, Data Is and Should Be Your Best Friend!
The added value and benefit you can get from this data is worthwhile, and the evidence presented here should speak to that. Don't wait. Get it done today. You will soon have more insight into your local traffic and a holistic picture of your GMB traffic.
Illustration ©iStockPhoto.com
Subscribe to Attorney at Work
Get really good ideas every day: Subscribe to the Daily Dispatch and Weekly Wrap (it's free). Follow us on Twitter @attnyatwork.