Who are these "enterprising lawyers"? Actually, they are easy to spot. Look for the more engaged and happier lawyers in the crowd. Deeply invested in the power of the work they do, they have ample interests beyond the practice of law as well. And they seem to have more energy for getting things done than anyone in the crowd. You probably know one — you may even be an enterprising lawyer yourself!
Victoria Aguilar is the inventive attorney behind Uncommonly Smart HR, a human resources consultancy owned and operated by her Denver law firm, The AR Group. A former Olympic-level athlete, the employment lawyer is also a busy mom with four children — Antonia, Emilio and twins Catalina and Paloma. (That's Victoria below with her daughters.)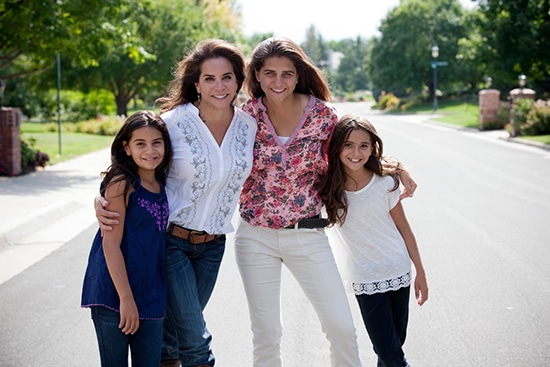 Victoria Aguilar
Managing Partner
The AR Group and Uncommonly Smart HR
Denver
University of Michigan Law School, 1992
Boston College, B.S. in Psychology, 1989
When did you know you wanted to be a lawyer?
I was one of three kids raised by a single mother who earned $13,000 a year as a bookkeeper, while going to college at night. The truth is I didn't aspire to attend law school or to be a lawyer. It just kind of happened — mostly because I believed I needed an advanced degree thanks to my mother's emphasis on higher education and my understanding that a degree meant financial security.
Because law school doesn't really expose you to what it means to be a lawyer as much as it deconstructs and reconstructs you to "think" like a lawyer, I was unclear, even at graduation, if I really wanted to be a lawyer. In the more than 20 years since, I've been lucky to grow up, if you will, as an "in-house" attorney with Fortune 500s and mid-market businesses. Practicing law within a business proved intoxicating to me because I was able to practice as a member of a team of businesspeople who needed me to help create value and achieve goals.
So, at some level, I guess I still have not yet actually decided to become a "lawyer" as much as I've enjoyed being a lawyer in positions that have allowed me to push business innovations forward.
What is the focus of your personal law practice?
I'm an employment law attorney certified as an independent EEO investigator and HR consultant. I have a passion for helping clients manage their human capital in a way that is aligned with short- and long(er)-term business goals and objectives.
Who was your most important mentor and what did that person teach you?
Kris Mallory, my high school field hockey coach. Because of Kris, I was able to attend college on an athletic scholarship and eventually train for the Seoul, Korea, Olympics. Kris instilled in me the belief that the higher you set the bar for yourself, the more you will achieve.
What about practicing law did you learn the hard way?
I continue to marvel at how much I learn every single day. That, of course, is part of the appeal of the profession. Beyond that, and I'm not sure I have actually "learned" this yet, I continually underestimate the amount of time it takes to provide my clients with the work product they deserve, which often results in me writing off hours.
What is your favorite technology tool?
Laptop computers and all the cloud-based tools that allow me to run the business, deal with client emergencies, and work from virtually anywhere in the world.
How would you describe the location and décor of your office?
We were founded as a virtual law firm and remain largely virtual today so I'd happily describe my décor as domestic chic! However, given our growth, we anticipate securing office space in the coming year. We have outlined an open office floor plan, with a large work area that includes desks that can convert from standing to seated, a single but substantial conference room with a door, smaller phone booth-style work pods, and areas with high-backed sofas in front of coffee tables interspersed throughout. The lobby area is like a family room and includes a coffee bar.
Do you think of yourself as "enterprising"?
I don't really think of myself as "enterprising" as much as I consider myself "alternative" in seeing our law firm as, first and foremost, a business.
Much has been discussed in the legal community about the commoditization of legal services, the explosive growth of non-lawyer service offerings. I certainly can bemoan the lack of sophistication such offerings provide, but arguably, the demand for such services was driven by the lack of supply at reasonable rates. While I agree that lawyers should avoid devaluing themselves by competing only on price, until and unless we are permitted to adapt more readily to the quickly changing demands of the market, our profession will only continue to be marginalized. In the meantime, I believe there is still room for practitioners to find ways to create value as business partners to clients.
Beyond creating Uncommonly Smart HR, I am constantly trying to set both the firm and myself apart from traditional and pyramid-structured law firms. I have experimented with different pricing structures and service verticals, with admittedly mixed success. We have also been innovative in terms of our willingness to go after big fish. As a virtual law firm, we probably should not have expected to have success in landing the likes of the U.S. Departments of Energy, Transportation or Postal Service, let alone Cabela's, Denver Water, Netflix or Xcel Energy, but we have. Because we are a small business ourselves, I will always have a soft spot for small business clients, and a heartfelt desire to bring first-rate legal services to that market at affordable rates. That said, we will continue going after the big fish.
Tell us about Uncommonly Smart HR.
UncommonlySmartHR is an HR compliance management portal through which business clients can secure needed HR compliance assistance in the form of real-time consultations with certified HR professionals; access to attorney-drafted HR policies, checklists and templates; and monthly participation in compliance webinars on relevant and timely topics, sponsored by employment attorneys and certified HR professionals.
Although members may select from varying levels of membership, all members may select from an a la carte services menu. For example, members may secure individualized assistance with DOL wage-and-hour or unemployment insurance audits, both of which are the subject of increased governmental audits or drafting or auditing of job descriptions to assess Fair Labor Standards Act compliance. Beyond the professional HR consulting assistance, members in need of business law assistance — including employment — may receive a 20 percent discount off standard hourly attorney rates.
Describe a typical Uncommonly Smart HR client.
UncommonlySmartHR is targeted at employers with between 1 and 75 full- or part-time employees. The typical client either lacks an HR resource entirely or has a full- or part-time HR manager whose responsibility is to manage HR at a fundamental level, but who likely lacks a more detailed understanding of regulatory compliance or strategic human capital objectives.
Where did the idea for Uncommonly Smart HR come from?
Soon after founding The AR Group, it occurred to us that too many clients were forced into legal action as a direct result of not having effective HR practices in place. We came to understand that these clients were not ignorant of the value lawyers could have brought but they perceived the cost outweighed the perceived risk.
By way of example, our small business clients have experienced a dramatic increase in government agency employer compliance audits. As a direct result of increased regulatory enforcement initiatives, small business clients suffer significant and sometimes debilitating increased legal costs associated with development of a defense. It occurred to us that more often than not, had most, if not all, of these clients had in place even a fairly simplistic HR foundation that included effective HR policies, processes and practices, the costs associated with audit assistance and the likelihood of devastating results would have been dramatically reduced. In other words, spending a few thousand dollars in advance reduces tens of thousands in liability later. We began to segregate HR services from legal services and priced those services differently even though attorneys, certified as HR consultants, often performed the work. The market response to this initiative was immediate. Given the obvious need and demand for HR compliance services, we established UncommonlySmartHR.com.
Emerging companies often focus almost exclusively on revenue-generating operations and can neglect to tackle other important business development needs. Lack of focus around human capital management leads to unnecessary exposure, to say nothing of operating losses associated with employee burnout or a talent drain. Realistically, most emerging companies can't afford to hire certified or experienced HR professionals. Indeed, to the extent the small business market employs an HR resource, that resource is generally responsible for managing paper related to human capital and not compliance, strategies or policies.
As a small business ourselves, we understood that every business has a risk profile that often drives business decisions. By segregating HR services from legal services, staffing projects with qualified HR professionals and streamlining the service delivery process, we were able to reduce the cost of access for clients while promoting compliance objectives.
Many lawyers have good ideas, but struggle to bring them to reality. To what do you credit your ability to do this?
Dogged persistence. And coffee.
What is the first thing you "check" each morning?
My case of "bed head" as I hoof it to the gym.
Where do you think the practice of law is going?
Truthfully, I worry that the practice of law is not evolving fast enough to keep up with what clients want and need from legal professionals. Until, as a profession, we become more nimble, we will continue to lose business opportunities to others, including non-lawyers who find alternate solutions to client needs. The ABA is not evolving quickly enough to champion changes related to jurisdictional limitations, marketing constraints, and collaboration between attorneys and non-attorney service providers. Frankly, when the profession is managed and regulated in no materially different manner than it was in the 19th century, that simply does not bode well for our ability to innovate or compete.
In that context, where are you going?
I will continue to evolve and my business will do so as well. To the extent that I have to find ways to excise various service offerings from the traditional concept of what it means to be a "lawyer" or practice law, I will.
What are people most surprised to learn about you?
That I was invited to Olympic Development Field Hockey Camps for Team USA selection — Seoul, Korea, 1988.
What do you use every single day that you could actually easily do without?
Sparkling water.
What three things must you always have in your bag, desk drawer or refrigerator?
Bag? Water. Desk drawer? Lip balm. Refrigerator? Yogurt.
Where do you turn when things go really badly?
My husband and true partner in all aspects of my life for the past 23 years.

You can find Victoria Aguilar at her blog, on LinkedIn and on Twitter @UncommonlySmart.
Read About More Enterprising Lawyers
We're Always Looking for Enterprising Lawyers
If you'd like to suggest someone to profile, send information to merrilyn@attorneyatwork.com.
Illustration ©ImageZoo.