Susan Kostal offers specific tips for messaging to reassure clients your firm is able to respond and meet their legal needs during the COVID-19 crisis.
The coronavirus outbreak has affected law firms around the country to varying degrees. In cities where the virus is more prevalent, firms have closed offices, asked employees to work from home, and some courts have curtailed caseloads and services. For clients who may already be anxious about their legal matters, this looks like barely controlled chaos. Anxious clients make any engagement more difficult.
Specific Tips for Your Messaging to Clients
The COVID-19 pandemic has been a real-time communications lab experiment in how businesses and organizations share important information with their clients and customers. Gina Rubel wrote an excellent post here on creating and deploying a crisis communication plan. Building on her advice, here are some specific tips for messaging to reassure clients your firm is able to respond and meet their legal needs during a crisis.
How Are You Responding to Covid-19 from a Business Perspective? Clients Want to Know
If your office was or will be temporarily closed for deep cleaning, let the public know. You have everything to gain from sharing this information. Let your clients know the preventative measures your firm is deploying. If you don't post something publicly, you run the risk that someone else controls the message, you fall prey to rumors, or appear to believe the crisis does not exist.
If some or all of your lawyers and staff are working from home, let that be known as well. Let clients know you are doing everything you can to keep your team safe and productive, which means their cases will be attended to appropriately. For example, let them know that phone messages are automatically forwarded and will be picked up in a timely manner. Clients will be reassured that you have a plan to protect your workforce, which means that their legal matters will continue to receive the proper attention.
If you are curtailing office access to only essential personnel, let clients know. If settlement conferences or meetings need to be rescheduled or handled virtually, provide a simple reminder to check with their attorney or point of contact before showing up for previously scheduled meetings or events.
Offer Videoconferencing During Covid-19
Sure, a phone call or email may suffice to convey information but consider using videoconferencing with both corporate and consumer clients if in-person meetings are not appropriate. Just seeing you in action will reassure clients, even if you are working from home.
Keep Messaging Simple and Clear During Covid-19
FAQs are often a great way to communicate. Keep both questions and answers as concise as possible. Use short, declarative sentences. Include helpful links, but do not over-link. It's easy to become overwhelmed by too much information and too many links. It increases anxiety, rather than alleviates it.
That said, do not over-promise. Temper optimism about the strength of your preventive measures to ensure business continuity with an acknowledgment that this is an evolving health and economic crisis. What you can promise is that you will continue to update clients about your firm's capabilities and how you are protecting your workforce.
Post-Information Where It's Easy to Find
A link on your homepage is the easiest way for consumers and corporate clients to quickly and easily find the information they are seeking. You may have sent out an email to clients, but did it make it to their administrative staff or internal business partners? They shouldn't have to go beyond your homepage to find information during Covid-19. Here's an example from Dechert LLP's homepage: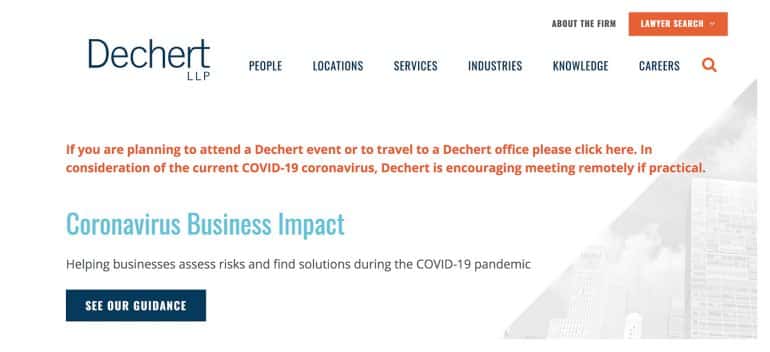 Consider a Personal Message
Some firms have issued personal messages from the firm chair or managing partner, or even a short video address. It's OK to acknowledge fear and uncertainty while tempering that with your stated commitment to respond appropriately. Cheer the hard work that your team has put in to commit to continuing to service client needs. And keep the door open for continued conversation.
Strengthening Relationships
As you work to publish client alerts on what they should be doing to respond to the crisis, remind them what you are doing to ensure your own viability, which in turn ensures theirs. It will help ease their concerns and could very well be a touchpoint to strengthen your client relationships.
Illustration ©iStockPhoto.com
Here's a good example of a law firm statement:
Stikeman Elliott: "Our Approach to COVID-19"
Crisis Evaluation Checklist and Messaging Matrix
For more help with your crisis communication plan, download a copy of Gina Rubel's "Crisis Evaluation and Messaging Checklist" and "Key Message Matrix," excerpted from her book, "Everyday Public Relations for Lawyers," 2nd Edition. The checklist is free to anyone who subscribes to Attorney at Work.