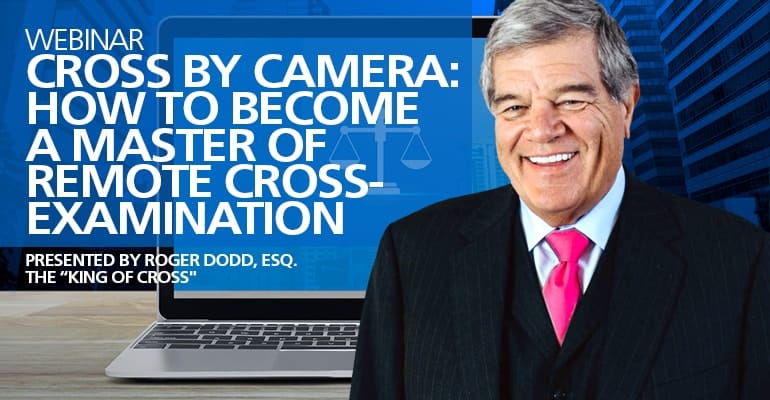 To be a successful litigator in the COVID-19 era you need more than the traditional cross-examination techniques you've always relied on. In this new webinar, you'll learn how to avoid common pitfalls and control the remote courtroom space. Don't miss this opportunity to learn ways to adapt your skills to conquer the new reality. Register now for "Cross By Camera!"

Cross By Camera: How to Become a Master of REMOTE Cross-Examination
Presenter: Roger J. Dodd — "King of Cross" Date: September 17, 2020
Time: 1 p.m. ET; 12 p.m. CT; 11 a.m. MT; 10 a.m. PT; 9 a.m. AKT
Sponsor: Internet For Lawyers
CLE Credit: Yes*. State Bar of California approved MCLE provider. The following states offer reciprocity: Alaska, Arizona, Arkansas, Colorado, Florida, Maine, Montana, New York, North Dakota, and Wisconsin*.


Techniques and Tips for Remote Cross-Examination
COVID-19 has dramatically changed the face of litigation. Zoom, Webex, and other remote platforms are now a regular part of the litigation and pre-litigation process and will remain so, long after the crisis ends. Judges in courts at every level across the U.S., Canada and the UK have embraced these platforms for remote depositions, mediations, and non-jury trials, saying that remote is so efficient and economical that it will be permanent.
Nationally recognized trial lawyer Roger Dodd will help you transform your traditional cross-examination skills into new remote cross-examination skills. Even the most seasoned trial lawyer can benefit from the dozens and dozens of techniques and tips Dodd covers in this webinar.
You will learn:
What judges are saying now that remote cross-examinations are becoming permanent
The 10 most common errors in remote cross-examination and their solutions
Developing a different concentration and focus beyond cross-examinations
Ways to control your new remote environment
Recreating your courtroom space
Common technical fails and their solutions
Mastering audio-only environments
And more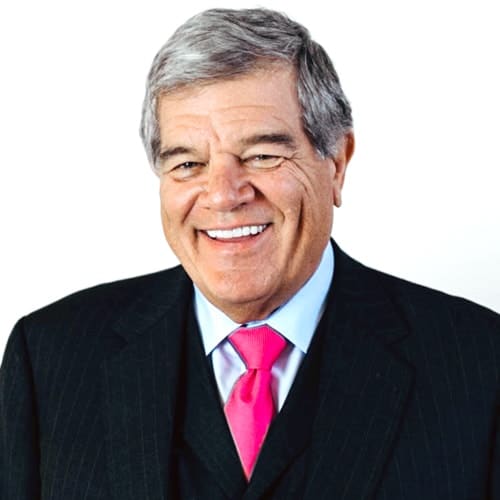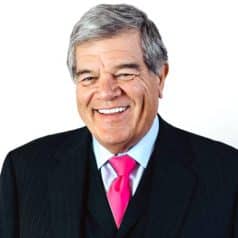 About the Presenter
Trial lawyer Roger J. Dodd is an internationally recognized author, speaker and attorney coach. He has active offices in Park City, UT (Dodd & Kuendig), Valdosta, GA (Dodd and Burnham), and Jacksonville, FL (Spohrer and Dodd), where he practices trial work of all types and coaches individual lawyers in individual cases. This includes personal injury, wrongful death, criminal defense, and domestic relations. He has been listed in Best Lawyers for more than 20 years. He is one of a handful of lawyers nationally who are listed in Super Lawyers in more than one state simultaneously (Georgia, Florida, and Mountain States (5). He was Board Certified by the National Board of Trial Advocacy in Civil Trial Practice for more than 20 years and was a Board Certified in Criminal Trial Practice for more than 20 years.
Dodd has lectured and taught lawyers and judges in all 50 states, and multiple foreign countries. TV and legal credits include CourtTV, TruTV, CNN, ABC, CBS, and cable TV. Learn more at www.rogerdoddtriallawyercoaching.com.
Register for "Cross By Camera" Today!
"Cross By Camera: How to Become a Master of REMOTE Cross-Examination" will take place Thursday, September 17, at 1 p.m. – 3 p.m. ET. Presenter Roger Dodd will be available during the webinar to answer questions. Save your seat today!


NOTE: This webinar runs two hours; it delivers 120 minutes of instructional/creditable content. Minimum pricing: $199. This is a "simu-live" rebroadcast of a previously recorded presentation. The presenter will be available during the rebroadcast to answer questions. Originally recorded August 10, 2020. Roger Dodd, Esq. 
*CLE Credit  Information
Internet For Lawyers (IFL), a State Bar of California approved MCLE provider (#9836), certifies that this activity has been approved by the State Bar of California for 2 hours of General MCLE credit. The following states offer reciprocity: Alaska, Arizona, Arkansas, Colorado, Florida, Maine, Montana, New York, North Dakota, and Wisconsin.
CLE Reciprocity (or other) Rules with URLs
Alaska: CLE programs that take place outside of Alaska or are webcast from outside of Alaska are not required to be accredited by the Alaska Bar Association. Alaska Bar members may claim credit for attendance at CLE programs offered in or from other jurisdictions if the program has been accredited by another MCLE jurisdiction. CLE providers may not advertise programs as accredited by Alaska unless the program has been accredited by Alaska regardless of where the program is held. https://alaskabar.org/cle-mcle/cle-provider-information/
Arizona: The State Bar of Arizona does not accredit programs for the MCLE requirement. The Rules and Regulations are predicated on the assumption that attorneys can evaluate CLE activities offered based on the guidelines and report their activities by affidavit. https://www.azbar.org/licensing-compliance/mcle/cle-sponsors-provider-information/
Arkansas: Rule 4.03. Reciprocal Accreditation – Individual Attendance. Upon receipt of a completed certificate of attendance form or other documentation by the Secretary from an Arkansas attorney confirming attendance at an out-of-state continuing legal education program approved by the situs state, the attorney shall be entitled to CLE credits in Arkansas. The Secretary shall verify the program's approval by the situs state's continuing legal education agency.  http://bit.ly/arkansasreciprocity
Colorado: Submit a Colorado Affidavit form (https://cletrack.com) or the "Uniform Certificate of Attendance"
(https://www.clereg.org/assets/pdf/uniformCOA.pdf) provided by the sponsor along with a statement certifying that the CLE program is accredited in another mandatory CLE state.
Florida: Courses approved by other state bars are generally acceptable for use toward satisfying CLER. The completed application(s) or certificate(s) of completion may be submitted via email at clemail@floridabar.org or fax at 850/561-9421.