To succeed as in-house counsel, make sure clients understand the legal department's value.
Just like the clients of private law firms, corporate personnel have choices about to whom to turn when a legal question arises. Here are their three options.
1. "I'll Figure It Out Myself"
Corporate personnel may be disincentivized to consult their legal departments in a number of ways. They may have researched and satisfied themselves with an answer online. They may not appreciate the complexity of the issue.
They might be in a hurry. The issue may have arisen at the end of a negotiation or other process, or they have left the question of the legal ramification for the last minute. Now they see the time constraints as a bar to bringing in the legal department, so they will rely solely on their own resources and experience as guides.
Perhaps the culture in their department teaches that the lawyers are deal-killers either substantively or through delay. This is not unique to the legal department. Sales departments have long viewed credit departments as the enemy.
In some companies, a department is charged internally for utilizing legal services. This is likely to be a flat fee. In my own in-house experience, a fellow employee told me he could not talk to me, because "My department will get charged $*** even if it's only for a quick question."
2. "We'll Hire Outside Counsel"
Sometimes in-house counsel discovers after the fact that a business unit has hired outside counsel. This happens even when it is against company policy.
Business unit staff may do this because they have a pre-existing relationship with a particular outside lawyer they feel comfortable with. The decision maker may not want the facts known within the company, and the person sees going to outside counsel as a way to keep the situation quiet and avoid embarrassment or worse. Not a great idea for multiple reasons, but it happens.
Outside counsel may provide entertainment and gifts. Many legal departments are running short-staffed. Maybe company staff perceive in-house counsel as unmotivated to provide good client service, let alone swag.
3. "Let's Call the Legal Department"
Of course, company personnel do contact Legal. But often it is perilously late and, after jumping through a mandated contact hoop, future cooperation may be lacking.
An in-house Fortune 500 lawyer tweets about many of these issues as Zen Lawyer Journey, @zenlawyerjourn1.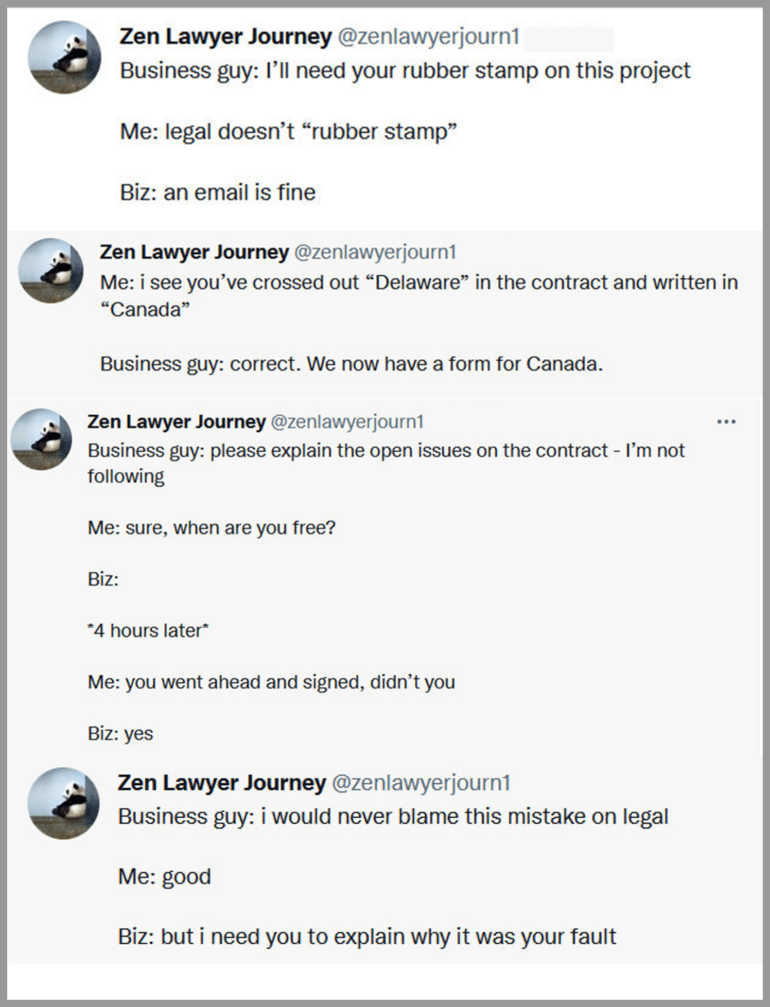 What's an In-House Counsel to Do?
The advice is pretty similar to that for law firms.
Cultivate relationships with the people who can send work.
Offer multiple platforms for contacting you to cater to each generation's preferences. That could include maintaining an internal website for the legal department showcasing the lawyers and their areas of practice. Include a link to contact a specific lawyer as well as a Contact tab to reach the department.
Keep sending out information that addresses the issues your clients might face. That could take the form of a newsletter with alerts about new legal developments as well as evergreen advice. Give presentations. Face-to-face programs foster relationships and encourage attendees to approach the presenter.
Let your clients know about your successes. Show higher-ups how the legal department saves the company money to forestall budget cuts. Keep communications user-friendly.
Most of your clients have never interacted with lawyers. Educate them on how to manage their relationship with the legal department to excel in their own career. You'll both be stars.
Related reading: "Three Tips for Starting Out Strong When Going In-House" by Meyling Ly Ortiz