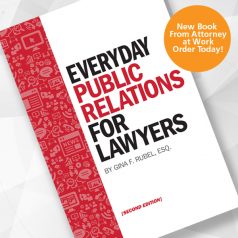 Chicago – Attorney at Work announces the newly updated and expanded second edition of "Everyday Public Relations for Lawyers," by Gina Rubel, award-winning legal communicator and CEO of Furia Rubel Communications, Inc. Written for lawyers and legal marketers, Rubel's no-nonsense guide delivers hands-on advice on all critical aspects of public relations — from the dos and don'ts of media relations to controlling the message to harnessing the power of the internet and social media.
The comprehensive book, available this month, focuses on strategic PR for business development and has been expanded to include new chapters on crisis communications and legal marketing ethics.
A former litigator with nearly 20 years of experience in law firm communications, Rubel educates both young and seasoned lawyers and legal marketers on ways to seamlessly incorporate public relations into their firm growth and reputation management strategies.
Joan Feldman, Co-Publisher of AttorneyatWork.com, says, "Gina is a skilled writer and communicator. In this new book, she expertly weaves integrated marketing and business development into public relations strategies and tactics for lawyers. Attorney at Work is thrilled to include 'Everyday Public Relations for Lawyers' among our best titles."
"The first edition of 'Everyday Public Relations for Lawyers' was published in 2007, before any of us had any idea how things like social media and data privacy would change the legal marketing landscape," says Rubel. "Then, in 2018, the American Bar Association changed the relevant Model Rules. At that point, we knew it was time for the second edition."
With modern tactics and compelling examples, the second edition balances public relations best practices with the up-to-date ethics guidance lawyers need to navigate this rapidly evolving industry. The result is a pragmatic, accessible guide designed to help lawyers create a plan of action for enhancing and protecting their professional image, working with the media, improving communications strategies, and, ultimately, expanding their business.
Legal Marketing Professionals Weigh In
"Everyday Public Relations for Lawyers" includes practical tips from more than 20 seasoned legal marketers, from Seattle to Savannah. With clear guidance, templates and checklists, readers will learn how to:
Start the PR journey by walking through the strategic planning process.
Establish ethical and measurable public relations goals and objectives.
Define how to be perceived, identify key messages, and determine target audiences.
Execute their plan with effective communications and smart media outreach.
"Everyday Public Relations for Lawyers" is for seasoned partners, new associates and law students alike. This book includes everything lawyers and legal professionals need to know about modern law firm public relations.
"Everyday Public Relations" Contents
Chapter 1: Everyday Public Relations for Lawyers: A Primer
Chapter 2: Steps in Law Firm Public Relations Planning
Chapter 3: Putting the Media to Work for You
Chapter 4: Writing for Thought Leadership
Chapter 5: Leveraging Speaking Engagements
Chapter 6: Special Events that Get Attention
Chapter 7: Law Firm Awards, Ratings, and Directories
Chapter 8: Media Outreach Tools
Chapter 9: Leave a Lasting Impression
Chapter 10: Social Media Engagement (Greatly expanded for the new edition)
Chapter 11: How to Measure Public Relations
Chapter 12: Legal Marketing Ethics (NEW!)
Chapter 13: Planning for a Crisis (NEW!)
Pre-Order Discount
"Everyday Public Relations for Lawyers," Second Edition, is available for purchase through the Attorney at Work bookstore, here. Throughout the month of September, the book will be available at a special launch price of $23.99.
_____
Gina Rubel is listed among Lawdragon's top 100 consultants and strategists to the legal profession worldwide. Rubel regularly is called on by law firm leaders for high-stakes public relations, media training, crisis planning and incident-response support, including high-profile litigation media relations.
Furia Rubel Communications, Inc. is an integrated and strategic law firm and marketing, public relations and crisis management agency in the Philadelphia market. The certified woman-owned agency provides strategic planning, marketing, public relations, crisis management, trial publicity, business development, content marketing, and social media services to law firms nationwide. For more information, visit www.furiarubel.com.
For more information about Furia Rubel Communications, Inc. and "Everyday Public Relations for Lawyers," contact Caitlan McCafferty at cmccafferty@furiarubel.com, or 215-340-0480.
_____
Attorney at Work provides law practice, marketing, business development, technology and productivity tips to lawyers and legal professionals. The site's "Daily Dispatch" newsletter publishes "one really good idea every day" to help readers build successful law businesses and achieve a life they love. More than 200 expert authors have contributed to Attorney at Work, which is among the ABA Journal's Blawg 100 Hall of Fame.
Books published by Attorney at Work include: "Getting Clients: For Lawyers Starting Out or Starting Over," by Merrilyn Astin Tarlton, "One of a Kind: A Proven Path to a Profitable Law Practice," by Jay Harrington, "Sponsoring Women: What Men Need to Know" by Ida Abbott, and "60-Minute Mentoring for Lawyers and Law Students" by Amy Timmer and Matthew Cristiano.
For more information on Attorney at Work, contact Joan Feldman at joan@attorneyatwork.com.