Would you like to have a number of experienced advisors or coaches help you along in your career and also answer burning questions you may regularly have as a new lawyer? Do you ever imagine having a personal board of directors that can guide you? If you haven't thought about that, you should.
The benefits of having a varied group of mentors, or a "mentor board of directors," are many. If, for example, you are struggling with a work or ethics issue, you could have the advantage of obtaining more than one opinion on how to address the problem.
You probably already know a few people who are natural additions to your personal board of directors. But, who else should you include?
60-Minute Mentoring
A new type of mentoring, called episodic (or 60-minute) mentoring, is based on having many mentors with whom you meet for a limited time — usually an hour or a half-hour — to discuss a focused topic. Think subjects such as client conflicts or confidentiality. Wouldn't it be great to spend a half-hour with two or three different lawyers at your firm or bar association to get their experienced perspectives, while also getting to know them? Or meet for coffee at a conference with a speaker you admire?
Whatever the location, the nice thing about this type of mentoring is that if the meeting goes well, you can meet with that lawyer again. (If it doesn't go well, you can decide to end the mentoring relationship right there.) If you meet more than once, you can always ask them to be a long-term mentor — and each of the people you meet through 60-minute mentoring sessions can become a part of your board of directors.
As Dorie Clark says in The Harvard Business Review: "The chief distinction between finding 'a mentor' and creating 'a mentor board of directors' is that there is less pressure to find one person who represents your ideal future self. You can diversify your search criteria and learn from a variety of people."
Getting Started
You can set up 60-minute mentoring sessions on your own, without being involved in a formal traditional mentoring program. Simply reach out to a lawyer with whom you'd like to speak and ask for a half-hour of their time. If they work in your law firm or are a member of the same bar association, you can discuss current, familiar issues you may be encountering in your career. If you reach out to someone you don't know, you may want to spend your half-hour talking about the type of work they do, a case they won that you read about in the news, or how they got into their line of work.
Grow Your Relationship With This Mentoring Guide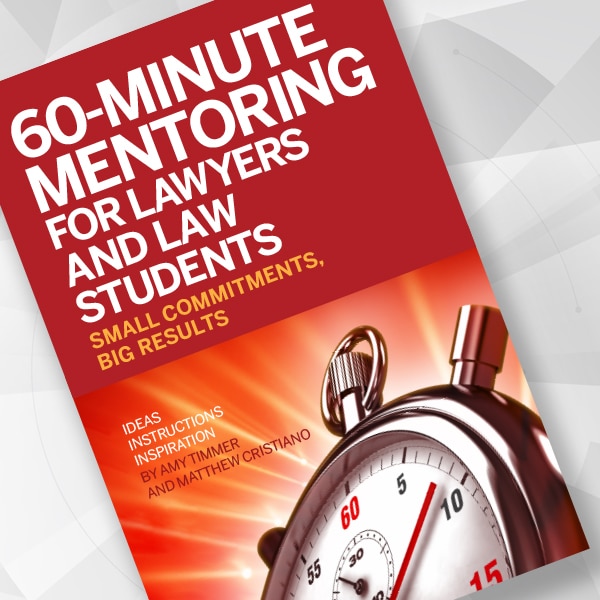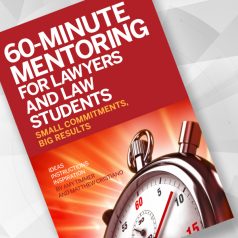 How do you reach out to an attorney you don't know? How do you know what questions to ask to be sure you don't waste their time? How do you perpetuate the relationship?
In "60-Minute Mentoring for Lawyers and Law Students," Amy Timmer and Matthew Cristiano offer plenty of approaches to finding mentors along with resources for both mentors and mentees to make the brief sessions you have together worthwhile. It's a quick-read guide that you, as a mentee, can refer to regularly. Plus, you can suggest it to your mentors as a guide to boost understanding and help improve the relationship they're developing with you.
The book is available at the Attorney At Work bookstore and on Amazon. Take a look.
You might also like: "Sponsors Are the New Mentors, Especially for Women" by Ida O. Abbott.
Illustration ©iStockPhoto.com