Effective communication is your economic lifeblood. A persuasive manner, a bountiful vocabulary and impeccable grammar get your point across. So rejoice in National Grammar Day, a day dedicated to your skill, in these ways.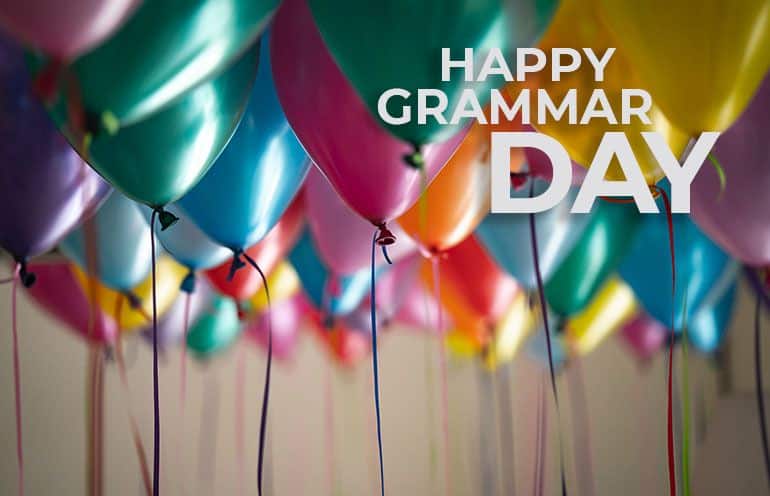 National Grammar Day arrives on March 4, established by the Society for the Promotion of Good Grammar to celebrate good grammar in both our written and spoken communication.
1. Share Your Passion for Grammar
Remind everyone in the firm that today is the day to revel in your communication skills. Brag to each other about what good writers and speakers you all are. Share some games from the Merriam-Webster website. Suggest ways to stay sharp such as using software like Grammarly and WordRake.
After reworking a document multiple times, it's easy to "read through" simple errors that software will never catch, such as omitting a "not" or referring to the wrong party. You know what you meant when you wrote your document, but a reader can be confused by an ambiguous pronoun reference. Offer to read others' work product and encourage people to work collaboratively to produce the best writing.
2. Add Grammar Tips to Your Social Media
You are likely to chuckle at some of the information posted by grammar experts on social media. You will find @GrammarGirl, @MadamGrammar and @GrammarTable on multiple platforms. National Public Radio sponsors the A Way With Words podcast.
And don't forget to set a Google alert for "Get to the Point" attorneyatwork.
3. Before Your Day Ends
Carve out some time to read some excellent writing. This can be anything from a Charles Dickens novel to nonfiction like the new Lincoln biography "And There Was Light." Reading something other than statutes and judicial opinions in your spare time (I know, I know, it barely exists) broadens your mind and your vocabulary.
4. Review the "Get to the Point" Top 10
Reaction to the first "Get to the Point" National Grammar Day post in 2014 showed that lawyers could really get worked up about grammar. Since then, we've published monthly posts about how to improve your communication skills. Here is the countdown of the top 10 "Get to the Point" grammar posts.
10. Synonyms, antonyms, and homonyms, oh my!: "Sufferin' Suffixes"
9. Parallelism: "Parallel Persuasion"
8. How to avoid convoluted sentence structure: "With, Not Who, for Things; Who, Not That, for People"
6. "About Your Love Affair with the Hyphen"
5. A Roman walks into a bar — and gets his plurals wrong: "A Roman Walks Into a Bar …"
4. As Shakespeare never said: "To Comma, Or Not to Comma: You May Be Getting It Wrong"
3. It's not alright: "It's the Word Most Often Used Incorrectly"
2. Try to (not "try and") get this right: "To Infinitive and Beyond"
1. And the original "Get to The Point" grammar column: "Lawyers' Top Three Grammar Goof-ups"
Image © iStockPhoto.com

Don't miss out on our daily practice management tips. Subscribe to Attorney at Work's free newsletter here >